A new mobile app could make childbirth safer in Ethiopia, home to one of the highest rates of maternal deaths in the world.
"Safe Delivery App," operated by a Danish nonprofit, the Maternity Foundation, gives simple instructions via animated videos and graphics in local languages as well as English on how to deal with emergency childbirth situations.
In Ethiopia, as many as 85% of women give birth at home with the help of only relatives and friends who are ill-equipped to deal with birthing complications like hemorrhaging, infections, high blood pressure, or obstetric fistula, which can lead to women being ostracized from their communities. As a result, Ethiopia has one of the highest rates of maternal deaths, deaths of a mother within six weeks of child birth—420  deaths per 100,000 (pdf, p. 38) live births, compared to an average of 239 per 100,000 births in developing countries, and 12 per 100,000 in developed countries.
Global health authorities announced today that the rate of deaths of women caused by childbirth has fallen 44% since 1990, to an estimated 303,000 this year, from 532 000 in 1990, according to a new study. More than half of these deaths took place in sub-Saharan Africa. But that is down to 546 deaths per 100,000 live births in 2015, from 987 per 100,000 in 1990, according to the report, and in Ethiopia, that rate has more than halved since 1990.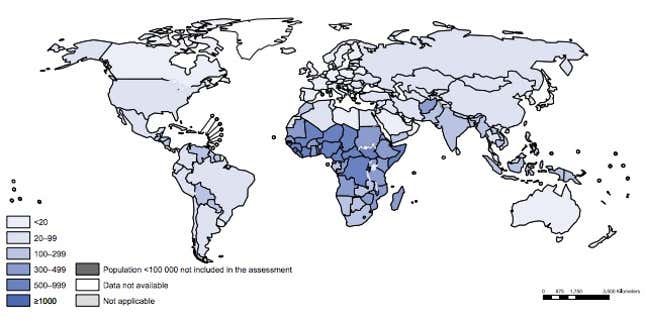 The Safe Delivery app was developed by researchers from University of Copenhagen and University of Southern Denmark and explains the seven signal functions of Basic Emergency Obstetric and Neonatal Care. It is based on global clinical guidelines, according to the Maternity Foundation.
So far, the group has given 78 phones with the app, to midwives as part of a pilot test last year in the Oromo region. The ability of the midwives using the app to manage cases of severe bleeding rose to 70% of cases, up from 30%, according to organizers. The foundation is also testing the app in Ghana and plans to use it in Tanzania and Guinea.   Mobile penetration is still relatively low in Ethiopia, at around 31% as of 2014, but like in other sub Saharan countries it is growing fast.