On a small farm in northwestern Uganda, Nyantet Malual proudly shows off the cow she bought with earnings from her last harvest. The ability to own property and provide for her family was only a dream for the South Sudanese refugee when she arrived in the country two years ago.
"Now I'm sitting here, I buy my goat, I buy a cow, but when (I was) in Sudan I cannot," she said. "Here in Uganda I am free."
The number of refugees in Uganda is hitting half a million people, up by 75,000 from 2014. Many refugees like Malual are gaining financial independence because of the country's progressive 2006 Refugee Act that allows them to work, travel and access public services including education.
These policies are seemingly unexpected in a country where the GDP per capita is a mere $696. Youth unemployment is also incredibly high, at an estimated 60% to 83%.
But it's not just the refugees reaping the benefits of having rights and freedoms comparable to citizens.
A 2014 study by the Humanitarian Innovation Project (HIP) found that over half of refugees were self-employed — operating small businesses, selling goods as informal vendors, or engaging in trade.
In Kampala, 21% of refugee business owners said they hire people that are not family members and 40% of those employees are Ugandan nationals, according to the study.
"I think there is a general tendency for people to see refugees as a simple burden," said Naohiko Omata, a research officer involved in the study. "But Uganda's case shows they also have the capacity to contribute to the host community."
And Ugandan government officials have taken notice.
"They pay taxes and they also pay some other required dues by the local municipalities and that revenue goes back to the state," said Solomon Osakan, refugee desk officer for the northwestern Arua district.
Even in rural areas, the HIP study found refugees contributing to the local economy. Nearly a quarter of refugee business owners surveyed in the Nakivale and Kyangwali settlements considered Ugandan nationals as their largest customers.
At the Rhino Camp settlement, Malual said although transportation is a challenge, women in her village sell crops at markets closer to the urban hub of Arua Town.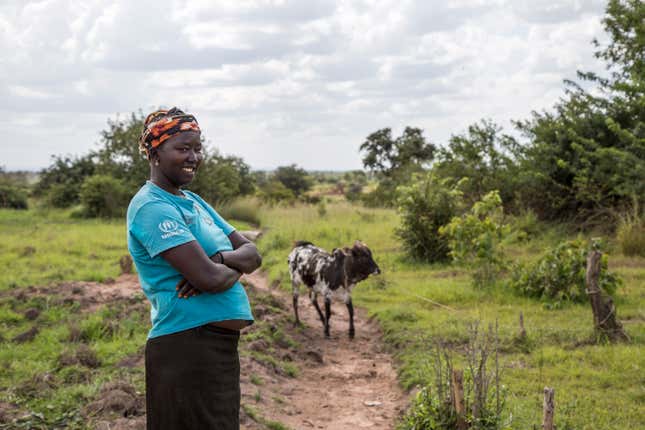 Although refugees are taking advantage of their right to work, there is a cost to helping them settle and providing them with medical or social services.
International aid plays big a role in supporting refugees in this transition. The UN refugee agency UNHCR alone budgeted US$209.9 million for its operations in Uganda in 2014.
The money also benefits local citizens living in refugee-populated communities. UNHCR allocates 30% of their budget to support development in these regions.
The country's welcoming policies for refugees weren't founded on the economic benefits—it began as a moral obligation. Many senior Ugandan officials, including President Yoweri Museveni, were asylum seekers during past conflicts in the country.
"While they were refugees they went through hardship so when they came back they understood the plight of the refugee," Osakan said.
Having an accepting attitude toward refugees opened the door to economic possibilities, according to HIP researcher Omata. The examples of productive refugees in Uganda are lessons the world can learn from.
"If you don't allow them to work at all, these kind of things are this less likely to happen," Omata said.