Prince's semi-autobiographical rock opera, Purple Rain, is getting a West African remake. Akounak, follows the story of a self-taught guitarist from Agadez, a city in Niger "where guitars are king," according to the trailer, as he journeys the Sahara desert with nothing but his guitar and a purple motorcycle.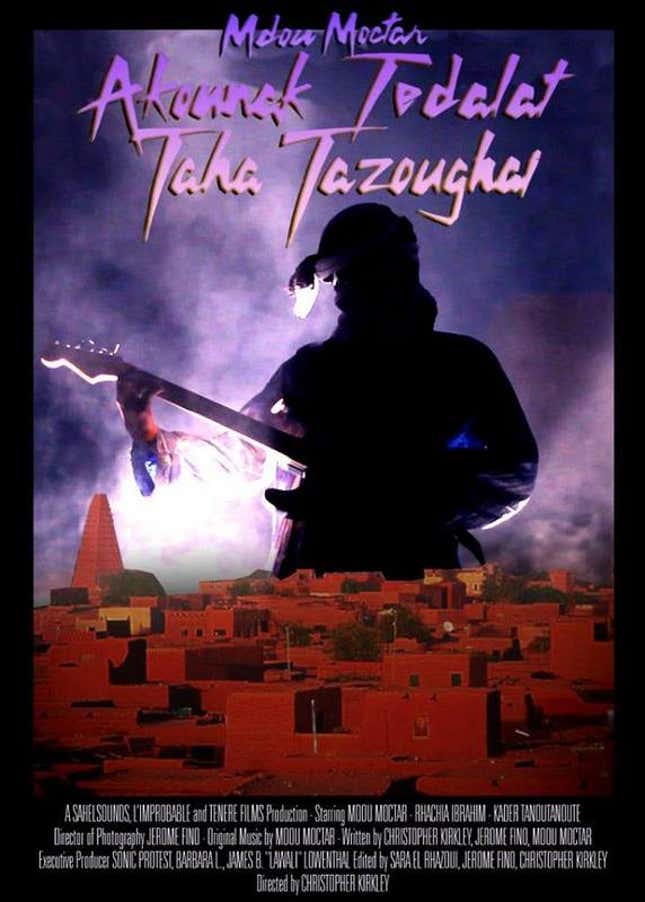 The film whose full title is Akounak Tedalat Taha Tazoughai, or "Rain the Color of Blue With a Little Red in It," is performed in Tuareg, the language of a semi-nomadic North African Berber group. (There is no word for purple in Tuareg.)
The film, directed by Christopher Kirkley, an ethnomusicologist and archivist, is meant to show what life is like for contemporary Tuareg musicians as they travel across the desert to perform at weddings and record songs on mobile phones, the country's main medium for listening to and circulating music. It depicts the struggles of the real-life guitarist Mdou Moctar as he battles his rivals, demons, and competing loyalties to make his name as a musician.
According to Kirkley, documentaries on the Sahel musical traditions tend to focus on the rough political history of this genre of desert blues. Instead this film is "a revolutionary story of guitars, motorcycles, cell phones—and the music of a new generation."
The director has also said he hopes to promote the music of the region. The soundtrack took two years to complete, with much of it done during spontaneous recording sessions or during the filming of the movie. Instruments were improvised—for instance a portable amplifier was used under a tree when the crew ran out of gas while 20km (12 miles) outside of Agadez. The film will be released in January.