*This post has been updated.
The story of how Nigeria's then Central Bank governor Sanusi Lamido Sanusi, in August 2009, shook up the local banking establishment is well told. He bailed out five banks and dismissed their chief executives and introduced reforms like capping the duration a bank boss could stay in office to ten years.
But something else happened as a result of his intervention—the centre of gravity of retail banking in Nigeria quietly shifted. The sudden realization that some of Nigeria's banks were effectively insolvent triggered a kind of flight to safety. The banks which were untouched by 'Hurricane Sanusi' became very safe in the eyes of customers.
The most upwardly mobile and footloose Nigerians bank with names like GTBank, StanbicIBTC, First Bank, Diamond Bank and Access Bank these days. They go on holidays to Dubai, shop in London and take their kids to Disney World in Florida now and again. Unlike, say, the UK where the idea of travel money is cultural, Nigerians over the years have come to rely on their debit cards anytime they are outside Nigeria. The exchange rates are generally decent so as long as you have naira in your linked account,it's always more convenient to pay for things in Debenhams with your bank card.
There's also the coterie of Nigerians who run a variety of web-based businesses that require them to pay for things like server space and web hosting in Europe or America on an ongoing basis. Many of these people use their debit cards to make payments online.
This is all well and good when it works but right now all  the major banks are dealing with the same problem at the moment.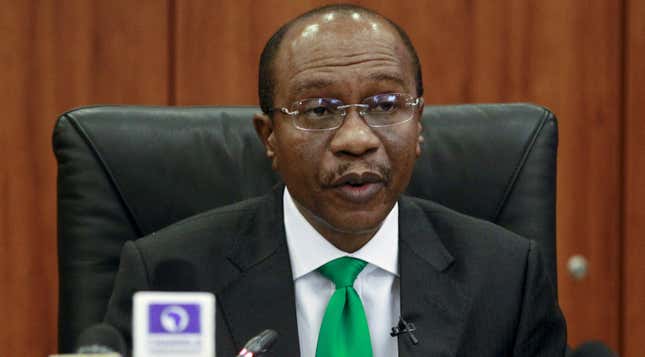 Nigeria is running against strong economic headwinds right now with oil prices below $40 and foreign reserves below $30 billion—enough to pay for maybe six months of imports at most. The Central Bank governor, Godwin Emefiele, has introduced 'demand management' in response to the challenges he's faced with. In practice, this means stifling demand for foreign exchange by declaring certain imports unworthy of expending Nigeria's precious foreign reserves.
Certain things have been discouraged from importation with the country's foreign reserves—toothpicks, some types of steel, wheelbarrows, even Indian incense. This is effectively a ban if the importer doesn't already have their own foreign currency in banks abroad or under a pillow somewhere. This has been accompanied by nationalist rhetoric about how Nigeria shouldn't be importing things it can produce. If you can't access foreign currency through official channels, you are left with no choice but to use the black market at much higher rates. At times, it does feel like the Central Bank is determined to burn down the village in a bid to save it.
International nightmare
So what does this have to do with the retail banks named above? They have been hit hard by the demand management policy. Buying dollars from the Central Bank to settle international payments for their customers is a nightmare these days. The banks typically don't have many customers who export—mirroring the wider Nigerian economy which depends on oil for the vast majority of its forex earnings.
All of a sudden, having so many upwardly mobile and jet setting customers is not that much fun anymore for the banks. Almost on a daily basis, people have been getting emails from their banks telling them the daily or monthly or annual limit dollar spend on their debit cards have been adjusted—almost always downwards.
Stories abound of people who travelled abroad and when they tried to settle their hotel bill, their cards were declined. As at last week, some banks were sending emails saying the daily spend had been reduced to $100. It is hard to find any bank that allows more than $300 per day spend now. One friend who needed to make a business payment online for $1,800 had to plead with the supplier to allow them pay $300 per day over 6 days as a workaround.
All of this desperation is also encouraging people to come up with all sorts of daring ways to get their hands on foreign currency. One example is that of people travelling out of the country with as many debit cards as they can lay their hands on. These cards are then used to make withdrawals at the ATM and taken back to Nigeria. In October, a man was caught with 108 debit cards trying to leave the country through the international airport in Lagos. Just a few days ago, this time in Kano, another man was caught trying to leave with more than 800 debit cards. One has to assume others have managed to get through.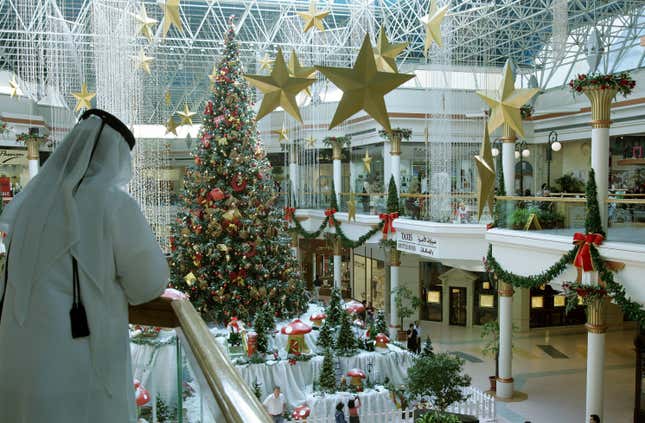 As I live in the UK, nearly everyday I get a request from someone in Nigeria asking to swap naira for pound sterling. But there is a limit to how much naira anyone wants as the currency is not convertible. Further, everyone assumes another devaluation will happen sooner rather than later. Why hold naira?
All of this has greatly added to the economic uncertainty since the new government of president Muhammadu Buhari took office in May. Nigerians have also been dealing with fuel queues for months on end now. Stress levels are very high, to put it mildly.
The latest comments by Emefiele suggest that, far from easing the restrictions, he is going to double down and shut down what he has decided to be 'illegitimate' demand for scarce foreign exchange.
Most Nigerians intuitively understand that the country is in a pretty bad place as a result of walking into the oil price crash practically naked with no national savings. Nigerians are also a resilient people who will make adjustments if they need to. They have not turned on president Buhari yet. They know he got dealt a bad economic hand.
Yet, a lot of this feels like needless suffering. The rhetoric that has accompanied the restrictions often sounds like Nigerians are being blamed for having the nerve to buy things that are not made in Nigeria. To be clear, some of the things Nigerians import, on the face of it, look ridiculous. But they are almost always a response to an environment that can be extremely hostile to any kind of business. It also does not help that, based on ongoing corruption trials, when politicians steal public money, the first thing they almost always do is change it to foreign currency. It is sometimes difficult to figure out how much demand for foreign currencies is genuinely for productive purposes in that sense.
Free floating naira?
What to do? There are no easy answers. But it surely must be counterproductive to arbitrarily shutdown legitimate economic activity in the name of demand management. The more these restrictions go on, the more they open up gaps for corruption to flourish and for the well connected to game the system. History teaches us this – from Venezuela to Argentina where the new president, Mauricio Macri, is now drawing 12 years of 'El Cepo' to a close.
Nigeria has to earn its keep in other ways by producing things that other countries want that are not crude oil. This is obvious enough but by no means easy—infrastructure is terrible to non-existent and productivity will take time to build up. It is tempting to pray for oil prices to rise again to give the country some breathing space but it is more likely that the country will simply return to its old spendthrift ways.
Should foreign exchange be made available to people who simply want to go shopping and enjoy themselves in Dubai at a time when it is scarce? Asking questions like this leads to all sorts of dangerous places. What exactly is legitimate demand? How do you curb 'illegitimate' demand without hurting people who are genuinely trying to run their business?
The only answer to this is pricing. Freely floating the naira will allow the market determine what is the real value of the currency. But the political appetite for such a policy move is exactly zero. Politicians are just not going to accept that the currency is something they have no control over.
I fear that things may be this way for a while yet. And the longer it goes on, the more damage it will do to the economy and ordinary Nigerians. Will it be worth it?
*This story previously said Central Bank of Nigeria banned importation of certain items. These items were not banned but were included in a list deemed "not valid for foreign exchange at the Nigerian foreign exchange window."