Fufore, north east Nigeria.
On Dec. 24, Nigeria's president Muhammadu Buhari told the BBC the Nigerian military had met an end-of-year deadline for routing out the Boko Haram militant sect when he claimed the insurgency had been "technically defeated." While the view from the country's capital city Abuja may suggest the sect is no longer capable of engaging in "conventional attacks" against the Nigerian military, as Buhari claims, the situation on the ground suggests otherwise.
The president's announcement underestimates the characteristics and strength of the insurgency perhaps in order to gain a quick PR win.
But when you speak with those displaced by the insurgency, three things become clear: the Nigerian government's conceptualization of the challenge is flawed; the increased military pressure on Boko Haram has been helpful, but is still a long way from restoring stability; and the government cannot afford to consider a military defeat of the sect as a resolution to the crisis in Nigeria's north east.
Since coming into office in May 2015, Buhari has accelerated the Nigerian government's response to the Boko Haram insurgency, moving the military headquarters for the effort to Maiduguri, the north eastern city where Boko Haram was founded. The new strategy re-emphasized the importance of the Multi-National Joint Task Force, and successfully reclaiming a number of communities formerly under Boko Haram's control.
The revitalized response was received warmly by Nigerians; having claimed more than 30,000 lives in six years, the insurgency is a near-constant source of media coverage and speculation in Nigeria today.
However, the current coverage of the Islamic militants portrays it as a territory-seeking insurgency, instead of recognizing that this tactic was a result of being pushed out of the country's urban centers in a previous military push under former president Goodluck Jonathan.
The evidence that Boko Haram is now engaging in 'hit and run' attacks in city centers, including suicide bombings on soft targets, is less evidence of the decline of the sect, but rather of a return to its previous tactics. This means that, rather than claiming a 'technical' victory, the Nigerian government should be recalibrating its response to engage in urban operations.
Mohammed Kyari, the director for the Center for Peace and Security Studies at Modibbo Adama University in Yola, and an expert on the Boko Haram insurgency, notes there's a significant debate over Boko Haram's real objectives. This necessarily complicates the military's ability to undermine the sect. Kyari observes that, "Clearly they say they want to impose sharia… but Sharia is a very loaded concept. I'm uncertain of what they mean by sharia. You see, every crime in Boko Haram is punished by death. Sharia in the Quran has levels of punishment, so clearly Boko Haram is not Sharia." Even more importantly, Kyari argues that "they neither have the knowledge nor the power to enforce Sharia. So what is their objective? To make our lives abnormal. And they have succeeded."
Internally displaced
Boko Haram's intent on destabilizing the Nigerian state, ostensibly to create more space for the propagation and adoption of their ideology, has wreaked havoc across the country's north east. In addition to the incredible number of lives lost, the insurgency has displaced an estimated three million to five million people, shut down trade networks surrounding Maiduguri, Kano, and Mubi, and prevented a number of communities from farming for up to five years.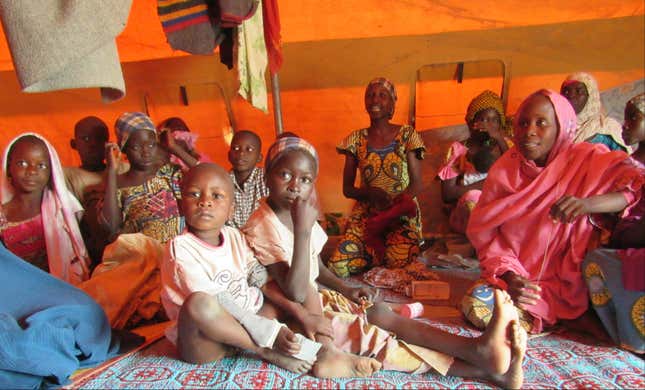 The strain of caring for the displaced is already taxing the state and community's resources, prompting calls for the reconstruction of destroyed communities and the resettlement of the displaced as soon as possible.  A number of National Emergency Management Agency (NEMA) employees in camps throughout Adamawa, one of the worst hit states in the north east, reported they expected to end operations in the first two weeks of 2016.
Though the process of resettling displaced people in Borno State has begun and the federal government has announced its intention to close camps for Internally Displaced People (IDPs) in 2016, a number of obstacles remain in resettling so many people. One woman, who fled Boko Haram a few months ago and now lives with her younger brother in Mubi, told me that she is afraid to return home. "We know so many people that have been killed when they returned," she then gestured to a mattress rolled around various household goods and tied with twine, "that belongs to a woman we know who tried to return to Madagali, but was killed."
Even for those who are brave enough to resettle (or are forced to do so by the government), they often return home with nothing, only to find that either Boko Haram or the Nigerian Military have burned down houses and fields. In order for security to be lasting in the north east, a broader definition of security must be adopted. It is not enough to degrade Boko Haram's operational capacity, citizens in the North East must be assisted as they rebuild their homes, revitalize local economies, and re-establish trade routes.
'Technically defeating' Boko Haram this month sets the Buhari administration up to announce in a few weeks that all of the IDPs have been resettled—marking a technical end to that crisis as well. Unfortunately, technical victories in these instances seem not to be lasting ones. Already, in the last couple of days Boko Haram has struck with suicide bombers killing tens of people including 30 people in Maiduguri and another 25 persons in Madagali .
Restoring peace to Nigeria requires a more holistic approach to understanding the objectives and effects of the violence, with the ultimate aim being the empowerment of communities to revitalize their local economies and personal livelihoods.