African startups may prove the exception to a slowdown in funding for tech companies around the world.
Startups raised $27.3 billion globally, down from 30% from the previous quarter, according to the research firm CB Insights. Last year, startups on the African continent brought in more than $185.7 million, according to a report from Disrupt Africa. And Kenyan startups especially saw their best year in fundraising since 2010. Kenyan startups raised over $47.4 million last year, according to the publication.
Companies from Kenya's so-called "Silicon Savannah" like M-Kopa a solar energy provider for rural areas, Bitpesa a bitcoin trading platform, and Kopo Kopo, a merchant payment system, attracted the bulk of investor attention. The makers of the mobile modem, BRCK, announced last week that it has raised $3 million in December from former AOL heads Steve and Jean Case, as well as media company TED, and Jim Sorenson. This is on top of $1.2 million in seed funding last year.
For years, Kenya has been projected to be one of the continent's tech leaders, alongside Nigeria and South Africa. Over half of the population of East Africa's largest economy has access to the internet. It's home to an expanding pool of mobile phone users, a network of incubators and startup spaces, and a legacy of previous successes like the mobile money platform M-Pesa and the crowd-sourced crisis mapping app, Ushahidi, used for search and rescue during Haiti's 2010 earthquake as well as documenting sexual harassment in Egypt. Google's Eric Schmidt said in 2013 that he believed Kenya would be the "African leader" in technology.
That may be slowly happening. The country's tech sector got a boost when US president Barack Obama opened the Global Entrepreneurship Summit (GES) in Nairobi in July last year. Soon after, General Electric opened a workshop for technical and manufacturing skills. Microsoft chose Nairobi for the global launch of its latest operating system. International media began hailing Kenya as the world's latest unlikely tech hub.
"There is no doubt that GES helped raise the profile on Kenya, and that did benefit BRCK," says Peter Ngunyi, president of BRCK Moja. Ngunyi says the money they raised will go toward new products and expanding operations. BRCK most recently launched portable education kits with tablets, a BRCK modem, and its own charging station.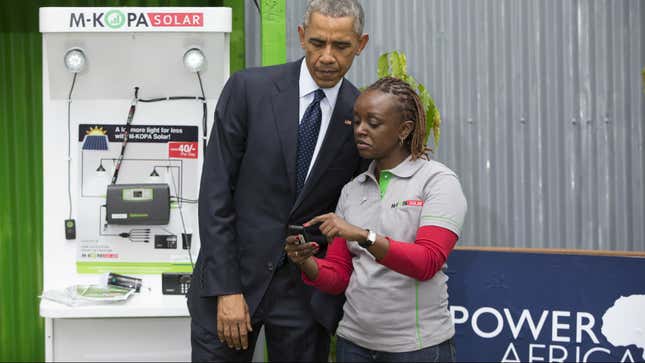 The amounts these startups are raising isn't huge, relative to US or European investments, but it does signal an improvement. Startups in Kenya have traditionally depended on grants and foreign donor funding, a trend that some critics say has crippled local innovation. Now, equity investment is growing. A report last year by VC4Africa found that of 113 venture-backed startups it identified, 17% were based in Kenya.
African startups, in Kenya in particular, are expected to be relatively insulated from macro-economic trends. "We expect to see more international VCs pumping in cash, while local investors will gradually realize there are opportunities in the country [aside] from real estate," says Tom Jackson, co-founder of Disrupt Africa.
The fact that more startups are focusing on business-to-business operations and seeing positive revenues earlier on, may also be attracting more investment, according to Ory Okolloh, director of investments at Omidyar Network. "I think the start-up scene is just maturing," she says.
Others also anticipate more funding, but to a select number of startups. "There's more money, and there will be more money but for fewer products," says Kinyanjui Njonde, a tech blogger and head of marketing and business development at Gigwapi, a local event marketing platform. Njonde points out that the companies who raised the most, like M-Kopa or Okhi, which provides an alternative address system to businesses, are those with regional ambitions.
"These are guys who actually are wanting to go into other regions beyond Kenya. Most [investors] who are coming are looking for companies that are interested in going into other countries. Kenya alone is not a big enough market," he says.
Kenya's tech industry still has a long way to go. Startups struggle with government bureaucracy, recruiting good staff, electricity outages, and poor roads—problems that technology alone can't solve.
And some caution that the apparent increase in funding could also be the result of more companies disclosing what they have raised. As the sector becomes more exposed to international players, a new attitude toward business and money have emerged, according to Njonde.
"More companies in Kenya are more willing to share numbers. Kenyans don't normally say how much money they have."