A poll last month by Transparency International found that a majority of Africans feel corruption on the continent is getting worse.
It turns out they may be right. Sub-Saharan Africa tied Eastern Europe and Central Asia for the most corrupt region in the world, according to Transparency International's 2015 Corruption Perceptions Index. Of the 46 countries surveyed for the annual index released yesterday (Jan. 28), 40 were found to be showing "a serious corruption problem" in their public sectors. Almost 90% of African countries scored less than 50 out of the best of a 100, securing an average score of 33 overall. This is 10 points below the global average.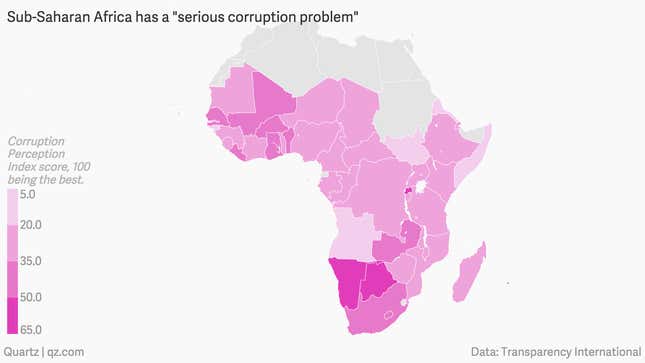 "Indicators for rule of law and justice score particularly badly," Chantal Uwimana, Transparency International's director for sub-saharan Africa, said in the report. "While some governments are reducing risks for business, there's little change for citizens—as systemic corruption leaves many countries struggling to uphold basic rule of law."
Of particular concern is the fact South Africa, Nigeria and Kenya— three of the continent's biggest economies, have shown little signs of improvement on the group's index, barely budging from the ranking positions they've held in recent years.
Botswana leads the continent with a score of 63, making it the least corrupt country in Africa. Meanwhile, a series of anti-corruption moves have led to Senegal significantly improve its standing in the index gaining eight points from its 36 score in 2012.
New governments in Nigeria and Tanzania have dedicated significant chunks of their newly acquired political capital towards fighting corruption. Muhammadu Buhari in Nigeria has ordered investigations into influential figures in Africa's largest economy, including the country's former national security advisor and its minister of oil in the previous administration.
Meanwhile in Tanzania, the newly elected government of John Magufuli is garnering praise for demonstrating a willingness to get rid of officials perceived to be corrupt. (Although some people have questioned how serious the government is on reforms, especially when it comes to issues around media freedoms).
"Corruption can be beaten if we work together," José Ugaz, Transparency International's chairman, says. "To stamp out the abuse of power, bribery and shed light on secret deals, citizens must together tell their governments they have had enough."
The reality is not that simple. Kenya, for example, was rocked by multiple corruption scandals last year. But a recent survey by Aga Khan University's East African Institute showed that a significant number of young people in east Africa's largest economy are okay with corruption as long as it helps advance their personal ambitions. In fact, half of those surveyed told pollsters that it doesn't matter how a person makes money, as long as it doesn't land them in jail. Meanwhile, over a third said they would take or give a bribe. This response shows the extent of the challenge facing anti-corruption efforts on the continent.
An African Union (AU) study in 2002 showed that corruption had cost Africa's economies close to $150 billion in the 1990s, a quarter of the continent's output. Meanwhile, researchers at the Brookings Institution say in Africa up to 3% of household income is spent on bribes.
But corruption is not just an African problem. Transparency International's index found not a single country in the world to be corruption free. Its findings shows that over two thirds of states surveyed are corrupt  half of them G20 economies.
Transparency International said it was hopeful of the power of the people to keep governments in check, as demonstrated by anti-corruption protests in South Africa and Kenya. "The 2015 Corruption Perceptions Index clearly shows that corruption remains a blight around the world," Ugaz says in the report. "But 2015 was also a year when people again took to the streets to protest corruption. People across the globe sent a strong signal to those in power: it is time to tackle grand corruption."