Nigeria's former president Goodluck Ebele Jonathan was an unlikely global hero when he left office. In the run-up to the elections in March, Africa's largest economy had seemed on the brink. Boko Haram insurgents were running riot, rumors of corruption were growing daily and the threat of conflict and political crisis if the election results were contested.
But instead of triggering a crisis, Jonathan stood aside when rival Muhammadu Buhari was clearly winning the vote. Many experts think his early concession spared the country from conflict and he has rightly got praise and more recently awards for his role.
But a lot of that goodwill seems to have dissipated in recent months and Jonathan has been forced onto the defensive as Buhari's government and insiders, dig into the records of the former government.
This week, in one of his only interviews since leaving office, Jonathan told Quartz  in Geneva, Switzerland that the numbers being suggested about alleged corruption during his tenure were unrealistic.
Last week, Lai Mohammed, Nigeria's information minister claimed 55 people, including former governors, cabinet ministers and other government officials stole $9 billion from the country's treasury. That included $2.1 billion intended for the purchase of weapons to fight Boko Haram.
While refusing to speak specifically about the $2.1 billion, Jonathan, speaking at a press conference after receiving a democracy award, urged caution about the figures being elicited by Buhari's government regarding corruption.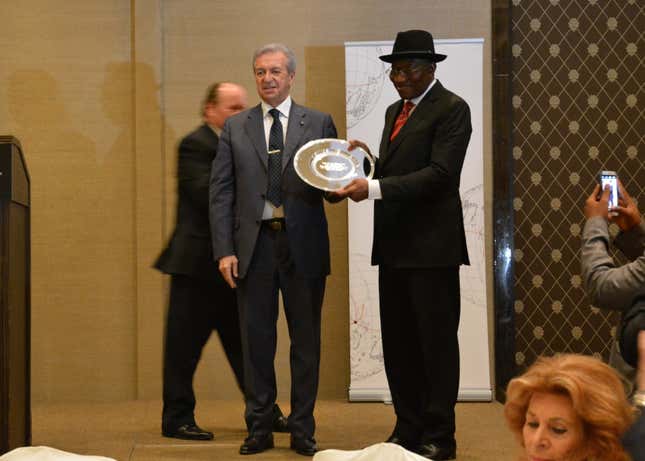 "Sometimes people think that I was president since the independence (of Nigeria) and not for five years. Sometimes they say that we have lost over $150 billion in funds in the five years that I was president," he said.
"Because of politics, some people come up with more money and say that $49.8 billion were missing within 18 months, " Jonathan added.
He referred to allegations in December 2013 of non-remittance of $49.8 billion in oil revenue by the country's public oil authority, the Nigerian National Petroleum Corporation (NNPC). At the time, Lamido Sanusi, the central bank governor told Jonathan about tens of billions owed to the state, in a letter that was leaked to the press. Sanusi was later fired.
"The same person who raised the issue, within two days said the money was $12 billion, and the two days later said it was $20 billion," Jonathan said.
"Regarding the $9 billion," he added, "The truth will come out."
In October, Jonathan's former oil minister, Diezani Allison-Madueke was arrested in the United Kingdom for bribery and money laundering.
As the volume of the allegations grow it is perhaps unsurprising Jonathan is speaking out perhaps with the hope of protecting his legacy. Just this week British publication The Economist labeled him an "ineffectual buffoon".
Beating corruption
Since taking office in May, president Buhari, a former army general, has made the fight against corruption a central goal of his administration.
At the Geneva press conference, Jonathan also responded to comments by the information minister Femi Adesina, that Jonathan had spent millions negotiating with people posing as leaders of the terrorist group Boko Haram.
"I did not negotiate with Boko Haram," the former president said. "The government never set up a team."
In April 2014, Boko Haram kidnapped more than 200 girls from their school dormitories in Chibok, north east Nigeria sparking the 'Bring Back Our Girls' international campaign.
President Buhari recently told the BBC that he would be interested to negotiate with the Islamist militant group without preconditions. He said Boko Haram must first provide a high-level representative with whom the government can interact.
Jonathan's spokesperson in Geneva, Thierry Ngoufan, said the former president is currently working on plans for a foundation in his name before seeking the funds from prospective donors for the organization. A recent trip to the United States, he said was intended to familiarize the former leader and his staff with presidential foundations there.
Meanwhile the anti-corruption organisation, Transparency International said in its annual report, published this week that it had not seen any progress made on corruption in Nigeria.