Mass graves were used to bury people killed by Burundi security forces as violence escalated in the eastern African country, according to the human-rights organization Amnesty International.
Using satellite images, witness accounts, and video footage taken between December and January, the organization says it has identified at least five graves in Buringa, an area on the outskirts of the capital Bujumbura. Amnesty says the graves were dug in mid-December, following the worst spate of violence to hit the country since the protests against president Pierre Nkurunziza's pursuit of a third term began in April.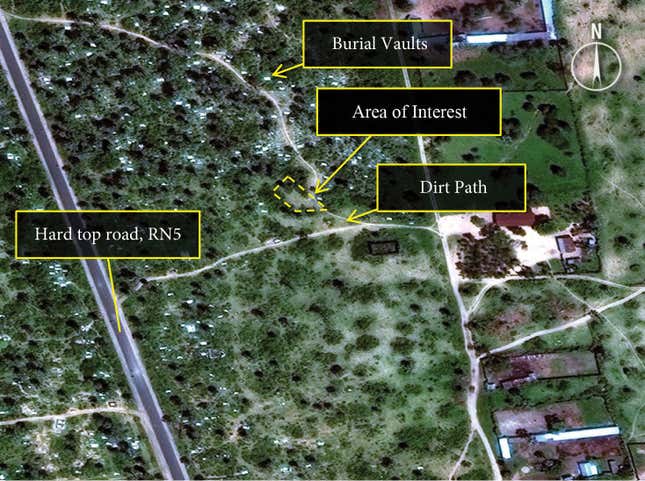 "These images suggest a deliberate effort by the authorities to cover up the extent of the killings by their security forces and to prevent the full truth from coming out," Muthoni Wanyeki, Amnesty's regional director for East Africa, said in a statement.
The crisis in Bujumbura has deteriorated markedly over the last few weeks. In fact, the UN last week said that it had evidence of gang rapes and other violations committed by security forces. These reports led the US State Department to call for an immediate investigation into the allegations.
"The United States is deeply alarmed by reports…of serious human rights violations and abuses in Burundi, including eyewitness reports of mass graves, a sharp increase in alleged enforced disappearances and torture, and reports of sexual violence by security forces," Mark C. Toner, a State Department spokesman, said.
Efforts to get the government and the opposition to engage in a dialogue for a peaceful resolution have so far failed. The government has been reluctant to engage with its critics it says are responsible for the attempted coup in May. Nkurunziza's government has continued to reject a proposal by the African Union (AU) to send troops in the country to help stem the violence.
The recent revelations by Amnesty, however, may put fresh pressure on Burundi to allow investigators to ascertain the veracity of claims of human-rights abuses. African leaders are currently gathering for the AU's head of states summit in Ethiopia and high on the agenda is the situation in Burundi.
"African leaders gathering at the AU summit must call on the Burundian government to grant international investigators access to all suspected grave sites," Wanyeki said. "Families need to know what happened to their loved ones and to be able to bury them in dignity."