Despite the rhetoric that extols the vision of "pan-Africanism" and "one Africa" by their leaders, Africans remain severely disconnected from each other. This is in no small part due to policies by African states that make it difficult for the continent's citizens to gain access to each other's countries, a new report by the African Development Bank (AfDB) shows.
To travel to other countries in Africa, Africans need visas to enter 55% of states on the continent, the report points out. It goes on to say that only 20% of nations allow Africans to enter without visas, with 25% offering visas on arrival. North Americans have an easier time traveling to and within the continent than do Africans, needing a visa to travel to just 45% of African countries. They can get a visa on arrival in 35% of countries and don't need a visa at all in 20%.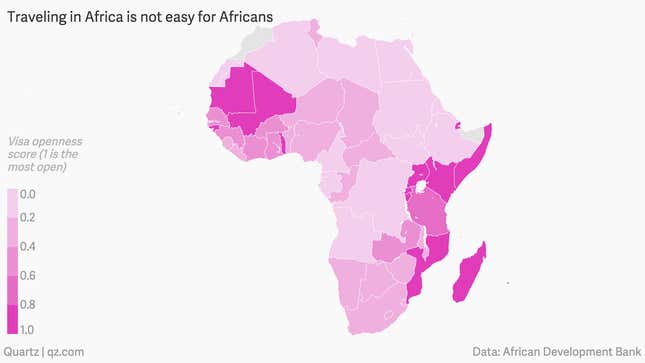 Seychelles is the only nation on the continent to offer open access to all Africans. Regionally, West African and East African states do well, making up 75% of the top 20 most open countries. Only one North African country managed to make the top 20 and none from Central Africa.
At a time when foreign direct investment on the continent is declining, cross border trade between African countries could be a crucial component for growth. But such intra-continental investment and business is unlikely to happen if countries remain closed to each other. Especially, when there is evidence that open visa policies can boost the economic fortunes of countries that adopt them.
Rwanda, for example, a small-landlocked country in east Africa, has benefited enormously from its more open attitude, growing its revenue from tourism by 4% in 2014 to $305 million, the AfDB report shows. The country, ranked ninth in openness by AfDB, abolished the need for work permits for East African Community citizens, thereby attracting talent from across East Africa.
On top of that, Kigali's agreement with Kenya and Uganda to allow their nationals to travel between the three countries with simple ID cards, has helped boost cross-border trade by 50%, according to AfDB. And the single tourist visa instituted by the three countries has contributed to a 17% rise in visitors in the country.