Kampala, Uganda
At a bustling Kampala market, Desire Karakire listens to a group of young men express their frustrations over the state of their country. Like most of their peers, they're underemployed and extremely poor—and they feel the only way the situation will change is through violent revolution.
"Leadership involves blood," says Richard Ssenyoga, 23.
With Uganda's Feb. 18 national election approaching, these sentiments of violence are exactly what youth activists like Karakire are trying to mitigate.
"If violence broke out, we all have so much to lose. Violence is not going to pick a side… we will all be affected," she says.
Eight candidates are running for the presidency including Yoweri Museveni who has held the position for 30 years, his long-time rival Kizza Besigye and former prime minster Amama Mbabazi. From fights between government-funded "crime preventers" and opposition supporters to blasts of teargas and bullets at rallies, the campaign season has already been marred by violent incidents.
Previous elections serve as a reminder of the level of violence that can occur. Following the 2011 polls, opposition-led protests were met with teargas and bullets in the capital of Kampala. Six journalists were also attacked by mobs armed with stones and sticks with nails while trying to report from polling stations.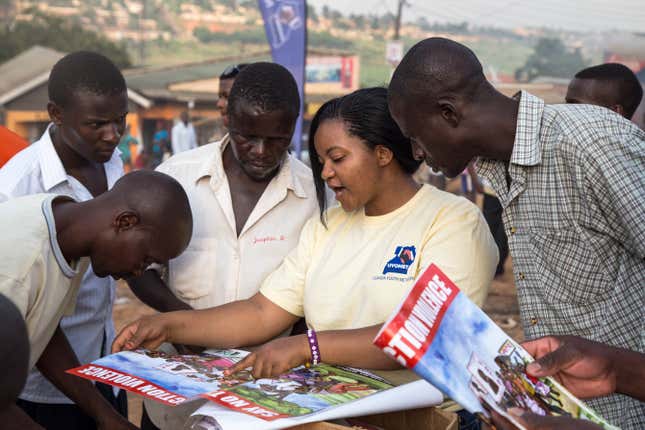 In attempt to gain control over the situation, young people are increasingly gathering online and on the streets to advocate for a peaceful election.
Karakire with a group of likeminded volunteers launched the trending hashtag #IChoosePeaceUG to reach young people around the country despite having few resources. The group has managed to partner with non-government organizations, the media and even the military and police to share a message of peace.
As often as they can, Karakire and her volunteers campaign in public venues to encourage youth to voice their opinions rather than raise their fists. They also ask older adults who have lived through war to share their stories of hardship.
Uganda has a significant youth population with 77% of the citizens being under the age of 30. High levels of unemployment and poverty among young people are fueling the risk of conflict.
"They are easily manipulated into acts of violence," says Andrew Ludigo, a member of the Young African Leadership Initiative Network (YALI) in Uganda. "They are lured into these kinds of acts with a little bit of money, even a t-shirt."
YALI launched a similar social media campaign—#IPledgePeaceUG—with support from the U.S. Embassy in Kampala.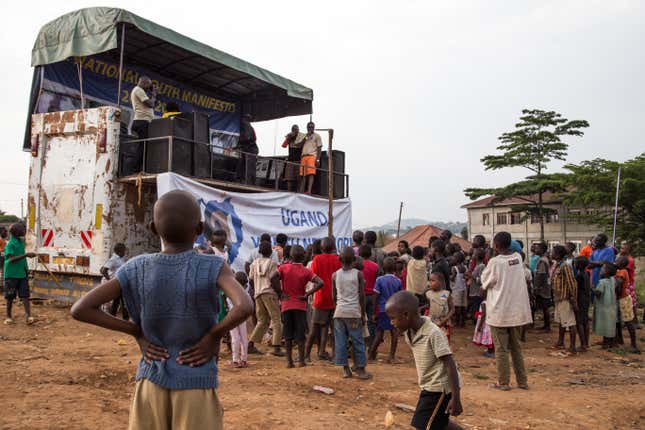 Along with being active online, YALI members have also toured known violent hotspots around the country to teach youth about conflict resolution and peaceful civic engagement.
"It makes them aware that things could go wrong, but (they) have the power to ensure that they don't," Ludigo says.
Running in conjunction with the calls for peace is a campaign to focus on youth issues. The Youth Coalition for Electoral Democracy, representing a number of youth groups across Uganda, put forward a manifesto synthesizing their generation's requirements of government.
"Our future is as important than the politicians and their egos combined. It's high time for us to set our own agenda," says Ahmed Hadji, founding member of the coalition.
The youth manifesto's demands are not unreasonable—more jobs, better healthcare, the development of the sports and arts sectors, and more opportunities for political involvement.
The coalition is also holding political hopefuls accountable, hosting debates and discussions with the theme #WhatWouldYouthDo that is broadcasted on radio and television. These discussions are not just generating promises, but also garnering explanations as to how those promises will be implemented.
"The fact that we've got to cause our political strategists and policy makers to rethink their messaging, to change their political rhetoric and narrative, to me is a huge success," Hadji says.
As more young people feel like they are having an impact on the election discourse, activists are hoping that the empowerment will further quell violence. How widespread the success will be, however, is yet to be seen.
"It's too early for us to celebrate until these elections are peaceful," Hadji says.