A small white drone programmed to go back and forth between hospital labs and rural health clinics in Malawi could drastically cut down on the cost and waiting time of testing African children for HIV.
Malawi has one of the highest rates of HIV prevalence in the world, and many of those infected are children. Only half of the 130,000 youth living with HIV were being treated in 2014. That year, 10,000 children died from HIV-related diseases.
With that in mind, UNICEF and the government of Malawi have launched a pilot program to test whether unmanned aerial vehicles can help families test their infants sooner. Babies born to HIV-positive mothers have to undergo specialized tests that only eight labs in the country have the facilities to analyze, according to UNICEF Malawi.
Getting the results of those tests can take almost 10 weeks, a problem for infected infants who stand a much higher chance of surviving if they are treated with antiretroviral therapy as soon as possible. Blood samples have to be transported by motorbike or ambulance to a hospital where a lab will wait up to two weeks until a batch of tests is ready to be dispatched back to the community health center. Delays in the analysis of the blood samples are common too.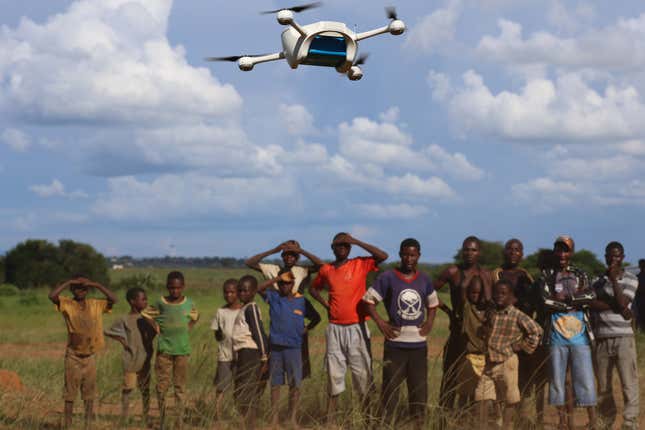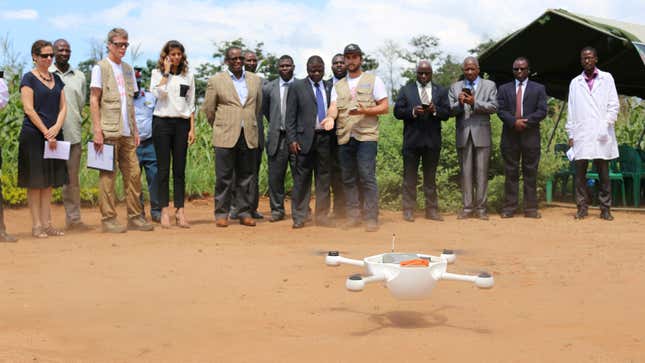 With drone delivery, those two months could be reduced to days. "What we're hoping is that when you get leapfrog technology like this it can catalyze the whole system," Angela Travis, chief of communication for UNICEF in Malawi, tells Quartz.
The pilot program will last through the end of the week, with delivery drones traveling between hospitals and villages in the outskirts of Lilongwe, Malawi's capital in different weather conditions and at various times of day. Yesterday, (Mar. 14) the drone successfully completed a 10-kilometer (6-mile) route, carrying simulated HIV tests to Kamuzu Central Hospital in Lilongwe in 20 minutes. A slot in the center of the drone carries the dried blood samples, which are not infectious.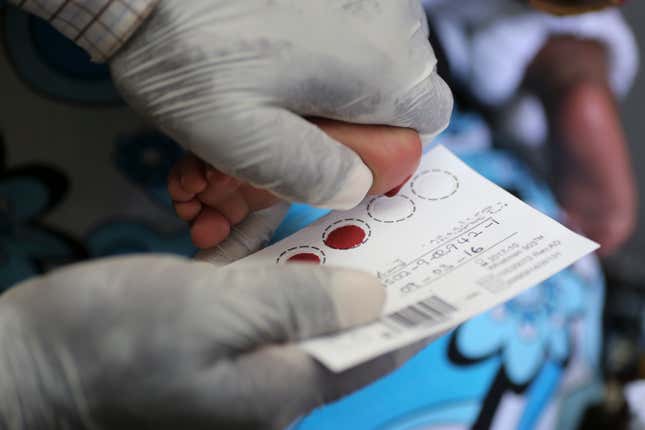 The main goal of the pilot, according to Travis, is seeing how the cost of using drones compares to traditional delivery methods. The current method requires fuel and drivers, while the drone's main costs are electricity for charging its battery and the hardware, which is made by the California-based manufacturer Matternet. UNICEF would not give an estimate for how much the drones cost but said a detailed cost analysis would be done after this week.
The process hasn't been totally smooth. While African governments have been more open to drone technology than their counterparts in the West, the UNICEF team had to go through detailed and lengthy authorization processes with regulators, Travis said.
Allaying concerns about the drones crashing into people's homes or traditional beliefs about flying objects and witchcraft was another task. UNICEF held community days to answer questions about the drones and HIV tests in general. "We took the drone out, let them see it, feel it, let them see it fly. We try to demystify it, " Travis says. "They are still amazed, but I think now the fear factor is gone."