Photos of children as young as 2 years old are the face of a Facebook campaign against Morocco's decision to block residents from using voice over IP (VoIP) apps like Skype, Viber or Whatsapp to make free phone calls.
The"Stop the VOIP ban in Morocco" Facebook page features photos of young children with personal messages appealing to Morocco's King Mohammed and prime minister Benkirane with touching stories of not being able to call or receive calls from their relatives overseas. The messages are in English, French and Arabic.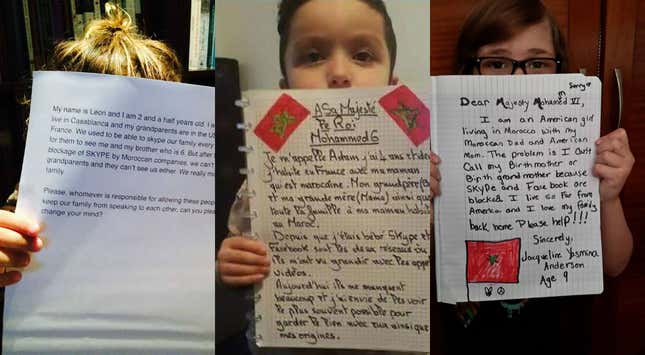 The Facebook page is just one of several online protests against local regulator ANRT's Jan.7 decision. It claims the VoIP calls don't meet "legislative requirements". But ANRT also cited revenue losses of local telecom companies like Inwi, Maroc Telecom and Meditel. This seemed to confirm Moroccans' suspicions the regulator has been acting at the behest of the phone companies rather than looking out for the interest of ordinary Moroccans.
The VoIP call ban has infuriated Moroccans, with some taking their protests elsewhere online, including a petition that has attracted more than 10,000 signatures.
Marouane Alaoui, a computer engineer, started 'Operation Unlike' on Facebook calling on his fellow social media users to 'unlike' the corporate pages of the three telecom providers, hoping it will convince them to rethink their implementation of the regulator's ban. Half a million likes have been rapidly wiped off their pages, according to a tracker that he also created.
Morocco has 140% mobile penetration and 97% of smartphone owners use mobile apps to communicate, according to Ericsson. The ban initially affected app usage on 3G and 4G coverage but in February it was extended to include broadband connections, rendering the applications useless. With rising Internet penetration and smartphone use, apps like Skype, Facebook and Whatsapp increasingly account for large proportions of data used to move photos and videos over their networks.
ANRT did not respond to a request by Quartz for comment.
Tarik Nesh Nash, a technology entrepreneur from Rabat who founded  citizencrowdsourcing platforms soliciting citizen participation on the Moroccan constitution and a bribery-tracking site, said "the technology is ahead of the law and this decision is against net neutrality".
Nesh Nash has been collaborating with other online campaigns to force the regulator to rescind its decision, which he sees as "bad and improvised".
Morocco's move follows similar reactions to VoIP services by other governments on the continent. Egypt appeared to have blocked mobile internet calls in October last year, while Uganda, blocked social media usage during a contentious election season last month.  South Africa's regulators are also examining complaints local phone operators about apps like Facebook and Whatsapp 'free-riding' over their networks.