London has long been one of the world's most influential pop culture centers, particularly with fashion and music. It's had everything from the Sex Pistols to the West Indian rhythms of Notting Hill Carnival to today's grime scene.  But the pop sound of modern London is about to take a distinctly African flavor with the launch of the UK's first Afrobeats music radio station.
The Beat FM, a popular Lagos radio station, will start broadcasting from a north London community radio license today (Mar. 28). It will be the UK's gateway to the rhythmic and hypnotic hip-hop influenced music of Africa's fast-growing youthful cities like Accra, Nairobi, Dar es Salaam and Lagos.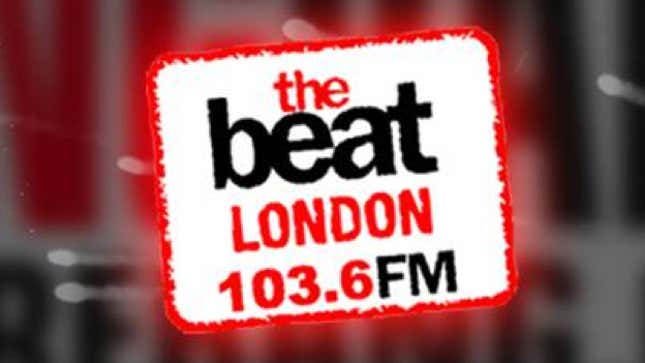 The idea of an African music station launching in London might have seemed a little ambitious not too long ago. But hits by stars like Nigeria's Tiwa Savage and Wizkid, Ghana's Stonebwoy and Sarkodie, South Africa's Cassper Nyovest and Tanzania's Diamond Platnumz have already been seeping into the London night club scene and have been on the fringes of playlists of UK radio.
Chris Ubosi, CEO of Megalectrics, parent company of the Beat FM, says Beat FM London will be looking to provide a platform where African music is readily available to a growing market.
"We want to put African music on the same pedestal with other genres," he told Quartz. "Put the music in the mainstream so its played alongside other genres rather than being compartmentalized and played only during specific shows." Ubosi has already sets his sights on expanding the Beat FM brand to North America.
African music has not always been in a position to compete. Just 15 years ago, local music industries across the continent were just in the very early stage of a renaissance after years of  neglect during the 80s and 90s. A lack of industry infrastructure combined with rampant piracy meant artists struggled and profits were negligible. But as local economies of countries like Nigeria and Ghana picked up there was a new found desire for home-made entertainment alongside American hip hop and Hollywood movies.
That self-confidence, particularly with younger urban Africans, was led by the growth of Nollywood, the Nigerian movie industry which has become the world's largest in terms of volume. Nollywood has also inspired and influenced local movie industries across the continent. The music business followed suit and started to resurge in the early 2000's.
Even though recorded music sales dropped off like the rest of the world, as their local economies grew more African artists were able to earn higher fees from live performances and started winning major corporate endorsements. Local telecoms firms like MTN and Globacom have been particularly aggressive in trying to differentiate themselves with artist sponsorship deals, and exclusive music. It is still common to hear popular Afrobeats songs as ringback tunes whenever you call Nigerians' phones. The phone companies have also supported various music streaming and download services.
Demola Ogundele, founder of Notjustok.com, a pioneer Afrobeats music blog, believes digital distribution is opening up the African market particularly through partnerships with the telcos and tech companies. As a result, revenues from the digital market to expected to be ten times bigger than the physical market by 2017.
Another sign of the growth in the African music industry has been the entry of Sony Music. The global music giant opened a Lagos office in February as it looks to leverage the upturn of events. The attraction for music companies like Sony is ostensible; last year, consumer spending on music was projected to hit $43 million in Nigeria. (pdf)
For African artists, the dream has grown beyond snagging international collaborations with big A-list stars in America to trying to break into the market proper with the Afrobeats sound, as the genre is broadly called. On that front, there has been notable progress. One of the biggest stages at this year's South By South West (SXSW) music festival in Austin, Texas, was the Fader stage featuring Nigeria's Davido.

Davido's performance was a testament to the growing popularity and relevance of African music. It's not completely new of course. This latest wave of African music first started popping up in the US with 2face Idibia's 'African Queen' which featured on the soundtrack to 2006's Hollywood movie, Phat Girlz. 'Oliver Twist', a 2012 single by Nigerian pop star D'banj, made in roads to top charts in nine European countries, reaching the top 10 in the UK.
Not your Dad's Afrobeat
Afrobeats is not without its critics. For one thing, it got stuck with a confusing moniker which associates the newer genre with 'Afrobeat'—the big band jazz afro-funk genre created by Fela Kuti in the 70s. Modern Afrobeats' style of music—autotune-heavy, electro-hip hop with catchy throwaway hooks is very much an African Millennial sound—produced for heavy rotation on local radio and sharing on YouTube. Fela's music, which was also known for usually having an important social message, could not be farther away from Afrobeats in that regards. That's why for some people associating the two genres borders on heresy. Nonetheless today's Afrobeats has dominated the clubs and radio airwaves of Africa for several years now. In fact last year, Kenyan musicians protested they weren't getting enough airplay due to Nigerian music.
Rab Bakari, a Ghanaian-American hip-hop pioneer and former US label executive who now promotes and markets African musicians,  says the most ambitious Afrobeats acts believe they've "hit the ceiling" and "outgrown" their local markets.
But in almost any genre of pop music it is difficult to break new music without regular radio airplay. In the UK, BBC Radio 1Xtra and Capital Radio Xtra (both black music focused stations) have created Afrobeats playlists, but the genre is not necessarily played on their larger mainstream sister stations which would reach a much larger audience.
Ivor Etienne, BeatFM London's general manager, might be the best placed person to help guide Afrobeats into the British mainstream. Back in the 90s' Etienne led Choice FM, London's first capital-wide black music community station. Choice FM's launch coincided with the rise of dancehall reggae and saw the creation of mainstream international stars like Shaggy and Shabba Ranks.
Chasing big dreams
Breaking the mainstream markets beyond Africa will require vast amounts of groundwork beyond one radio station. The United States is the  biggest target for most artists. But given how diverse the country's music markets are, Bakari says it is isn't easy getting many different US markets to take on a new genre of music for most American consumers.
Phiona Okumu, editor of AfriPop, an online African-focused pop culture magazine, suggests the internet, the defining tool in the evolution of the local industries, could once again come in handy. "The internet is the great leveler that makes it much more likely for anyone that's willing and open enough to disappear down those SoundCloud and YouTube rabbit holes to discover whatever the algorithm throws at them."
Ultimately, the stars appear to be aligning for the emergence of Afrobeats on the global music scene especially as the dominance of electronic dance music (EDM) may be starting to wane as industry watchers like Afripop's Okumu see it. A radio station focused on presenting Afrobeats as a major genre rather than a side offering could be important for that. The next months will be critical gauging the acceptance and demand for Afrobeats in London, arguably the world's most influential trend-setting marketing for pop culture. Beat FM London will likely not be a magical platform that will result in African artists winning Grammys at every turn but as Ubosi says, it is a "step in the right direction".