Garissa, Kenya
One year ago today, on the morning of April 2nd, Ester Kimanzi was getting ready to go to the market where she runs a food kiosk when she heard gunfire. Scared, Kimanzi stayed inside and a few hours later students from the nearby university, Garissa University College, began appearing at her door, barefoot and still in their pajamas. They had narrowly escaped an attack on the campus by al-Shabaab militants that would claim the lives of 148 students.
"In all the years that I have been around, I have never experienced what I experienced last year… I was heartbroken," she says. Kimanzi, 40, is better known as "mama student" among the student body at Garissa University where she acted as a surrogate mother, cooking meals for students, advising them on their studies, and reminiscing with those from her hometown of Mwingi in eastern Kenya. She has now lived in Garissa for more than half of her life.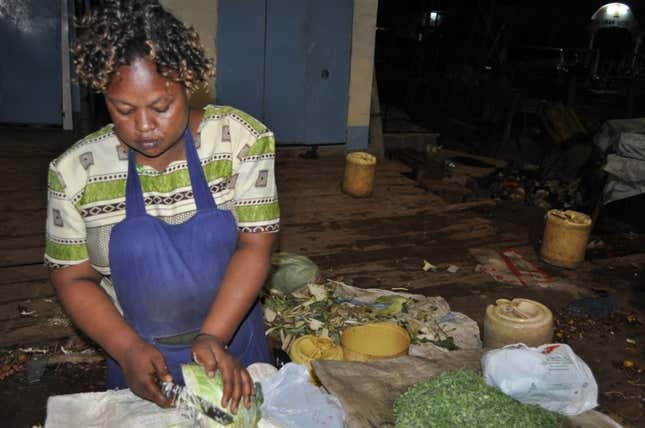 On the anniversary of the attack on Garissa in northeastern Kenya, close to the border of Somalia, Kimanzi spoke with Quartz about how the attack has changed a city that was once named the safest in east and central Africa. Until recently, Garissa was known as a haven for Somali refugees fleeing from fighting between al-Shabaab and government forces, including Kenya's military. Garissa University, the first of its kind in the region, offered students who couldn't afford university degrees in Nairobi or elsewhere in Kenya an affordable education.
According to Kimanzi, the attack has done more than just instill fear in the student body. It has damaged the fabric of the community, and the peaceful coexistence of Kenyan Christians and Muslim Somalis that was once the pride of Garissa. "[Al Shabaab] wants to destroy the cohesion that we have enjoyed for many years."
Quartz: Tell us about your life in Garissa and how you feel on the anniversary of the attack.
Kimanzi: I first came to this town in the late 1980s, but only settled here in 1992. All of my children were born and brought up in this town. My children are fully integrated in Garissa communities. They can even speak the local language, Somali. They feel like they are part of this town. In all the years that I have been around, I have never experienced what I experienced last year. It was horrible and inhumane. How can you maim innocent souls that came here just to get an education?
What was Garissa like before?
Before the attack on the university, the town was okay but had been experiencing some security issues starting around 2012 [a year after Kenyan military forces began operations in Somalia.] But nothing was as terrifying as the attack on the university. I was heartbroken. I couldn't believe the Garissa I knew disappeared in a single day. There were many years that Garissa had been peaceful. Even when the rest of country was experiencing violence [after a disputed presidential elections in 2007 that left hundreds dead] this town was enjoying peace.
How has Garissa changed since the attack?
The attack has totally changed life in Garissa. People have became fearful. Some have even fled the town. Garissa became a ghost town after the attack. There was a dusk-to-dawn curfew. We were terrified. No one could move freely or without looking behind their back. But now, normalcy has started returned and business is picking up again.
How is the current situation in Garissa different from the previous years?
Garissa has had security issues before but none that were very dangerous. There have been thieves and bandits but they did not target you because you aren't Muslim. This new phenomenon of separating people because of their religion is troubling. [Al-Shabaab] wants to destroy the cohesion that we have enjoyed for many years.

What do you think should be done to improve security against more attacks?
To fight these people, Al-Shabaab, you need to engage the communities because they are part of the solution. They are also affected by the problem, but if you treat them as the problem then you won't find the solution. If a fly lands on a piece of meat and the meat gets spoiled, you don't blame the flies.

Mohamud Ali Swaleh, the former northeastern provincial director, has been appointed again in an effort to improve security. Has this helped at all?Yes, we are witnessing the changes he has brought and feeling some sense of security. Nowadays, I can even sell my groceries at night without fear. In terms of infrastructure, there are now security and street lights everywhere.
What do you think of Garissa's future?
I think Garissa will overcome its problems. This town and its people have much to offer to the rest of the country. We are hardworking, resilient, and peaceful.