South Africa's president Jacob Zuma comfortably survived impeachment this week. The African National Congress' majority in parliament means that with 143 votes for and 233 votes against the impeachment bid, it's unlikely Zuma even broke a sweat during the rowdy televised parliamentary session.
Senior politicians—including Nelson Mandela's former Robben Island prison mate—have called for Zuma to step down and civil society and opposition parties say they are planning to demonstrate until he leaves office. But this is not the first scandal Zuma has faced and survived. Now in his second term, Zuma has weathered a several storms, often with a giggle, sometimes with an apology.
A compound fit for a president
At the center of the move to impeach the president is a sprawling private residence that was meant to cost about $1.8 million and eventually cost more than $20 million in state funds. The Public Protector, a constitutional watchdog, investigated the home improvements and released a damning report in 2014 that ordered Zuma pay back the some of the money.
The president was adamant he did nothing wrong and a parliamentary committee, which opposition lawmakers boycotted, and a police ministry report absolved him. Last week, the Constitutional Court ruled that Zuma "failed to uphold, defend and respect the Constitution," setting the stage for the impeachment vote. Zuma apologized last Friday, and the ruling party accepted his televised apology, securing a majority in parliament and ensuring Zuma's survival, for now.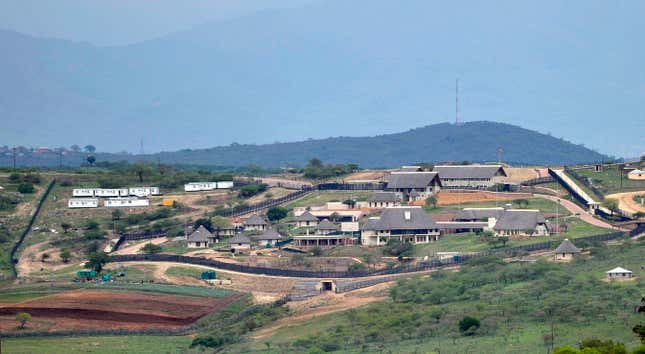 The rape trial that started it all
Zuma faced his first major public scandal when he was tried and then acquitted for rape in 2006. His allies said it was all a political plot to stop Zuma's presidential bid. He was fired as vice president of the country, but he remained the wildly popular deputy president of the African National Congress and his supporters picketed outside the court and vilified his accuser.
The trial's testimonies also brought to the fore uncomfortable conversations about sexual violence and HIV and AIDS, in a country that has some of the highest rates of both. Zuma courted both controversy and ridicule when he told the court that he showered after the encounter to avoid contracting HIV.
The domestic scandal Zuma literally survived
The youngest of Zuma's four wives was accused of slowly poisoning the president. His office dismissed the allegations, but First Lady Nompumelelo Ntuli-Zuma has rarely been seen in public since and media reports believe she has been "banished" from the presidential homestead.
The scandal that won't stick, but won't go away either
A controversial arms deal has dogged Zuma since the dawn of South Africa's democracy, and at times threatened to derail his political career. The arms deal has become an almost mythical corruption scandal involving the acquisition of a large cache of weaponry acquired from international arms companies. At one point, Zuma faced over 700 charges of fraud, corruption, money laundering and racketeering. The charges were dropped in 2009, in time for Zuma to be elected as president, but an opposition party is still fighting to have them reinstated.
Three finance ministers in one week
In December, Zuma shuffled finance ministers in a move that hit the country's currency hard. Without warning, Zuma fired finance minister Nhlanhla Nene, who was known for his prudence, and replaced him with an unknown parliamentarian. Outcry from the public and business leaders saw Zuma reinstate Pravin Gordhan, who served as finance minister under Zuma's first term. Africa's second largest economy is still struggling to recover and ratings agencies are assessing the country's credit rating, which is already flirting with junk status.
It pays to be the president's friends
The Gupta brothers, wealthy businessmen and Zuma's friends, reportedly have the power to hire and fire cabinet ministers. Earlier this year, the deputy finance minister revealed the Guptas offered him the finance minister post shortly before the shuffle. Before that, a former parliamentarian posted on Facebook that she declined an offer from the family that would make her the minister of public enterprises—the department that manages South Africa's national rail and electricity services—if she promised to drop the South African Airways route between India and South Africa.
The Guptas and Zuma have denied the allegations. But the Guptas have repeatedly courted scandal of their own. In 2013, the family used a military air base usually reserved for visiting officials to land a plane full of guests attending a wedding. One of Zuma's sons has also become a wealthy man while working for the family.