The creators of Watly, a 15-ton multitasking thermal dynamic computer, believe their machine could help address three developmental challenges in Africa in one go: clean water, electricity and internet connectivity.
The project—which is only in its prototype stage—aims to offer its machines as a solution to the infrastructural problems that communities all over Africa face. Marco Attisani, an Italian entrepreneur, hopes his creations will be set up on the outskirts of Africa's growing metropolises to extend existing services. A third of Africans still don't have access to clean water, according to the NGO WaterAid, and only about one in four sub-Saharan Africans have access to electricity, according to the World Bank. Despite the boom in mobile technology, internet penetration is at 28.6%, according to Internet World Stats.
Each arched Watly unit is fitted with photovoltaic solar panels that generate heat and solar power. Water is pumped into the tank and made drinkable through a process called vapor compression distillation, which uses solar thermal energy to vaporize water and separate it from contaminants ranging from sea salt to poisons. One machine could purify up to 3 million liters of water a year, Attisani says, and has a life span of up to 15 years. The whole process is driven by solar power, which allows the machine to generate enough off-grid electricity for itself and to charge devices that are plugged into it.
The machine would be connected to a central network management platform and to other Watly machines, creating a Wi-Fi zone with a radius of up to 500 meters. It links up via a satellite connection, radio link, or 4G network, according to the company's website. Locals could also go online using the giant screens on either side of the 130-foot long machine.
The first Watly prototype was completed in 2013, and last year a Discovery Channel initiative set one up in the village of Abenta in Ghana to test the human impact of this innovation. The Discovery Channel episode is set to air at the end of 2016, but the company is using it to market Watly's potential.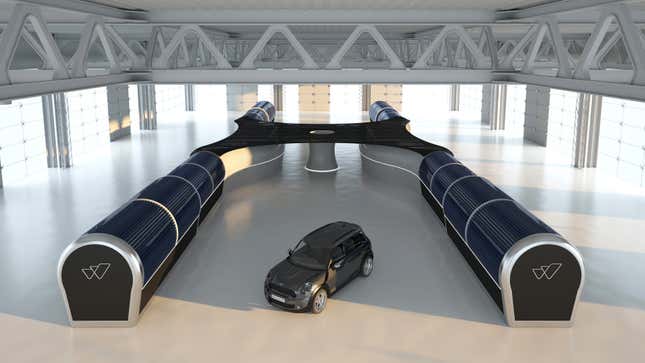 Watly hopes to sell its machines to governments and telecommunications companies who want to expand their reach without having to build new towers and other expensive infrastructure.
A Watly 3.0 is in production in Italy and should be ready by June, said Attisani. It costs €400,000 (about $453,000) to manufacture, he says, and its selling price has not yet been set. For now, the company has relied on nearly €2 million (over $2,2 million) in grants, including some funding from the European Commission's Horizon 2020 fund for research and innovation. Watly has recently turned to the crowdfunding site Indiegogo to raise money for a second machine.
Watly's modular, decentralized approach is a great alternative to large scale projects, said Diran Soumonni, an innovation scholar at the University of the Witwatersrand in Johannesburg, but he is only cautiously optimistic about the prototype's viability on a large scale.
"No matter how cool it is as a technical gadget, unless it gets used it's not considered to be a successful innovation," said Soumonni. Watly's creators have demonstrated proof of concept, he said, but the real test will be how it will fit into everyday life.
One issue may be getting government buy-in. African governments historically prefer to invest in large, imposing legacy projects, he said, rather than sleek, cost-effective solutions. And, he pointed out, it remains to be seen how much difference Watly will make in the lives of those it aims to help: Will they actually walk over to the Watly machine to charge their phones and get a drink of water?
Until it has been tested on the ground, it's unclear whether Watly will be a big success or yet another short-sighted innovation, made in Europe and sold to Africa, said Soumonni.
"This kind of solution, on the surface of it, is moving in the right direction," he said. "What I would like to see is for African inventors who live embedded in these environments or are closer to them to be involved in some co-creation."
Correction: An earlier version of this post erroneously stated that the company raised €20 million in grant funding. The correct figure is €2 million. The post has been updated.