Johannesburg, South Africa
On its first day in sub-Saharan Africa, Starbucks supplied blankets and umbrellas along with free coffee samples to its new customers who lined up in an uncharacteristically cold, wet Johannesburg on Thursday.
It's taken Starbucks years to get to South Africa, but some consumers have taken the coffee giant's entry into the local market as a reaffirmation of the country's standing in the world. Most of the first day's customers were acutely aware of the power of Starbucks' green siren logo.
"It kinda shows the world that South Africa is taken seriously to have a brand like this," said Olivia Cloud, a university student and former reality TV starlet.
"A lot of American products are coming into South Africa—Burger King, Starbucks—but it's good for local business," said law student Madi Doucoure.
Adrian Shannon, a creative director who says he travels a lot, welcomed Starbucks' location in the trendy Rosebank suburb, which he describes as having an "international feel." Starbucks' new neighbors include a relatively busy Burger King and a recently opened Krispy Kreme that still has a line outside.
"Although Starbucks is not necessarily the best coffee you can get they have a passion for coffee and a passion to make people happy and I think the local market could probably do with a little competition," said Shannon, who would like a few more local flavors.
Local flavors, international recognition
Woven leather ceiling panels inspired by basket weaving are some of the new store's nods to its African location, according to a statement. There are also mugs with the Johannesburg skyline. But the main aesthetic feature is a large copper mural to remind customers of the atmosphere of the Pike Place Market in Seattle and draw parallels to parts of Johannesburg.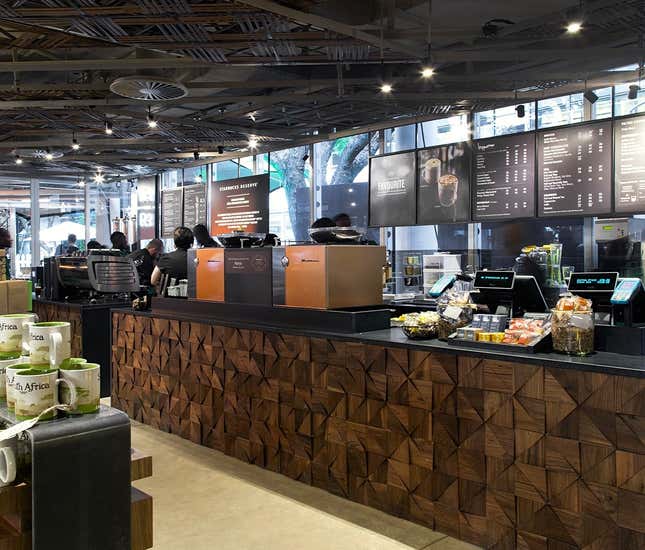 Investors were less excited about the opening though. Taste Holdings, the franchise management group that will operate Starbucks here, saw its share price drop by 4.64% by the end of opening day.
Following the announcement that the company had partnered with Starbucks on a 25-year exclusive partnership, Taste Holdings shares surged 20% in July last year, according to reports. But since then the share price has just about halved in a struggling economy. Introducing another American franchise to the South African market last year, Domino's Pizza, has also not paid off yet for Taste Holdings.
The cost of a cup of coffee

Many are wondering whether South Africans will be willing to spend more for the Starbucks brand. The price of a small latte at the Starbucks in Johannesburg is 23% more than the price of one at other chain coffee outlets.
These proportionally higher prices lead some to believe Starbucks is only targeting the upper-middle class population in South Africa.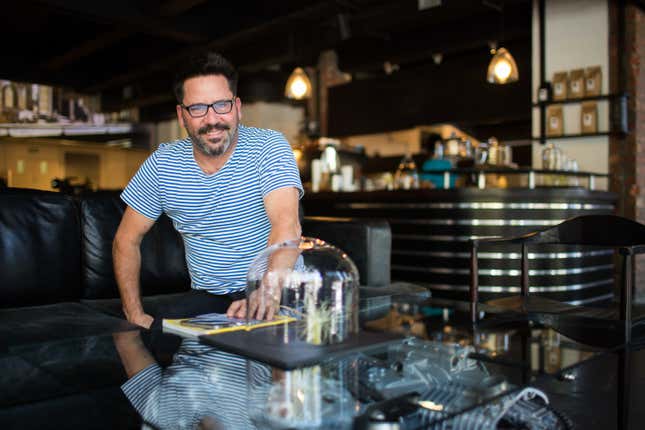 "The reality is there's only about 250,000 people in South Africa who can afford to buy Starbucks on a regular basis," said Jake Eaton, co-founder of Tribe Coffee, a local brand.
But compared to their US prices, it's surprising to see just how much Starbucks slashed it's prices for Johannesburg. Most drinks were about 30% cheaper than they are in the U.S.
Expansion plans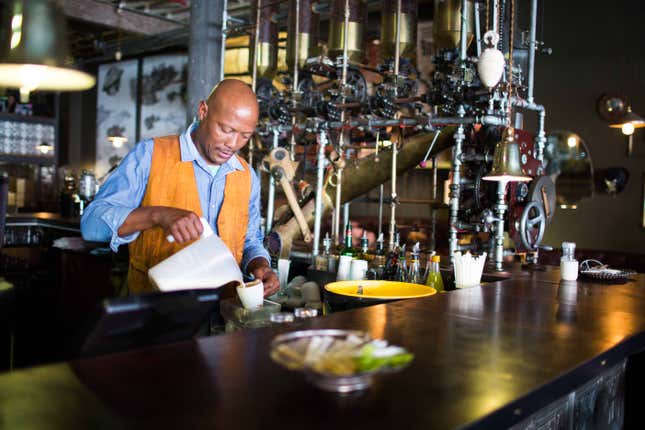 In addition to its Johannesburg coffee outlets, Starbucks also announced plans to open coffee shops in Cape Town. But Cape Town is already packed with specialty coffee shops boasting single origin, hand-roasted coffee.
So why would people pay more for a coffee that's probably worse?
"South Africans really love international brands," said Eaton. "H&M had a massive launch, and when Burger King opened there were lines around the block."
Some hope that after some time people will come to their senses and mind their wallets.
"I'm giving them a year of success, then people will go back to their normal coffee shops," said Krisz Bukaresti, a barista at Cape Town's Origin.