In her new "visual album" Lemonade, Beyoncé plays with a wealth of influences, including a strong African aesthetic. In several scenes she wears a voluminous, antebellum-styled dress made of bright, multicolored geometric African prints. In others, she wears tribal paint and beads and a braided crown that could have been at home on the head of a Zulu matriarch.
This isn't the first time Beyoncé has drawn inspiration from across the Atlantic. On her last album, 2013's self-titled Beyonce, she not only sampled Chimamanda Ngozi Adichie's TED Talk on feminism, but gave the Nigerian author a featured credit on the track "Flawless." And in the video for her 2011 hit "Run the World (Girls)," the pop phenomenon features dancers from the Mozambican dance crew Tofu Tofu. She nails every energetic step (in heels) of their Pantsula moves, a dance style that originated in South Africa's segregated townships in the 1980s.
With Lemonade, the inspiration Beyoncé takes from African artists again goes beyond simple borrowing and constitutes real collaboration. That's especially noteworthy in light of the fact that both she and the British band Coldplay were criticized earlier this year for what critics described as unimaginative cultural appropriation and tired Bollywood tropes in their video for the single "Hymn for the Weekend."
This time, Beyoncé gives African artists recognition in scenes that are neither typical nor tired. In "Sorry," dancers line up, swaying and jerking in their bus seats, covered in the intricate patterns of Nigerian artist Laolu Senbanjo.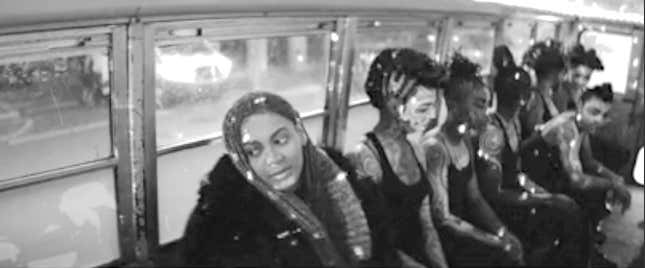 The patterns, at once swirling chaos and rational symmetry, are what Senbanjo calls "Afromysterics," a term he coined in 2007 meaning "the mystery of the African thought pattern."
Born in Ilorin, Nigeria, and now based in Brooklyn, New York, Senbanjo relies on Yoruba tradition for his very modern work, which is also featured on limited edition pairs of Nike Air Max. A former human rights lawyer, Senbanjo says his art also draws on feminism and his work with women and children.
Lemonade is an album that goes beyond Beyoncé's personal experience. It builds on the shared lives of black women, seen in the displays of sisterhood featuring tennis champion Serena Williams and a bevy of young black women.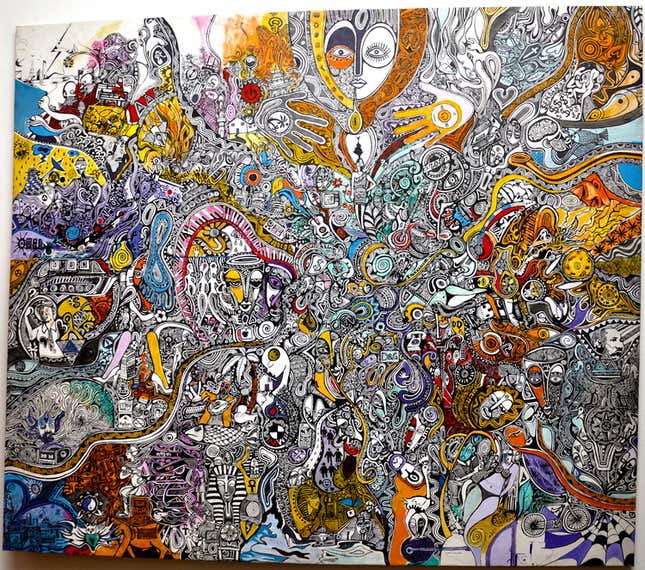 The album is made all the more poignant by the words of the Kenyan-born, Somali-British poet Warsan Shire. Named the first Young Poet Laureate of London in 2014 at age 25, Shire's work has captured the experience of migrants, and more recently, black womanhood. Shire's very personal poems of heartbreak, disappointment, and female identity, read by Beyoncé, link the chapters of the story in Lemonade and create a narrative rather than a traditional track list.
Here's hoping that when Beyoncé takes Lemonade on the road, she includes a few African stops on her tour.