Over the course of the last decade, Africa has witnessed immense economic growth with peak commodity prices and high investment and interest from powerhouse nations such as China.
But Africa's boom has not trickled down and translated into prosperity for a majority of Africans as the 2016 Africa Prosperity Report by the Legatum Institute finds that countries on the continent have had mixed success turning economic growth to prosperity delivered to citizens. The report measures prosperity delivery by parameters such as health, economy, entrepreneurship, personal freedom, education, governance, social capital as well as safety and security.
Across the board, there has been "absolute prosperity growth" but when compared to the continent's strong economic growth, the report shows the continent has made "no relative progress on prosperity". Compared to growth recorded, Africa's gains are outpaced by Europe and Asia and are significantly higher than only the Middle East.
South Africa, the continent's most advanced economy tops the general rankings of 38 countries covered by the report scoring high marks for entrepreneurship, social capital and governance. Conversely, Angola (33rd) and Nigeria (26th), two of the continent's largest economies, featured in the bottom half of the rankings showing a critical failure to deliver prosperity to citizens despite their economic growth and its resulting wealth. Given the inability to deliver prosperity to citizens at times of high commodity prices, both countries are less likely to do so given how badly hit their oil-dependent economies have been hit following a global dip in oil prices.
While the general rankings measure countries against all eight parameters, a more interesting way to judge prosperity delivery is to compare the levels of prosperity delivered by each country to the country's actual wealth. This comparison shows that some less wealthy nations have "significantly over-delivered" prosperity to its citizens.
Rwanda tops that list while Senegal, Morocco, Burkina Faso, Ghana, Mali, Kenya and Benin are also found to be delivering far more prosperity than expected given their wealth. Africa's two largest oil producers Angola and Nigeria, meanwhile, are both adjudged to be "under-delivering" prosperity. This gives more credence to the reality that a nation's wealth level does not automatically translate into prosperity for its citizens. The difference, a surplus or deficit, between a country's wealth and prosperity delivered is referred to as a "prosperity gap".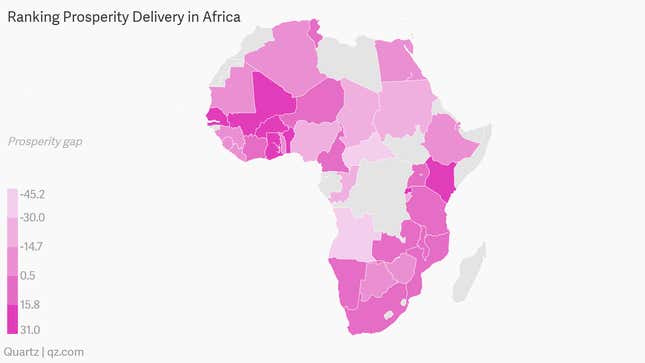 Central to a country's prospects of delivering prosperity, the report says, are three main factors: a diverse economy, effective governance—covering rule of law and business regulation—and respect for civil liberties and personal freedom.
The general lack of prosperity on the continent is typified by the relative lack of progress made in reducing corruption on the continent. While poverty levels in East Asia and Africa were similar in 1990, a comparison of recent levels shows that Asia had rapid progress eliminating poverty while Africa has made relatively slow progress.
Health proved to be a bright spot for the continent as there has been a rise in life expectancy and a drop in infant mortality rates. Much of this is down to success recorded in fighting diseases such as malaria and HIV.