The increasing organized crime activities of Nigerian gangs in Palermo has resulted in a fragile peace pact with Italian mobsters who have traditionally held sway over the area.  A report by the UK's Guardian says in Sicily, "neighborhoods under mafia control have changed profoundly in recent years due to the growing presence of foreigners, especially Nigerians coming on boats."
This uptick in migration, mainly via the Mediterranean, has seen newly arrived Nigerian gangs delve into drug dealing and sex trafficking while initially staying subservient to the Cosa Nostra mafia which controlled the area. "It is clear there is a subordinate relationship between Cosa Nostra and the Nigerian clans, with the former controlling the latter," Leonardo Agueci, Palermo's deputy chief prosecutor tells the Guardian. "At the moment, it is hard to imagine Nigerians taking over the Sicilians. Cosa Nostra is too strong and can't be compared to the Nigerian clans.''
But that balance may be upset as a result of the rising activities and influence of the Nigerian gangs as well as the crackdown on the Sicily mafia by Italian police which could leave gaps for power-hungry gangs to exploit.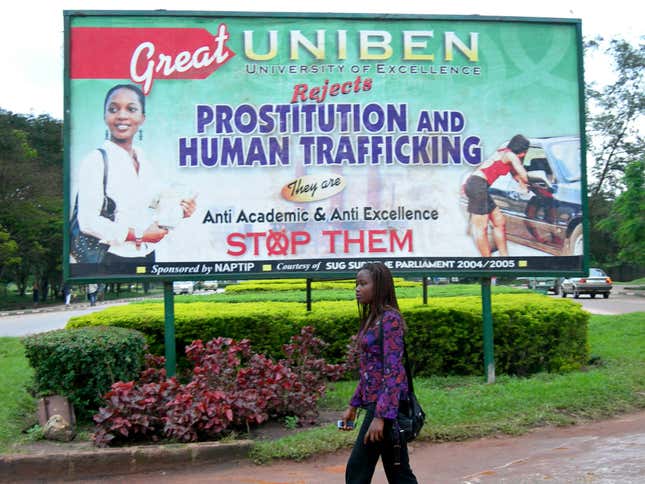 The Nigerian gangs in Sicily, with reported affiliation to Black Axe, a student fraternity with roots traced to Nigeria's University of Benin, are getting more violent and ruthless in dealing with dissenting and defiant members of the Nigerian community and thus attracting police attention. These activities led to the arrest and trial of one of the clan's leaders identified as Austin Ewosa who now faces a 10-year jail term.
Much of the gang's illicit trade is rooted in trafficking sex workers. Given the mafia's known preference not to dabble with prostitution, the Nigerian gangs thrive. Also, given Nigeria's high unemployment rates, the allure of a life in Europe has historically proven too strong for young ladies who are deceived with promises of jobs abroad. Once swayed, these ladies are transported to Italy and trafficked as sex workers. To keep them in work, the ladies are forced to pay off 'debts'—the expense of travel and accommodation in Europe. Protests against being sex worker are ruthlessly dealt with.
Edo, a state in Nigeria's South-South region and home to University of Benin, has long been noted as major source for sex traffickers and in an attempt to stop the trafficking chain, Adams Oshiomole, the state governor, created a youth employment program mainly targeted at young ladies. But neither local nor international efforts at stopping the chain have been a runaway success. Despite clamping down on dangerous routes across the Sahara and the Mediterranean, trafficking gangs across Europe are starting to resort to air travel.