When heads of state from across Africa arrive in Kigali, Rwanda next month for the African Union (AU) Summit, they will be among the first Africans issued the new electronic African Union passport. The passport is meant to make travel on the continent much easier for Africans.
"The scene seems to be set to realize the dream of visa-free travel for African citizens within their own continent by 2020," the AU said in a statement announcing the launch.
Travel in Africa is difficult for most Africans. They are required to have visas for over half of the countries on the continent. Only 13 African countries (pdf) allow other Africans to enter without a visa or give visas on arrival. In contrast, Americans can travel to 20 African countries without visas or with visas on arrival.
African travelers say they feel the same suspicion at immigration counters within the continent as they do outside of it. Aliko Dangote, a Nigerian businessman and Africa's wealthiest man, was himself once turned away by South African immigration officials as he struggled to locate his passport. Meanwhile his American staff sailed through border control.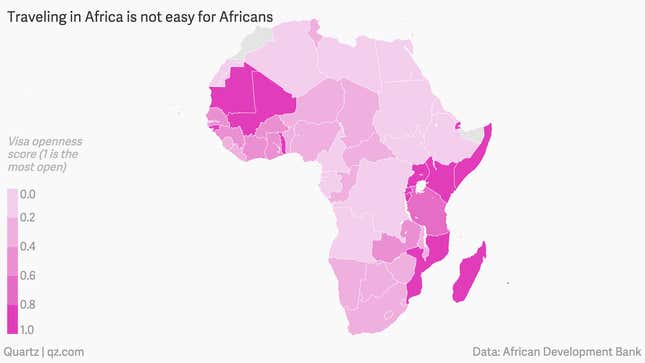 Intra-African trade also costs more than any other region—as much as 50% higher than East Asia, for example. A truck serving supermarkets in southern Africa needs to carry as many as 1,600 documents, including permits and licenses, in order to cross borders, according to Anabel Gonzalez, senior director of a World Bank group on trade and global competitiveness.
The goal of the African Union passport is to help turn Africa into a "continent with seamless borders" modeled after the European Union's Schengen Area. Giving the passports to state leaders is a "symbolic and significant" step, according to Nkosazana Dlamini-Zuma, chair of the African Union Commission.
Officials have been pushing for increased freedom of movement ever since the Organization of African Unity, a precursor to the AU, was established in the 1960s. The idea has gained traction over the last few years, however, due to the continent's improving economic fortunes and population growth. The AU wants to abolish visa requirements for all African citizens visiting African countries by 2018, and establish a free trade area across the continent by 2017.
Skeptics point out that creating a truly borderless Africa will likely be quite challenging. The continent hosts many refugees from conflict areas, not to mention militant groups like al-Shabaab or Boko Haram. Then there are public health crises like the Ebola outbreak, and questions posed by the nationality of those who have been deemed stateless.
The Seychelles, Rwanda, Mauritius, and most recently Ghana have all loosened travel restrictions on their fellow Africans, allowing visas on arrivals or entry without the permit. But the process remains slow. Currently, only AU heads of state and government, ministers of foreign affairs, and other AU officials can apply for the passport, which will be recognized in all 54 countries belonging to the organization. A representative of Dangote's company, Dangote Group, says the Nigerian billionaire will also receive an African Union passport.
"Countries have said that they are going back to look at the practicality of doing their immigration regulation," says African Union Commission chair Dlamini-Zuma. "But there is a decision and it is up to all of us to hold our countries to that decision so that indeed Africans can move freely amongst other African countries."