When most people think of Nigeria having an ecosystem of innovation and technology they instinctively think of Lagos, and understandably so. After all, Lagos is home to over 20 million people, and is the largest commercial city in Africa. It is also home to some of Africa's best known consumer tech businesses including iRokoTV, Hotels.ng, Jobberman and Andela, which recently.picked up $24 million in funding from Mark Zuckerberg's foundation.
In emerging markets, Lagos continues to be a city with plenty of promise and opportunity for startups, but as we've written before, despite the obvious logistical and commercial advantages, there are opportunities beyond the 'smoke' of Lagos. None is better placed than Nigeria's Federal Capital Territory city of Abuja, just 300 miles northeast of Lagos and a fifty-minute plane ride away.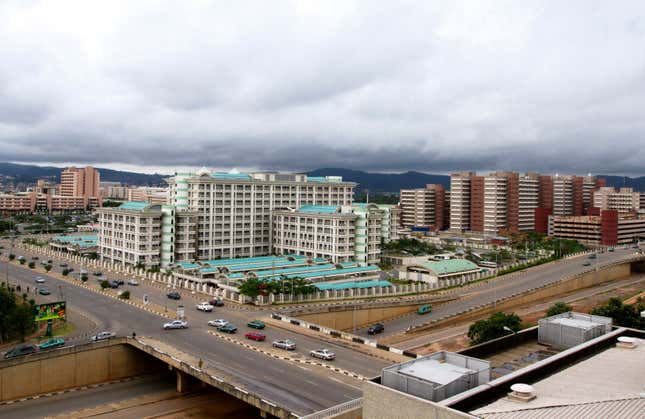 In many ways Abuja is Nigeria's original startup city. It was founded just 40 years ago, after being carved out from the center of the country. For years it was a drab and unexciting bureaucrats' city, not unlike other purpose-built capital cities like Brasilia, Brazil or Canberra, Australia. But it was also lucrative for a few of the early visitors. Ambitious men in long-flowing white robes, $300-leather sandals and briefcase in hand, used to fly in on a Monday to hustle for multi-million dollar government contracts and fly back out to Lagos or Kaduna on Friday morning. Few people actually lived there back then and there was little genuine entrepreneurship. Since the late-90s, a few years after the government moved there, this relatively well-planned city has grown steadily to around three million people.
But Abuja isn't just a civil servants' city anymore. Now its center is surrounded by several universities in the city itself and in neighboring states so there's a constant influx of fresh young entrepreneurs looking to launch new businesses and to collaborate with the government and its parastatals.
In many developing countries, working with government is essential for entrepreneurs and Nigeria is no different. This places Abuja in a unique position to nourish its own innovation ecosystem and insiders say it's already on its way to providing that support for tech entrepreneurs and others like them.
"People should not underestimate the rise and growth of a vibrant tech ecosystem in Abuja," says Bunmi Okunowo, the national coordinator for ICT innovation and entrepreneurship (OIIE).
In February, the government-funded OIIE launched a new program called StartUp Fridays, a curated meet-up for young businesses, investors and mentors. At these gatherings, young entrepreneurs have the opportunity to pitch their startups and receive feedback and network with potential investors.
Okunowo believes in supporting and partnering with local tech hubs to build a strong ecosystem in Abuja. Though there is still plenty of room for growth, Abuja is home to a few innovative hubs working to change the narrative of how outsiders view, understand and experience the Abuja tech space.
Inventor and entrepreneur Jennifer Chizua, launched her startup accelerator, Startpreneuers, in Abuja to assist startups with early funding. Her goal has been to expose Nigerian startups to international investors and ecosystems by working with entrepreneurs with disruptive ideas to change the country. Chizua, who created the world's first automated make-up brush cleaning machine, believes, "entrepreneurial hubs are the future of Nigeria's economy."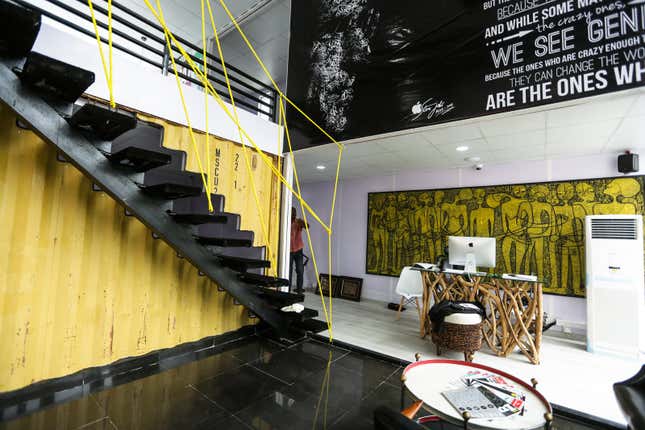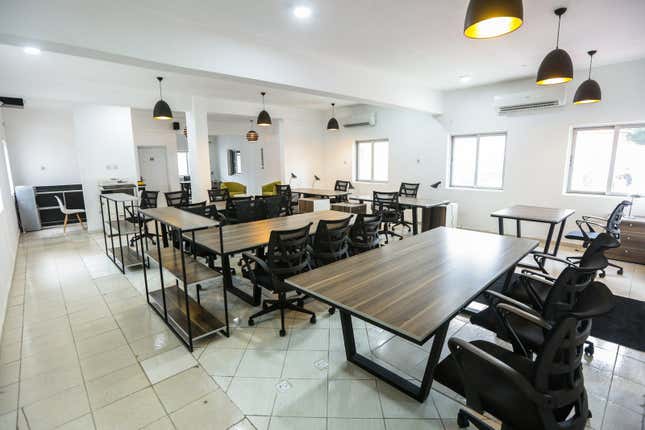 Ventures Platform, founded by Kola Aina, chief executive of the tech solutions Emerging Platforms Group, is the latest hub to launch in Abuja. A full service innovation hub and co-working space that blends creativity and aesthetics with technology and innovation, the platform is located on the Ventures Park Abuja Campus, and is itself an example of the creativity and innovation it hopes to inspire within its community of techies, entrepreneurs, freelancers, and small business owners.
"Startups need more than just money. They need a framework and a community to support their ideas and to help them build a valuable network," said Aina.
The campus houses co-working space, work facilities for its 16-week hybrid incubation program, residential facilities for need based cohorts, and a gym. Designed by Nigerian architect Wole Oyebanji of CoBuildit.com, the platform is built primarily out of repurposed containers and filled with eclectic furnishings, and striking works of African art by renown artists like Nigerian, Victor Ehikhamenor.
The interior space bears witness to the vision of creative director, Ernest Danjuma of The Denda Group, a company that focuses on brand design and growth strategy for startups and SMEs. "I'm a firm believer in combining design and functionality to inspire people to produce good work." Danjuma holds that the aesthetics of certain spaces can help foster creativity.
If there still was any doubt of the rise of Abuja's importance in tech circles note that Co-Creation Hub (CC Hub), Nigeria's leading innovation hub, and a key champion of the rise of Lagos as an African startup center, has also opened up in Abuja. According to this tweet by chief executive Bosun Tijani, it's CC Hub's first office outside Lagos.
Technology and innovation will continue to hold the spotlight in Abuja over the next several weeks, as the Nigerian government prepares to unveil the "50 Most Innovative Startups in Nigeria" in an inaugural program called Aso Villa Demo Day (Aso Villa is the president's official home in Abuja).
It kicks off this week with 100 start-ups from across the country who will have the chance to pitch their ideas and businesses to private and public stakeholders. The second part will hold on July 28, 2016 when president Buhari will host 50 of these startups to an audience of decision-makers, investors and influencers at Aso Villa.
It seems that Abuja is determined to build an ecosystem that focuses on injecting new and vibrant players into the tech space in Nigeria. Lagos may be inundated with startups and growing tech solutions companies, but Abuja is definitely one to watch.