Oscar Pistorius was sentenced to six years in prison today (July 6) for the murder of his girlfriend, Reeva Steenkamp. Since he is a first-time offender, judge Thokozile Masipa deviated from the prescribed minimum sentence of 15 years for the man she described as a "fallen hero." The new sentence is one year longer than his original sentence, which he started serving in October 2014. Pistorius will not appeal today's ruling, according to reports. He is expected to return to the Kgosi Mampuri prison in Pretoria.
The Paralympic and Olympic athlete shot and killed his girlfriend in the early hours of Valentines Day in 2013. Throughout his trial, Pistorius maintained that he mistook her for an intruder in his home in a gated community in Pretoria. Pistorius was found guilty of culpable homicide or manslaughter in 2014, but when prosecutors appealed for a stiffer charge, South Africa's Supreme Court of Appeal found Pistorius guilty of murder in December last year.
"The accused ought to have been found guilty of murder on the basis that he had fired the fatal shots with criminal intent," the Supreme Court decision said. But Masipa, the same judge who handed down a more lenient conviction during the original trial, said mitigating circumstances outweighed aggravating circumstances, allowing for deviation from the minimum 15 years in prison.
"Murder is always a very serious crime," said Masipa. "The fact that the accused thought it was an intruder does not make it less serious." That Pistorius tried to resuscitate his victim once he learned that it was his girlfriend, all the while praying for a miracle, showed that he was mistaken, she added.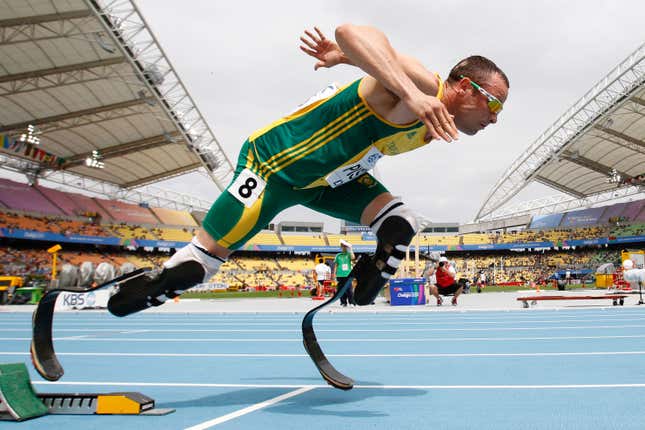 Dressed in a black suit, his hair graying, Pistorius stared blankly as the judge read her decision. He returned to the courtroom where his televised trial took place over seven months in 2014. Then, Masipa convicted him of culpable homicide or manslaughter. Under that lighter conviction, Pistorius was sentenced to five years in prison. After spending a year in the medical ward of a Pretoria prison, Pistorius was released into house arrest at his uncle's stately home and carried out supervised community service in the same city.
Four years ago, Pistorius was a star athlete preparing for the Olympics in London. The 29-year-old had intended to finish his career at this year's Olympics in Rio de Janeiro. Now, according to a psychologist's testimony during the sentencing hearing, Pistorius was studying law via correspondence at the University of London. He has sold his gun collection, and swore never to touch a gun again.
The psychologist also said Pistorius had dealt with major depression and post-traumatic stress disorder, describing him as "a broken man" while building a case for leniency during re-sentencing proceedings last month. But the court gave little weight to the psychologist's testimony. While the judge also dismissed allegations that Steenkamp was a victim of domestic violence, she put emphasis on her close-knit family's loss.
During the re-sentencing hearing, Pistorius took off his prosthetic legs inside the packed courtroom and walked gingerly across the floor, his disability on full display in a bid for clemency. It was a far cry from the celebrity athlete who defied his personal circumstances and captured global attention. The Paralympian who qualified for the Olympics was known as the Blade Runner for the specialized carbon-fiber prosthetics he competed with. Once the 15th-fastest man in the world, he ran a personal best of 45.07 in a 400-meter race in 2011.
The judge said public perception of Pistorius could not play a role in her decision. For some on Twitter, the sentence was not harsh enough.