(This post has been updated.)
A day after South Sudan marked its fifth year of independence, the world's youngest country is on the verge of sliding back into civil war. At least 272 people have been killed as rival government factions clashed over the weekend in Juba, dimming hopes that the latest peace deal will hold.
Fighting and gunfire could be heard in the capital again today (July 11), a day after the United Nations Security Council called on both groups to "urgently end the fighting" that has rocked the city for days.
On Sunday, fighting had broken out in the suburbs of Gudele and Jebel, near army barracks, the airport, as well as United Nations compounds that house thousands of displaced citizens. One Chinese peacekeeper has been killed and several others injured. Local journalists reported seeing at least 100 bodies laying on the ground near the presidential palace and near UN bases. Civilians are hiding in churches throughout the city.
The country is "back to war," a spokesman for vice president Riek Machar, head of one of the rival factions, told the BBC. A government spokesman disagreed with Machar's characterization saying, "The situation is normal and it is under full control."
The UN has said that hundreds of civilians are fleeing fighting in Juba and that it is "gravely concerned" about reports that troops are blocking civilians from seeking protection at UN properties. Kenya's national carrier has halted direct flights to Juba. The US embassy in Juba is evacuating all nonessential staff, saying that the country had experienced a "sudden and serious deterioration." Japanese aid workers are also being evacuated from the country.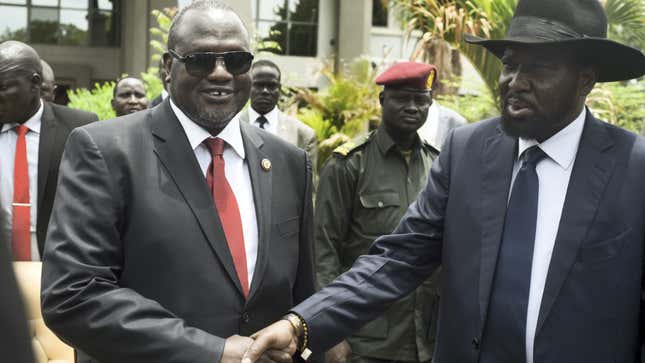 Since South Sudan's civil war in late 2013, the country has been engulfed in fighting, caught between forces loyal to president Salva Kiir and Machar, Kiir's former vice president. Last year, Kiir and Machar signed a peace deal to form a new coalition government led by Kir, with Machar as vice president. UN secretary-general Ban Ki-moon said the recent fighting "has the potential of reversing the progress made so far in the peace process."
It has seemed like the new government would fail before it had a chance to begin and the latest clashes are more proof that neither leader has full control over their supporters. Fighting broke out on Friday between Kiir's and Machar's bodyguards while the two leaders were meeting at the state house to discuss how to defuse tensions. An estimated 150 soldiers and civilians were killed, according to a spokesman for Machar.
A return to fighting risks worsening an already existing humanitarian crisis. More than 2 million people have been displaced. War has impoverished the country of 11 million, which had to cancel independence day events because it couldn't afford to hold them.