When fighting broke out between the bodyguards of South Sudan's president and vice president on July 8 just as the two were meeting to discuss diffusing tensions, neither leader was able to explain why. Two days later, almost 300 people—including soldiers, civilians, and UN peacekeepers—have been killed in the capital of Juba. Both president Salva Kiir and vice president Riek Machar blame each other for instigating the violence.
Their ignorance and confusion is a sign that neither leader has any real influence over their rival factions. Kiir has been increasingly seen as a lame duck president. Machar, Kiir's former vice president turned rebel leader, also lacks resources to command his forces, a shaky coalition of Kiir defectors and local militias.
"Between the collapse of oil prices and the destruction they themselves wrought in the civil war, South Sudan is so destitute that there are no resources with which the country's rulers might employ to bring their followers to heel," J. Peter Pham, director of the Africa Center at the Atlantic Council in Washington, told the New York Times.
The two sides have been locked in a war since 2013 after Kiir accused Machar of staging a coup against him. Fighting officially ended last year with the tentative signing of a peace deal that would have the two sides form a new government. Wrangling over details of the deal have slowed and possibly hijacked the process.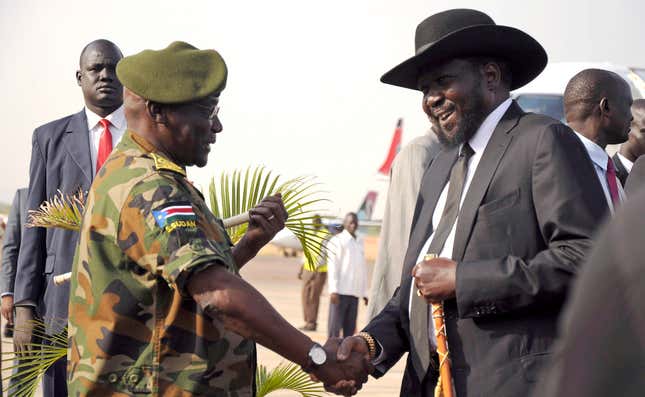 The real force behind the last few days of violence, according to South Sudan expert Clémence Pinaud, from the University of Indiana, may be the feared military general Paul Malong, head of the Sudan People's Liberation Army (SPLA) and former governor of Northern Bahr El Ghazal, a state in the northwest. Malong, known as King Paul among his supporters, has a vast patronage network cemented by dozens of marriages—he has between 45 and 87 wives (pdf, p.19).
Malong has long been thought to be the real base of power in Juba—some say that president Kiir cannot openly challenge his general—and interested in seizing power over the government for himself.
In the confusion over who is behind the resurgence of violence in Juba, rumors have circulated that Malong hopes to destabilize the city and take control, Pinaud notes in a blog post. When fighting broke out on July 8, SPLA troops were reinforced by troops in the are surrounding Juba and Lori, a cattle camp, where recruits for Malong's militia, the Mathiang Anyoor, have been known to stay.
If Malong takes over Juba, a new front of fighting could be opened up in his former state, Northern Bahr El Ghazal, according to Pinaud. "Much remains uncertain, but the future of South Sudan looks grim, and it is not just Juba," Pinaud writes. "Just five years after independence, and less than one year after a peace agreement was signed, a phase of a third South Sudanese civil war seems to have begun."