Three years ago, whenever Larry Eghosa, a Lagos-based sound engineer, tried to pay for products online it was always a crapshoot. After submitting his order he'd typically have to wait for about five minutes to get confirmation of payment being accepted. But, more often than not, the same error message appeared: 'Your transaction was not successful'. This regular frustration for Eghosa, now 28, occurred frequently in the early days of Nigerian e-commerce. It helped fuel skepticism in a society already distrustful of internet-based businesses.
Yet, in spite of this lack of trust, Nigeria has quickly grown to become a leading hub for African e-commerce startups—a testament to the potential size of the market as businesses jostle for access to Nigeria's 180 million-strong population. It also speaks to the resilience of Nigerian entrepreneurs—and the patience of customers—because the market has never had a stable and ubiquitous technology platform to enable easy payment for goods and services.
But things are changing rapidly. In just two years since PayPal launched in Nigeria, it has seen the country rocket to its third largest mobile e-commerce market in the world with transactions of some $610 million in 2015 via a phone. PayPal says it's on course to hit $819 million this year. However, most of PayPal's business in Nigeria to date is focused on Nigerians purchasing internationally and not on small local merchants. Therein lies a big opportunity for local players.
For merchants, the payments problem is one that needs to be solved urgently as young, mostly bootstrapped, start-ups struggle to turn cash positive. It isn't just an e-commerce problem either as regular people simply want the convenience of paying bills and making transactions without having to stand in long lines at the banks or have to visit a physical business address.
In those early days, payments were "really bad", says Mark Essien, founder of hotels booking site, HotelsNg. "A 60% payment failure rate was very common."
This failure rate was, in part, because financial institutions did not create specific solutions for e-commerce. Also, existing payment gateways, perhaps due to a lack of competition, were slow to revamp their systems despite its many glitches which often left merchants and customers frustrated. This is why investors and entrepreneurs have turned their focus on to the payments sector in a bid to solve the most basic of challenges: getting paid.
Building locally
In 2009, Tayo Oviosu, quit his senior role at a private equity firm, to start building Paga, an end-to-end payments company which combines enabling online commerce with offline components.
"People underestimate the challenge of running a payments company and the readiness of the market in Nigeria," Oviosu says. Paga raised $13 million in series B financing led by Adlevo Capital last October. Paga users can send and receive cash offline through its extensive agent network and online via a mobile app. Merchants and businesses can also integrate Paga checkout payment processes on their websites.
"If you're thinking of solving the problem of commerce, you have to think both online and offline to get to the mass market," Oviosu says. To do that, Paga has spent the last four years signing up to 10,000 agents to build what Oviosu now describes as the "single largest network of financial access points in Nigeria." This agent network allows Paga provide financial services to some of the "70% of Nigerian adults" who are without bank accounts according to Oviosu.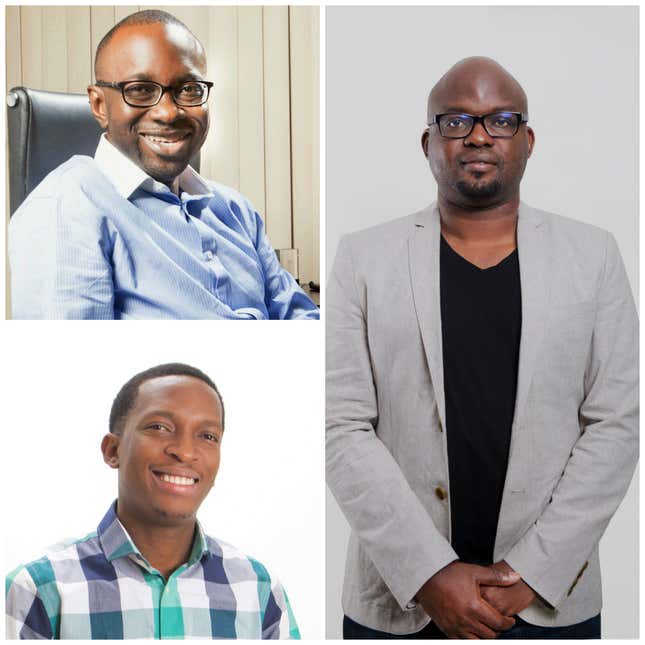 Like Oviosu, Shola Adekoya, chief executive of Konga, one of Nigeria's biggest e-commerce companies, has a vested interest in getting payments right. Having recorded a failure rate as high as 70% while using existing payment gateways, the company decided to develop its own solution.
"KongaPay was born out of necessity," Adekoya says. "We had to make payments as seamless as possible." Seamlessness is a key feature as KongaPay allows users to make payments directly from their bank accounts without debit cards after a one-time authentication. This is possible as a result of Konga's partnership with local banks. While shoppers can use the payment channel to complete orders on Konga's marketplace, they can also use its mobile app, synced to their bank accounts, to pay for bills and mobile recharges without having to maintain and fund online wallets on different payment platforms. The ease of process appears to be working. Adekoya claims KongaPay now records 300% more transactions than its other payment channels which it still retains.
Jumia, Konga's main rival in Nigeria's e-commerce space, has toed the same line. In April, it launched JumiaPay, which allowed shoppers complete transactions on its platform with the payments solution. Given Jumia's vast resources and recent consolidation of its parent company, the hope clearly will be for JumiaPay to become a default mode of payment for customers across the various Jumia businesses which span hotel bookings and food delivery.
New entrants
Iyin Aboyeji, co-founder of the Mark Zuckerberg-backed coding start-up, Andela, is leaving to start Flutterwave, a payments start-up that wants to make it easier to "process credit card and local alternative payments" and make it possible for global companies and merchants "to process payments like a local African company". Aboyeji says local payments generally makes Africa an unattractive proposition for global companies, robbing the continent of investment opportunities. "A lot of global players spend a ton of money when they enter the African market and then question why they're not successful later on. They don't realize that credit card payments aren't the preferred payment in Africa."
Collectively, local payment start-ups are working to ensure that electronic payments are generally more successful. There's plenty of reason to get this right for all involved as just last year the value of online and offline electronic payment transactions in Nigeria was pegged at $155 billion.
Staying solvent
While local online merchants now have more options for payments processing and users generally find it easier to pay bills and make transactions online, the long road to gaining traction and profitability has only just begun. Eghosa Omoigui, founder of venture capital fund, Echo VC Partners, says while "the opportunity is gigantic", payments companies need to have staying power as it will take a long time and lots of funding before they become truly successful. "The market is irrational as well as uneducated and distrusting, new payments start-ups will need to stay solvent long enough to convert the market to rational, trusting and educated," he says.
Inevitably, investors will also ask questions about the size of the market before committing money to payments start-ups.  "The actual payments volume for online commerce is very small in part because there is still a very significant trust deficit," Omoigui says.
But most are playing the long game. This is true for start-ups with smaller pockets, such as Paystack, which was recently accepted into and backed by Silicon Valley's Y Combinator. Only six months old, Shola Akinlade, Paystack founder, says the start-up wants to be  a "very intelligent bridge between merchants and payments processors." Acting as an aggregator of sorts, Paystack connects to multiple payment processors and handles payments on behalf of merchants and customers.
For customers, it saves them from the stress of having to try out which processor might work and for merchants, it allows them connect to one payment platform, rather than multiple ones. Akinlade says, with minimal marketing, the company has signed up more than 2,000 merchants, including video streaming giants, iROKOtv and hotel booking platform, Hotels.ng. Essien says his company switched previous multiple gateways with Paystack as the platform "has a lower failure rate and is less complex to use."
New payments start-ups also face competition from local banks. Previously slow to innovate and cater to the needs of e-commerce businesses as well as an increasingly internet savvy customers, banks now try to outdo each other with the most functional and sleek mobile banking apps which enable transactions such as bank transfers and paying bills. Going further, banks have also developed standalone payments solutions. With much deeper pockets, smart banks are likely watching the best startups as possible partners or even acquisitions.
But there are so many new entrants now, the payments space now can seem muddled. To escape the rising saturation, Omoigui also believes a bigger challenge for a payments start-up would be to "go after the unbanked, figure out what the  issues are and solve for them."