For a landlocked country without any fancy ocean-view beach resorts, Ethiopia's tourism industry is not doing badly. Named the world's best tourist destination of the year in 2015, Ethiopia says it post a 20.7% spike in tourism dollars last year hitting a record of $3.4 billion.
Much of the growth of Ethiopia's tourism has been due to its nine UNESCO world heritage sites, such as the 13th century rock-hewn churches in Lalibela, which continue to be a big draw. Also important, Gezahegn Abate, tourism ministry spokesperson, says, is the Ethiopia's growing popularity as hosts of international business events and conferences which "had also a direct and positive impact in boosting tourism."
In total, visitor numbers has increased 12% annually over the last decade with around 2.2 million jobs created as of 2014 according to the African Development Bank. Having welcomed 910,000 visitors in 2015, the country is on track to reach 1 million visitors this year.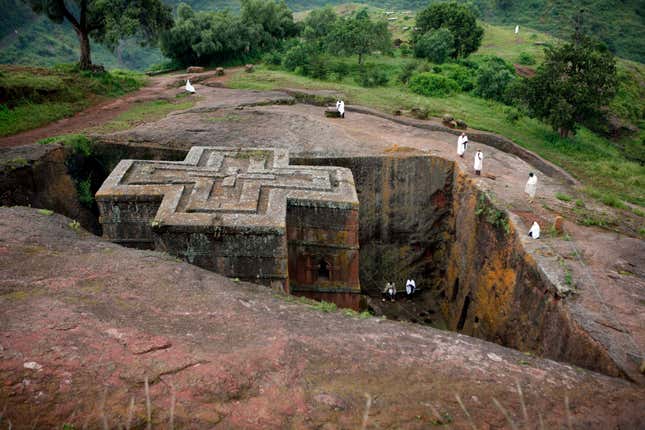 Even as Ethiopia's tourism dollars spiked last year, both its east African neighbors Kenya and Tanzania saw their revenues decline.
For its part, Kenya's tourism industry has suffered a slump following high profile terror attacks like the devastating raid of Nairobi's Westgate mall in 2013 and a similar attack on Garissa university last year, both carried out by al-Shabaab. Police also say they have thwarted similar attacks which, while comforting, are a reminder of the threat the country continues to face from terrorists.
Despite its recent success, Ethiopia is not letting up. It has set a target to grow visitor arrivals to 2.5 million by 2020 and earlier this year, it launched a new tourism brand marketing itself as the 'Land of Origins' with government officials keen to sell the message of the country's history and culture to the world.
"People don't know a lot about Ethiopia," Solomon Tadesse, CEO of the Ethiopian Tourism Organization says. "It is the land on which human beings walked upright for the first time. It is the land that brought a gift to the whole world, the coffee that everybody enjoys every morning. It is the land with the source of the Blue Nile, where civilization started." Tadasse says the country is working on "simplifying the visa processing for both tourists and potential investors" as they aim to continue to grow the country's tourist profile but admits there is "a lot of work" to be done "telling the world about the real Ethiopia."
Regardless of the upbeat outlook on Ethiopia's tourism potential however, it still contends with serious internal challenges. Earlier this year, while facing its worst drought in 50 years, as many as 18 million people were left in need of food aid.