America's Black Lives Matter movement is taking root in Canada. This weekend, hundreds of protesters and mourners, including the mayor of Ottawa, laid to rest a black Somali immigrant who died last week after being beaten by Canadian police.
Abdirahman Abdi, 37, was arrested outside of his apartment in Ottawa on the morning of July 24 after police pursued him from a coffee shop. He had been accused of fondling a female customer. Witnesses told Canadian media that police tackled Abdi, pepper sprayed him, and beat him with a police baton.
Video taken by a bystander shows Abdi laying on the ground handcuffed, bloodied, and motionless while screams can be heard in the background.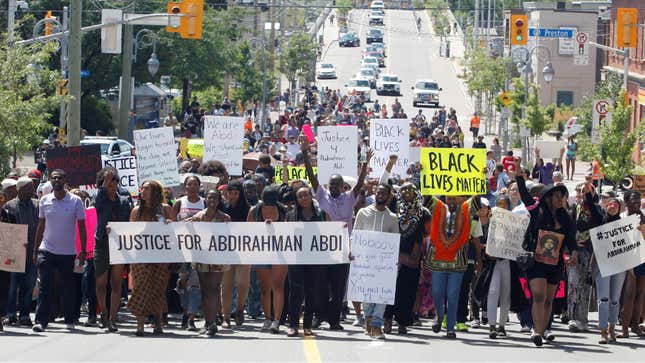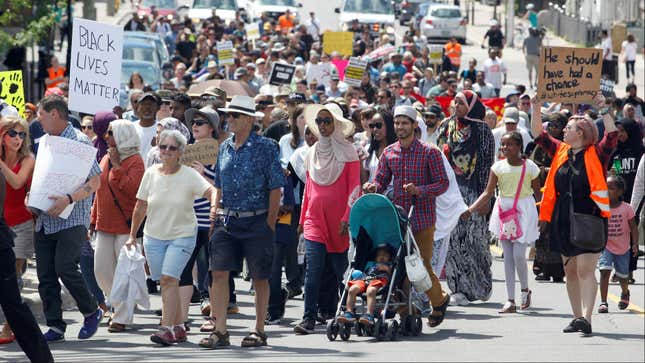 In a statement, Abdi's family said Abdi had been dead for 45 minutes before he was taken to the hospital. Witnesses said that after Abdi was handcuffed, the police continued to hit him. Friends of Abdi said that he was mentally ill. A special investigations unit is looking into the case and the actions of two male police officers involved.
"This is far from solely an American problem," Robyn Maynard, an activist in Montreal, wrote in an editorial on July 31.
Abdi's funeral on July 29 at a local mosque, attended by protesters and local politicians, including Ottawa mayor Jim Watson, was followed the next day by a march to the Ottawa police headquarters on Saturday. Protesters held signs that said "Black Lives Matter" and "Justice for Abdi."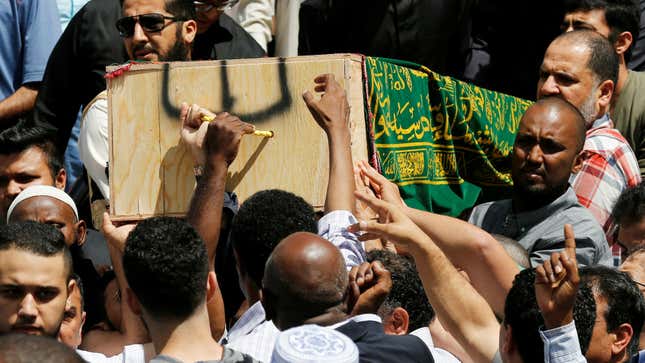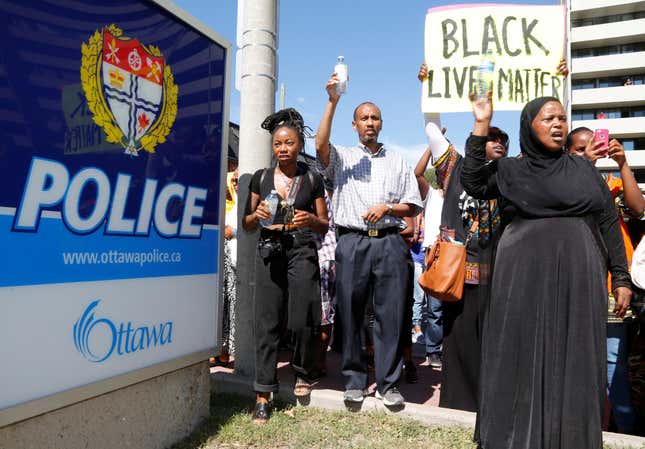 In Canada, a country often held up in contrast to the United States for its openness and tolerance, race relations is tangled up with an internal debate over refugees. Prime minister Justin Trudeau has promised to welcome more refugees, but critics say the country lacks the resources to host thousands who are escaping countries like Somalia.
Abdi, who moved to Canada in 2009, was one of more than 150,000 Somalis in the country, one of the largest Somali communities outside of Africa. Last year, Canada elected its first Somali-Canadian member of parliament, Ahmed Hussein, an activist and lawyer. Despite Canada's openness, many have struggled with unemployment, poverty, and violence. Dozens of young Somalis—ciyaal baraf, or "children of the snow," those whose parents escaped to Canada in 1990s—have died in gang-related violence since 2005.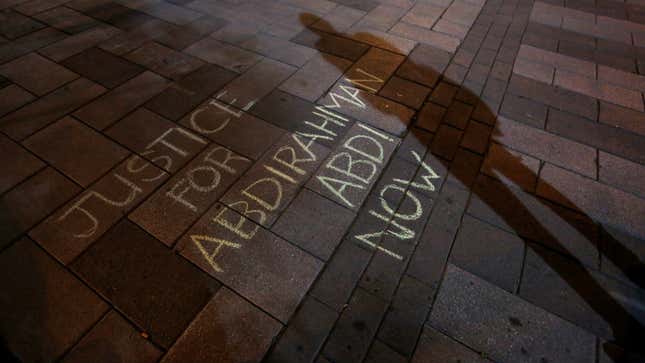 Researchers say that Somali immigrants face extra difficulties as both racial and religious minorities in Canada. Researcher Rima Berns-McGown, of the Centre for the Comparative Study of Muslim Societies and Cultures at Simon Fraser University, said last year, "They're suspected by Canadian society for all kinds of other reasons."