There are high hopes for Kenya's new rail project. The $13.8 billion standard-gauge railway, being built by a Chinese company, is meant to connect the port city of Mombasa to Nairobi and eventually the rest of East Africa. It should bring down transportation costs and cement Kenya's status as the region's largest economy. Most importantly, building it should create tens of thousands of jobs.
According to workers and locals, the jobs haven't appeared, or at least not enough of them. On Aug. 2, residents of Kenya's southwestern Narok county stormed a construction site of the project's contractor, China Road and Bridge Corporation (CRBC), attacking Chinese workers with clubs and knives and chanting "haki yetu" ("our rights"). Fourteen injured Chinese staff were sent to a nearby hospital, according to local media.
The demonstrators, mostly from Kenya's pastoralist Masai tribe, say they were promised jobs as plant operators and drivers. "But the job opportunities we have been given are negligible," one protester told a local television station.
Complaints over pay and working conditions at the Chinese companies that have built many of the country's roads, buildings, and infrastructure projects over the past few years have become common. But one of the biggest gripes is that Chinese companies in Kenya, as well as across much of the continent, import their own labor.
CRBC, a subsidiary of a state-owned Chinese construction company and one of the biggest Chinese enterprises in Kenya, has become a particular target. It was contracted to build the rail link between Nairobi and Mombasa as well as other parts of a network that will eventually connect Mombasa to hubs like Kampala, Uganda and Juba, South Sudan. In the two years since it began construction, the company has been accused of firing workers without cause, importing labor, stealing water from local communities, and secretly dredging sand from Kenyan beaches for construction material.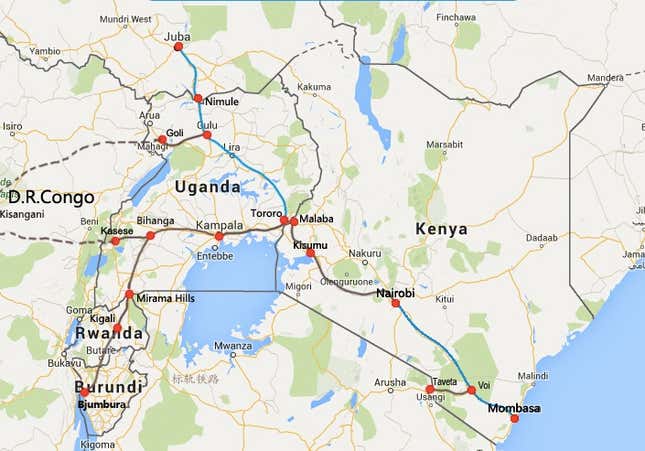 A day before the Narok attack, CRBC workers in Nakuru, another construction site for the railway, put down their tools and blocked traffic with sticks and stones. They wanted to be paid 500 shillings ($5) a day instead of 250 shillings—which is about the average wage for unskilled labor—and claimed that workers who had asked for more pay had been fired.
CRBC and Kenya Railways did not respond to requests for comment about the Narok protests or the attack. But the company has tried to defend its hiring practices.
In March, it said it had employed almost 20,000 Kenyans, and only 2,000 Chinese workers. Other attempts to endear itself to the local population include digging boreholes, funding students to study railway engineering in China, holding basketball tournaments, and having its staff enter essay contests. "We see ourselves as a force for good; a transformative agent among the people in the areas we operate," Steven Zhao, a company official, told local media earlier this month.