Beijing has promised to help fund and construct a new parliament building for Zimbabwe. Chinese officials pledged $46 million for the new structure, to be built on a plot of farmland just outside the capital of Harare, according to local media
Helping African governments erect government buildings, typically imposing and expensive symbols of the state, is one of China's oldest diplomatic strategies on the continent. During the early years of Chinese engagement with Africa, funding public offices was an easy way for Beijing to endear itself to newly established diplomatic partners. The trend appears to be picking up again, this time prompted by requests from African heads of state, according to researchers.
China donated $25 million for the construction of twin towers in Kampala in 2011 that now house the president and vice president's offices. Other projects include refurbishing Sierra Leone's parliament, renovating Zambia's main government complex and its air force barracks, Mozambique's presidential palace, Ghana's National Theater, plus a slew of national stadiums across Africa.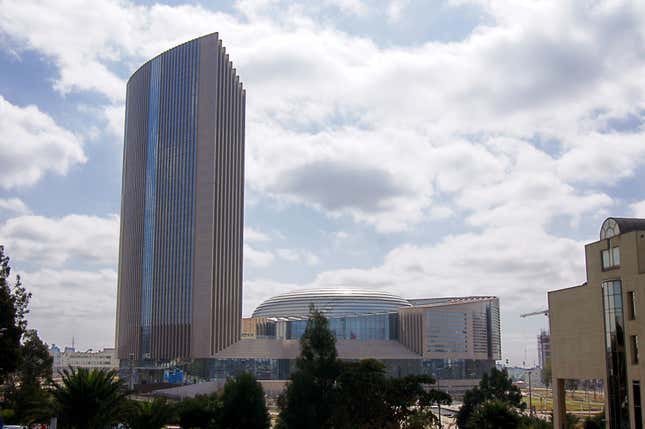 In contrast to most Chinese-funded public infrastructure projects on the continent, which are usually funded with loans, many of these government buildings are given as gifts from Beijing, making them relatively rare examples of aid, in the traditional sense, from China.
The new African Union headquarters, a $200 million project, unveiled in Addis Ababa in 2012, were given as "China's gift to Africa." China also built Rwanda's ministry of foreign affairs, one of the few grants Beijing gave the country during reconstruction efforts after its 1994 genocide.
In Zimbabwe, where the government under longtime president Robert Mugabe is having trouble inspiring confidence among the public, a new parliament may serve as an impressive symbol. The government has said the current parliament, in a colonial-era building, is too small to house its more than 210 lawmakers. In June, Zimbabwe's state broadcaster reported that new parliament construction plans had been presented to Mugabe.
But as Mugabe faces growing opposition and the biggest protests since disputed elections in 2008, his Chinese partners are growing less popular as well. Rival politicians, accusing the Chinese of "looting away" the country's natural resources and supporting a repressive political system, have called on all Chinese to be deported.