Just eight weeks after raising $24 million in a funding round led by Mark Zuckerberg's foundation, Andela, one of Nigeria's best-known startups, is saying goodbye to its co-founder Iyinoluwa 'E' Aboyeji.
Aboyeji, the face of the high profile Lagos-based coder training company, is now starting a new startup called Flutterwave, a digital payments infrastructure platform that will aggregate various payment methods for merchants, banks, and money transfer operators across Africa.
Payments has been one of the biggest challenges for Africa's fledgling e-commerce market and Aboyeji, 25, whose previous startups have focused on the education and training sectors in the past, believes solving the payments challenge for merchant partners across the continent could unlock billions of dollars in value.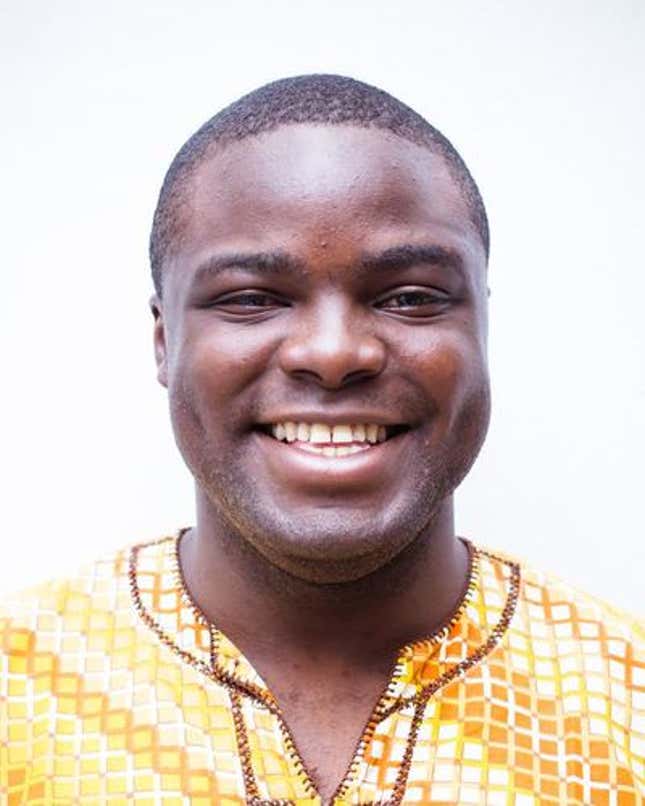 "We see it as connecting Africa to the global economy," Aboyeji told Quartz before announcing his plans publicly. Aboyeji, a 2016 Quartz Africa Innovator, argues that some of the world's largest fast-growing digital companies like Uber and Airbnb have had to de-prioritize their expansion plans in Africa because of the difficulty of receiving payments in many countries across the continent. Based on his own experience with Andela he found that one of the challenges was being able to ensure outsourced developers could easily receive payment in their countries without Andela incorporating in each country. His hope is that Flutterwave will help fix that.
"Despite all the entrepreneurial spirit and expertise in Lagos, businesses still have trouble conducting transactions that are an afterthought in most of the world," Aboyeji wrote in an email to his Andela team. "It's a problem that is prohibitive to the future growth of the continent, and one that I felt I could no longer ignore. So I decided to do something about it."
Flutterwave says it has received undisclosed seed funding from Silicon Valley's Y Combinator, South Africa's CRE VC, and VCFintech, a Little Rock, Arkansas based accelerator which is backed by major fintech firm, FIS.
The company has operations in San Francisco, Lagos, and Accra. The founding team has experience in working with pan-African banks as well as leading tech firms including PayPal and Google Wallet.
The company has been in private beta for some weeks, with Aboyeji working on it in his spare time while at Andela. But as business took off quicker than expected it pushed him to take it on full time. Flutterwave has already transacted more than $20 million to date working with clients including Uber Nigeria, Access Bank, Paystack, and Page Microfinance.
So far the Flutterwave platform is live in just Nigeria and Ghana, but the team is already working on building out a pan-African network. Aboyeji and his team are spending much of their time signing up multinational African banks to help its clients moving money around the continent.
News of Aboyeji's departure will raise eyebrows in Nigerian tech circles and elsewhere on the continent. When a press release announced Andela's funding in June without any mention of the popular and well-regarded young entrepreneur Nigerian bloggers immediately set about attempting to correct the record. Some were especially upset of the description of Andela as a 'New York-based startup'.
In truth Andela, whose operations are predominantly in Lagos and, more recently, also in Nairobi, is incorporated in New York and Lagos. It was co-founded by a team including Aboyeji and chief executive Jeremy Johnson, who helped back Aboyeji's original vision to create a training platform for coders as well as an outsourcing firm for the software developers they train. It's an idea Facebook founder Mark Zuckerberg and his wife Priscilla Chan found particularly attractive as their first major investment through their Chan Zuckerberg Initiative.
As the furor over Andela's origins gathered steam, Aboyeji went to the trouble of posting a blog telling the story of Andela's early days.
Aboyeji said he is sad to scale back his role with Andela but will retain an advisory role.