Almost a decade ago, Algeria proposed that it would build a mega mosque and the world's tallest minaret in the capital city of Algiers.
Architectural plans were drawn up back in 2007 and the foundation stone was laid for the 22-hectacre complex in Nov. 2011 when global oil prices were near their peaks. Oil and gas exports make up 95% of Algeria's export revenues and 60% of the state's budget.
The project was widely seen in the region as a move to trump its neighboring rival, Morocco. The King Hassan II Mosque in Casablanca has been the largest mosque in Africa with the tallest minaret since its completion in 1993. The minaret is used to call the faithful to prayer in the Islamic world.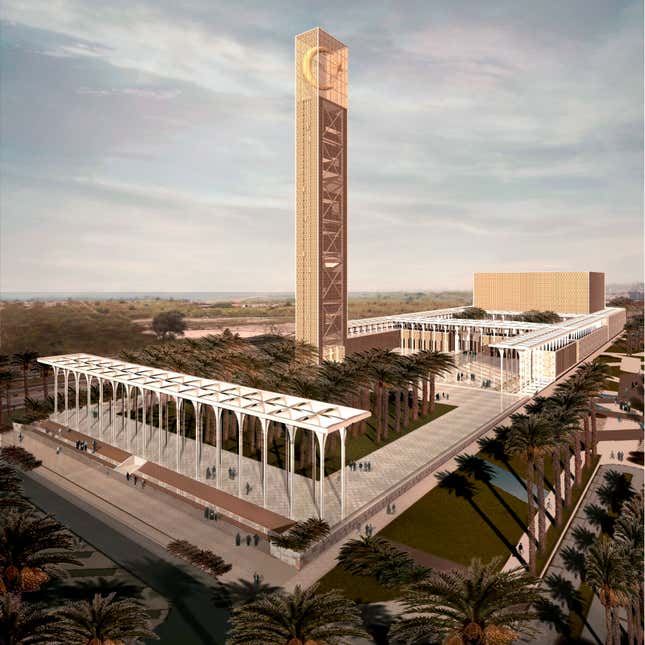 But since mid-2014, world oil markets plummeted leaving not only Algeria, but many oil-exporting countries such as Saudi Arabia and Nigeria in a financial crisis. Now it seems the $1.5 billion project could be delayed.
But the project is behind schedule and the prospects of completion by mid-2017 may be unrealistic. Europoles, the German firm  manufacturing 618 precast white concrete columns, estimates the complex will be completed in 2020 on its website.
"Even 2020 remains questionable," said Algerian-born Arezki Daoud, publisher of North Africa Journal. "It may take longer," he said. "It's a bridge to nowhere."
"There are roads and industrial projects which the Algerian government has not delivered on," said Daoud. He said the project faces financial constraints because of a "dollar crunch" from less oil and gas revenues.
"The money is not available and they already cut spending on social programs," said Daoud.
If Algeria's mega mosque project is completed, the minaret will stand some 874 feet overlooking the Bay of Algiers.   Morocco's King Hassan II mosque will be relegated to Africa's second tallest minaret at 690 feet high.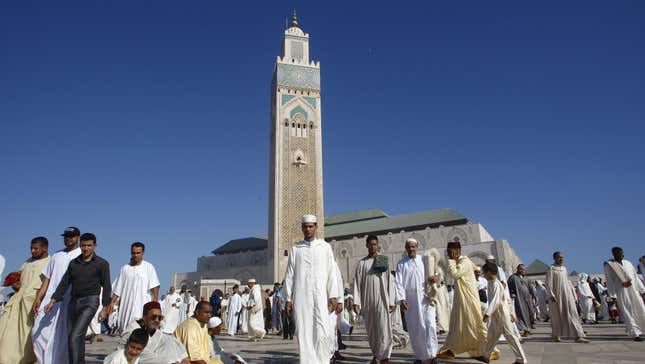 Algeria's massive minaret will house an Algerian history museum and research center on top 10 floors. Observation decks are designed every five stories bringing natural light into the 13-foot high floors. The peripheral design structure allows greater use of space inside.
The domed sanctuary of the mosque will seat 35,000 for prayers and expand to 120,000 with use of the outside courtyard and grounds.
The construction project is one of many in Africa involving foreign development companies. The China State Construction Engineering Corporation is building the structure which was designed by German architectural firm KSP Jurgen Engel Architekten. The 22-hectacre complex will include a Koranic school, 300-room dormitory, library, museum, gardens, restaurants, shops and offices.
Daoud said that similar to the King Hasssan II mosque, the project started out as a monument to the legacy of Algeria's President Abdelaziz Bouteflika. But now, just like the oil markets, Bouteflika is in failing health.
Bouteflika assumed office in 1999; the same year King Hassan II died of natural causes. Bouteflika suffered a stroke in 2013 and has been hospitalized in France several times since then. Over the past two years, he has not been seen in public.
"If we build a mosque, they build a mosque; if we go to the moon, they want to go to the moon too," said Samir Bennis, publisher of Morocco World News and Morocco foreign policy analyst. Bennis said the rivalry between Algeria and Morocco has been ongoing since The Sand War, a military conflict over territory in 1963.
"Algeria resents that our army inflicted them a humiliation during that brief war," said Bennis.
Daoud preferred to describe Moroccan-Algerian relations as a "low-intensity conflict." Daoud said both countries speak the same language, have the same religion and culture, food and more. Both nations also survived the savageries of French colonialism in the 1960s.
"It's like two brothers who hate each other," said Daoud. "But they could do much more together than divided."