Jidi Majia, a writer from southwest China, once described himself as a Chinese poet with an "African complex." He emulated writers like Senegal's Leopold Sedar Senghor, Nigeria's Chinua Achebe, or Kenya's Ngũgĩ wa Thiong'o, cheered for the end of apartheid in South Africa, and cried when Nelson Mandela died.
"I embarked upon my literary career with what I would call African complex, in my unconscious, that is, an instinctive aping of African writing techniques and styles, fed [by] a deep love of African cultures and peoples," he said in a 2014 acceptance speech given in absentia for a humanitarian award from the South African foundation Mkiva.
Now, the poetry of a man who has never set foot on the African continent can be read in Kiswahili, in a new collection called Maneno Ya Moto Kutoka China or Words of Fire from China. The publisher, Twaweza Communications, says it is the first time a creative work of Chinese literature has been translated into the lingua franca of Kenya, Tanzania, and much of southeast Africa.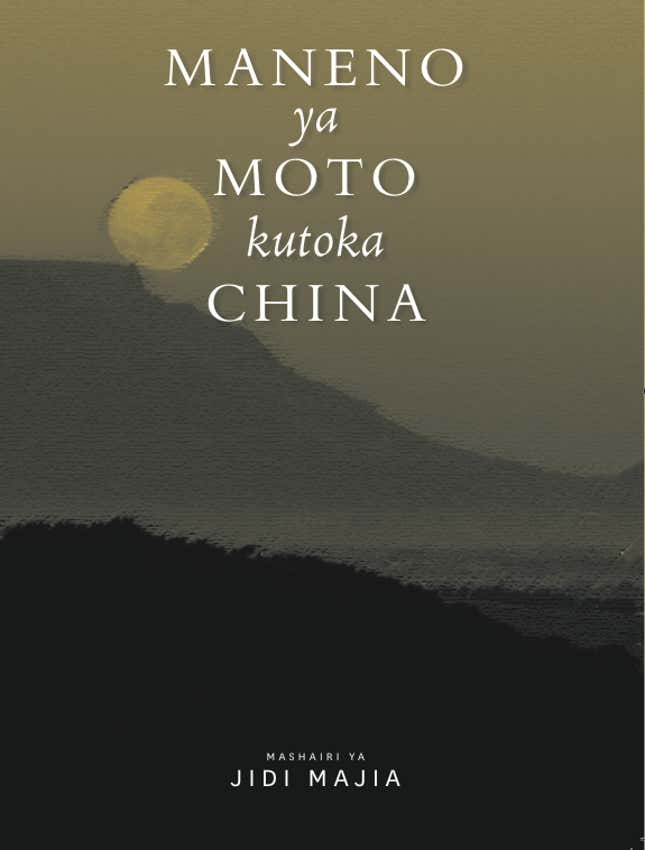 "When we understand other cultures, we minimize suspicion and misconceptions,"Kithaka Wa Mberia, a poet and linguistics lecturer at the University of Nairobi said at the launch. "We should not just translate literature from the big powers."
The collection is another example of China's growing presence and status in Kenya. (The book was launched at a Confucius Center in Nairobi, one of many cultural and language centers funded by Beijing across the world.) But Jidi's poetry also underlines a less obvious connection between China and Kenya—the resilience of indigenous cultural identities.
Jidi poet hails from China's Yi-Nuosu minority, an ethnic group of an estimated 8 million who have lived in the hills of southwestern China since the Han dynasty. Much like many of Kenya's more than 40 tribes, the Nuosu have maintained a distinct cultural identity, with their own language, writing system, and religious beliefs.
"The poems appealed to me because they reminded me of the everyday life in my African village. The fear of love, the loneliness of a poem that seeks out love or the meaning of life," Kenyan activist and writer Philo Ikonya, who translated the poems from an English version, said in the introduction to Words of Fire.
Perhaps because Jidi is a minority in a country where cultural assimilation into the dominant Han ethnic group has been encouraged, he has identified with the causes of black Africans. In his 2014 speech, he called "negritude," a 1930s movement in francophone Africa to establish a black African racial identity, the "prise de conscience" for "all the disadvantaged groups scattered across each corner of the globe like me."
And in one of the collection's poems, "Looking back on the 20th Century," dedicated to Nelson Mandela, Jidi wrote of his disenchantment with these efforts:
O Twentieth Century
You let some people cheer for peace
But darkened the eyes of others with hatred
You sent black people onto the streets, calling for human rights
Then you allowed slaughter and violence to erupt in their homelands…

O Twentieth Century
When I truly look back upon you
I discover what an enigma you are
You are necessity, but you are also randomness
You seem to be a confirmation of the past
You also seem to presage the future
God seems to have lost hold of you for a moment
And you fell to us, a double-edged sword
In Kiswahili:
Ewe karne ya ishirini
Uliacha baadhi ya waja washangilie kwa amani
Lakini ukafifisha nuru ya macho ya wengine kwa chuki
Uliwafukuza watu weusi waende barabarani…
Ah, karne ya ishirini
Nikiangalia nyuma nikuone Nagundua ulivyo fumbo kuu

U kitu cha umuhimu, ila pia u kama bahati nasibu Inaonekana wewe thibitisho la yaliyopita
Pia waonekana kuitabiri kesho

Inaonekana kama Mungu amekuweka kando kwa muda kidogo Kisha ukatuangukia kwa upanga wenye pande mbili za makali