Twenty-five years after the cessation of hostilities in Western Sahara, liberation movement Polisario Front has accused Morocco of violating the United Nations brokered truce by sending troops into the largely desert territory. Brahim Ghali, the secretary general of the Front and the country's newly-elected president, protested Morocco's actions in a copy of a letter addressed to the UN chief Ban-ki Moon.
In his letter, seen by Quartz, Ghali noted that Moroccan troops had gathered at the Karkarat area beginning from Aug. 11 last week. From there on, the troops infiltrated into Sahrawi territory, he wrote, "supported with transport equipment, military engineering and accompanied by aerial reconnaissance."
This incursion, he added, constitutes a "new and serious breach" of the ceasefire agreement signed on Sept. 6 1991, and heralds an "unprecedented phase of tension and instability" in the region.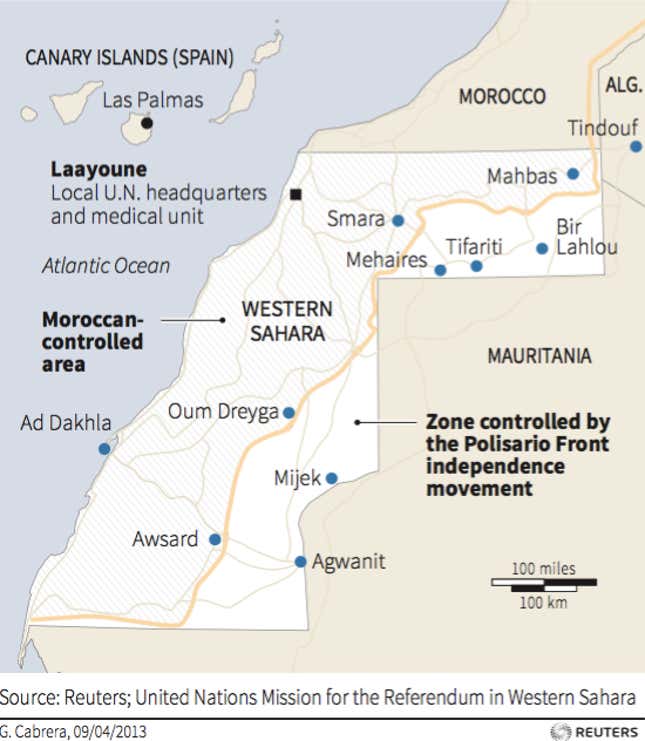 Morocco annexed Western Sahara following the country's independence from Spain in 1975. Following decades of hostility, the UN brokered peace between Morocco and Western Sahara in 1991. Since then, Sahrawis, who number over half a million, have lived either under Moroccan occupation or in the sliver of land ruled by the Polisario. More than 165,000 Sahrawi refugees also living in refugee camps in Tindouf in southwest Algeria. The territories are separated by a 1600-mile-long wall, laden with mines.
The Security Council also established a peacekeeping mission, known as MINURSO, to monitor the ceasefire and organize a referendum. The referendum would have granted Sahrawis the choice of independence from or integration with Morocco. That effort is yet to materialize and the situation between the two countries has lingered in limbo.
Yet, after years of passive amity, the situation has been taking a new twist lately. Last month, Morocco's King Mohammed VI started the process of rejoining the African Union, three decades after leaving the organization for recognizing Western Sahara's government, the Sahrawi Arab Democratic Republic. "This so-called state is neither part of the United Nations, nor is it a member of the Arab League," Mohammed VI said in a statement to the AU. "Institutional Africa can no longer bear the burden of the historical error and its cumbersome legacy."
The king also visited the disputed territories November last year, and ruled out any compromises with the Sahrawis. Morocco also expelled dozens of UN staff earlier this year after secretary general Ban-ki Moon called its annexation of the territories an "occupation." In July, it only allowed for some of the mission staffers to come back into the country, even though Moon expressed "regret" using the word.