This post has been updated.
Ugandan education officials have called for the closure of 63 nurseries and primary schools operated by Bridge International Academies (BIA), a controversial for-profit school chain that offers standardized, internet-based education in developing countries.
Janet Museveni, minister of education and wife of Ugandan president Yoweri Museveni, told lawmakers on Tuesday (Aug 17) that inspections of Bridge International schools revealed poor infrastructure, hygiene, and sanitation that "put the life and safety of the school children in danger."
Museveni called for the schools in Uganda to be closed at the end of term in September and to remain shuttered until ministry guidelines are met.
Uganda's high court previously issued an interim court ruling that the schools should not be closed, in response to similar calls made by Museveni earlier this month. Bridge said that its schools are still operating and that it expects the court to uphold its ruling at its next hearing. The company called claims of safety issues at its schools "false allegations."
Bridge International—a startup founded in Kenya in 2008 that now has funding from Bill Gates, Mark Zuckerburg, Pierre Omidyar, the World Bank, the education company Pearson, as well as the United States and the United Kingdom— offers schooling to poor families for as little as $6 a month, delivering lessons to classrooms via tablets, smartphones, and other tools.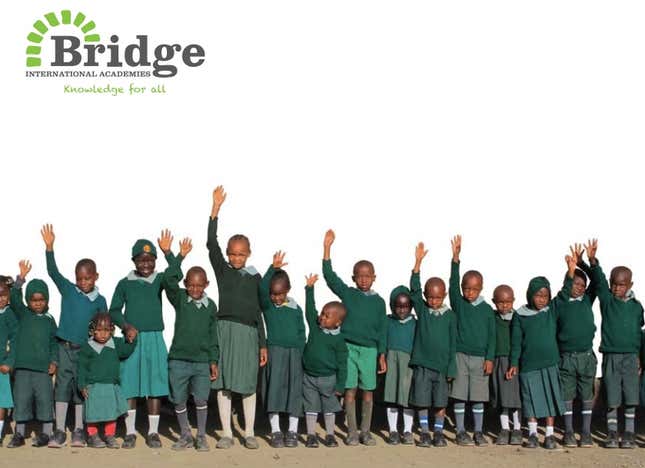 Its mission, to bring education to poor communities in Asia and Africa, has been lauded as one of the most audacious solutions yet to the lack of education resources around the world. Uganda, Kenya, and Liberia host hundreds of Bridge International schools.
But lately Bridge International has been accused of hiring cheap teachers and using shoddy school buildings to keep costs low. Critics says its scripted teaching plans require the least amount of interaction between students and teachers possible. Others say the company encourages the privatization and outsourcing of education. Last year, more than 100 organizations in Kenya and Uganda signed a statement criticizing the World Bank's support of Bridge International.
Bridge said in a statement that it is sincerely concerned over Uganda "threatening to force 12,000 Bridge children out of school and 800 Ugandans out of work."
"In the meantime, our academies are running as usual as we continue to work with the relevant educational authorities to uphold our commitment to our parents and communities to provide a world-class education to their children," said Michael Kaddu, head of public affairs for Bridge International in Uganda.