Gold is finally within Caster Semenya's grasp. The South African athlete cruised to victory in her heat on Aug. 17 and her semi-final run the next day was effortless. It's the kind of performance that may see the 800-meters runner break a 33-year-old world record in the Aug. 20 final.
Semenya is in top form, but around her rages a controversy that has dogged her since her impressive winning time of 1:44:45 at the 2009 World Championships in Berlin. Rather than victory celebrations, Semenya has been subjected to worldwide scrutiny over her sex.
Her story is well known, making Semenya the face of a gender debate that she has never willingly participated in. Critics, experts, and reporters have since settled on describing Semenya as intersex, based on the assumption that she was born with male and female reproductive organs. Neither Semenya, nor her team, nor the International Association of Athletics Federations (IAAF) have ever confirmed this.
What the IAAF said in 2009 after her first major victories, at the African Junior Championships and again in Berlin, was that the then 18-year-old Semenya had undergone invasive gender verification tests after some questions about her wins. An Australian tabloid then claimed that tests showed that Semenya had internal testes and no uterus, fueling the humiliating invasion of her privacy.
The IAAF introduced new rules in 2011 regarding female athletes with hyperandrogenism—the term used to describe the excessive production of testosterone. It required them to take hormones to suppress their natural testosterone production. Soon Semenya's performance lagged, with her times exceeding two minutes in 2014 and 2015. Her coach blamed injury, although many speculated that it was due to the testosterone ceiling. Still, Semenya took silver in the 2012 Olympics in London, losing gold to the Russian Mariya Savinova, who has since been accused of doping.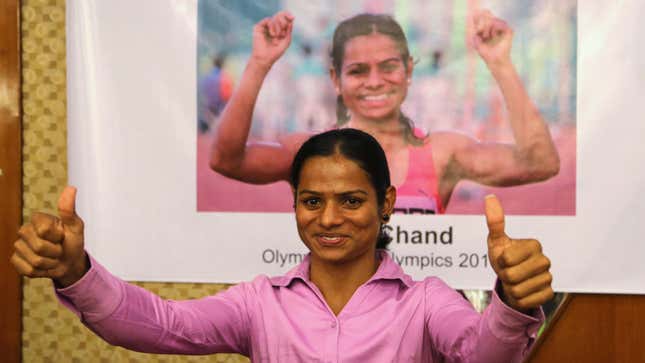 Gender verification testing has a long, humiliating history in athletics, where athletes at one time or another have been forced to drop their underwear in front of judges or undergo cheek swabs to test chromosomal make up. The IAAF's ruling was just the latest intrusion, until India's fastest woman, Dutee Chand, challenged the international sporting body. After her win, Chand was outed as intersex and subjected to gender verification tests and forced to submit to the testosterone ceiling.
The Court of Arbitration for Sports ruled (pdf) the IAAF could not prove with certainty that testosterone was a competitive advantage in women's athletics. Chand's victory in court did not lead to a win on the track; she failed to get the past the heats in Rio with a time of 11:69.
The suspension of the IAAF's rules coincide with Semenya returning to form. In South Africa, she won the 400m, 800m, and 1500m all in one day at the National Track and Field Championships in April. At the IAAF's Diamond League in July she ran 1:55:33, the fastest time since 2008 and a personal best. At 25, she is also more confident, a national hero and a happy newlywed.
Again, her wins have provoked sexist language masquerading as a debate on women's athletics. Described in headlines as a "dilemma" or "ticking time-bomb," some critics have argued that her participation in the 800 meters threatens the very nature of women's sport as a "protected category." The descriptions of Semenya's physique have, since 2009, often been insensitive, a heightening of the derogatory language already often used to describe the performance and appearance of female athletes.
"Semenya is breathtakingly butch. Her torso is like the chest plate on a suit of armor," is how a 2009 New Yorker piece described the runner. "She has a strong jawline, and a build that slides straight from her ribs to her hips." Even the signature gesture she used to celebrate, flexing her arm muscles, was described as manly.
An August Sports Illustrated feature questioning whether it is fair for Semenya to compete in the Olympics against other women caused an outcry from South Africans on social media, with the hashtag #HandsOffCaster. Since then, dozens of articles have posed the same question.
In Rio, Semenya has been described as avoiding media and training on her own. She's refused to comment on the speculation—and South African sports officials are supporting her by simply not entertaining any questions about her gender. But that hasn't stopped the invasive public conversation about Semenya's body.
Our understanding of gender and biology has evolved since athletes were degraded during the naked parades used as gender testing in the 1930s. Surely public discourse should evolve, too.