At the Olympic marathon finish line in Rio on Sunday, Feyisa Lilesa from Ethiopia staged a protest that he says could get him arrested or killed back home. The 26-year-old runner crossed his wrists and held his arms over his head as he approached the crossing line as he came in second. It was a gesture of solidarity with the Oromo protests that have taken place in the country since November last year.
"The Ethiopian government is killing my people so I stand with all the protests anywhere as Oromo is my tribe," Lilesa said.
The Oromo, Ethiopia's largest ethnic group, have been protesting against the government, demanding equal economic opportunities, political reform and an end to police crackdown. Hundreds of people have been killed, according to human rights organizations, including at least 97 who were killed earlier this month when security forces fired live bullets at protestors. The Amhara, the country's second ethnic group, recently joined the anti-government protests too.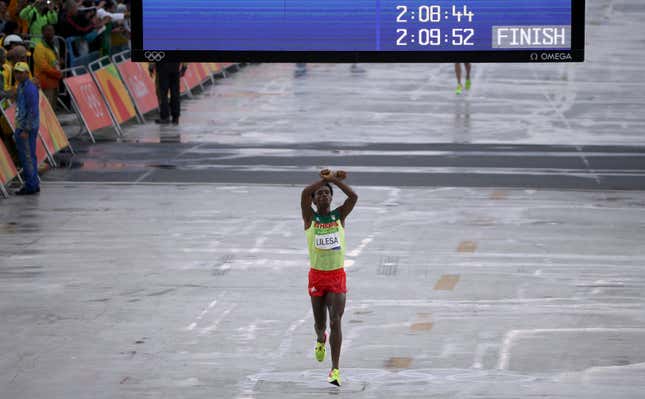 At a press conference, Lilesa expressed fear that his life could be in danger if he went back to Ethiopia.
"If not kill me, they will put me in prison," Lilesa said. "I have not decided yet, but maybe I will move to another country."
In another video interview that surfaced online later, Lilesa said he was thinking of extending his visa in Brazil, move to America, or possibly go to Kenya if the government there gives him a working permit. "There, they are very friendly," he said of Kenya.
Lilesa said that he didn't inform his manager or his teammates about the decision to show support for the Oromo protests. He also added that he didn't know about the condition of his family who were currently living in the capital, Addis Ababa. Some of his relatives, he said, were previously imprisoned by Ethiopia's Tigray-dominated government.
The Ethiopian state broadcaster didn't show Lilesa's protest, choosing only to show Kenya's Eliud Kipchoge win the gold medal, according to the Associated Press. Lilesa won the silver medal at the Olympic marathon. This places Ethiopia at number 44 at the 2016 Rio Olympic games with a total of eight medals.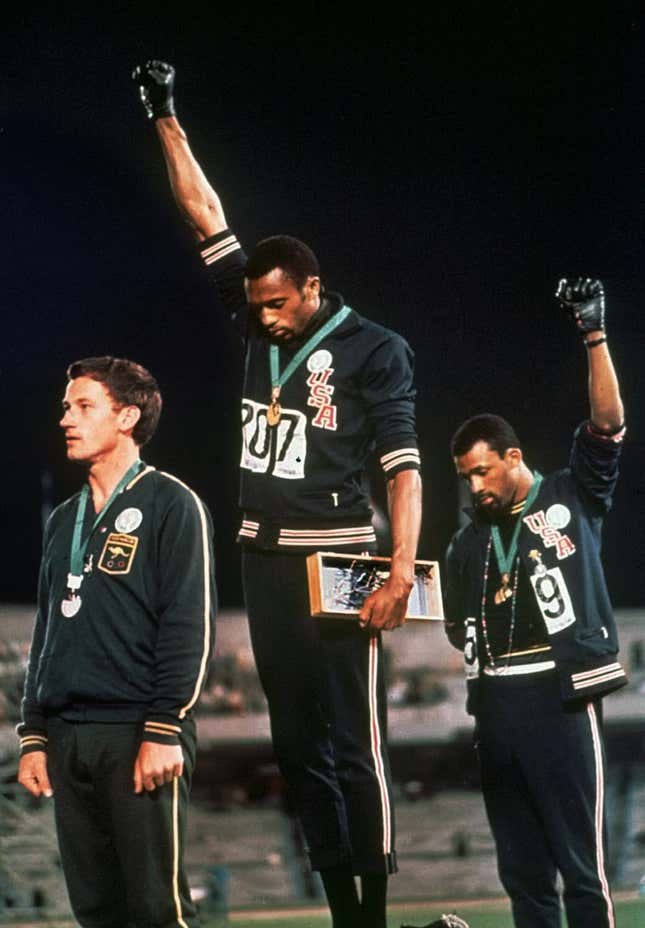 Lilesa's protest is not without precedent at the Olympics, even though the IOC works hard to prevent the actual event or athletes being politicized. Perhaps one of the most iconic images of the Olympics is the Black Power fist salute raised by USA's Tommie Smith and John Carlos at the 1968 Olympics in Mexico City.
Lilesa earlier vowed to protest (video, 4:29) during the medal ceremony, a move that could have seen him stripped of his medal in accordance with the International Olympic Committee's Rule 50 (pdf, p. 93). He crossed his wrists at the flower ceremony following the run, but didn't do so during the medal awarding ceremony.
"I cannot do anything about that," Lilesa said of the rule. "This was my feeling. I have a big problem in my country, it is very dangerous to make protest in my country."
Ethiopian athletes, some of them Oromo, have in the past fled Ethiopia, citing persecution, imprisonment and torture.