Niger Delta Avengers (NDA), a leading disruptive militant group in Nigeria's oil-rich south, has announced a ceasefire and committed to negotiating with the Nigerian government. This comes after months of sabotage of oil installations across the Niger Delta region.
Oil firms operating in the region, including Shell and Chevron, were forced to evacuate and shut down oil fields and facilities. As a result of NDA's attacks, Nigeria's oil production fell to 20-year lows as Africa's largest economy lost its place as the continent's largest oil producer.
After a number of false starts, it appears the group is finally ready to have a sit-down with the government. In a statement on its website the group says it will "support" negotiations aimed at "de-escalating conflicts in the Niger Delta."
To this end, the group says it will observe a "cessation of hostilities in the Niger Delta." But the ceasefire came with a warning the group will revert to violence if the government continues to "arrest, intimidate, invade and harass" suspected members of the group.
In the short-term, a ceasefire will see an uptick in Nigeria's oil output if production operations in the area return to normal. On the brink of a recession, the prospect of increased revenue from improved oil exports is critical for Nigeria's economy. But, long-term, negotiations, which will likely see the NDA paid off and granted amnesty, will only serve to reinforce the notion of paid militancy while ignoring the root cause of the problems in the area.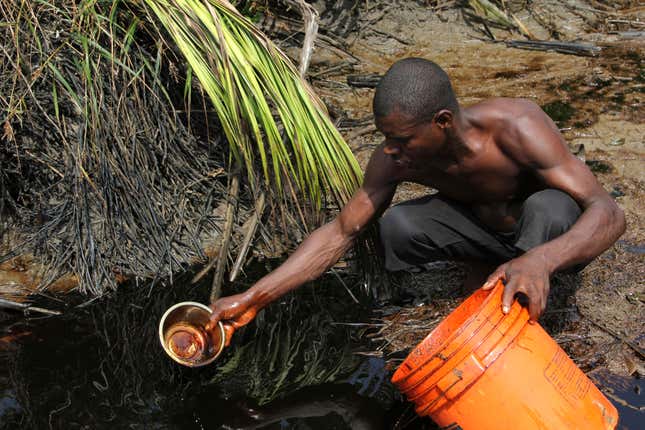 Over the years, Niger Delta has been badly damaged—environmentally and ecologically. Severe oil spills have damaged farms and water bodies robbing residents of food and sources of livelihood. Despite providing the country with its oil riches, the region has been mostly ignored. In the past, advocates like the writer Ken Saro-Wiwa who brought attention to the ills of reckless oil production, paid with their lives. Resentment of government is rife and militants often find it easy to play on residents' raw emotions to drive agendas which ultimately end in a big pay day for militants rather than progress for the region.
It is unclear how long the negotiations will last for but NDA has already made alternate plans. If the negotiations fail, the group says it will "fight more for the Niger Delta."