President Robert Mugabe will not allow the growing public anger in his country to grow into Zimbabwe's Arab Spring. Desperate economic conditions under Mugabe's 36-year rule have led to a series of protests in recent months. On Friday, Zimbabwe's fractured opposition parties banded together to organize one of the largest demonstrations in recent years. Police were deployed to crush the march.
"They are thinking that what happened in the Arab Spring is going to happen in this country," the 92-year-old president told state television, accusing the United States and other western countries for stoking the demonstrations. "But we tell them that it is not going to happen here."
A coalition of 18 opposition movements came together to demand reforms ahead of the 2018 national election. Among them were ousted vice president now opposition leader Joice Mujuru and Zimbabwe's most prominent opposition politician Morgan Tsvangirai.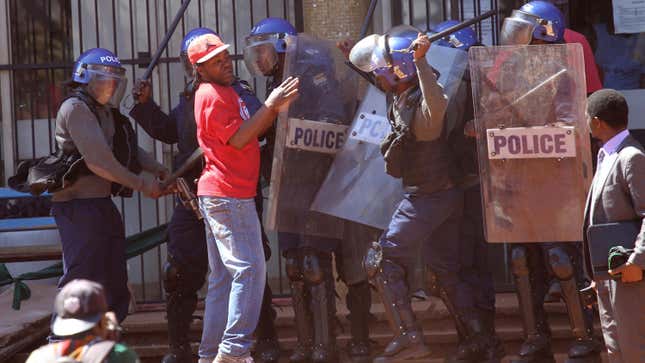 The opposition movements want the United Nations and other international observers to monitor the vote. They say Zimbabwe's electoral commission favors the ruling party and run by security agents loyal to Mugabe, Reuters reported.
Protestors also called for reforms of the desperate economy. They demanded Mugabe scrap plans to print "bond notes," the regime's version of the US dollar. Zimbabweans have used the US dollar, the South African rand and the Chinese yuan since their own Zimbabwean dollar became worthless. They also want corrupt government officials fired.
The Aug. 26 demonstrations were the latest and largest in several protests that have shut down Zimbabwe's cities. This time, the demonstration was protected by a High Court ruling, but police ignored it, responding with brutality.
Armored vehicles were stationed at the venue where opposition leaders were meant to meet. Police dressed in riot gear refused to let them enter. Gathered crowds were shot at with teargas and water cannons. Those within reach were beaten with batons. At least 50 people were injured, according to Mujuru. Still, protesters made their voices heard. Some also pelted police with rocks and looted shops in the capital Harare.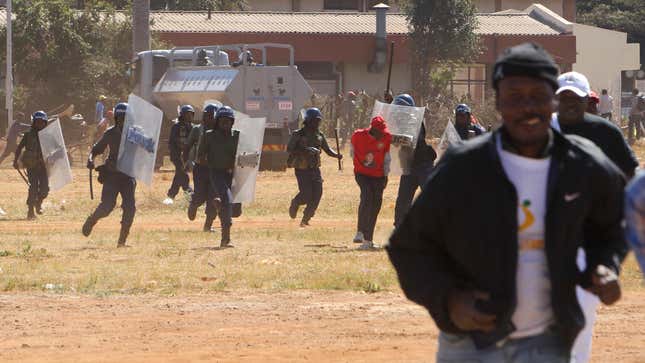 "Demonstrating is the only solution left to force the dictator out of office," an unemployed 24-year-old told Reuters.
"That old man should not be allowed to take the country to the grave with him," another protester shouted, according to the Associated Press.
"The people's anger is very deep. Zimbabweans are beginning to say enough is enough," Tsvangirai, leader of a faction of the Movement for Democratic Change, said at a press conference later.
Two days earlier, dozens of protesters marched in Harare, calling for Mugabe to step down. Again, riot police responded by blocking streets and blasting the the demonstrators with water cannons, says Al Jazeera. In July, a social media blackout could not stop protesters from mobilizing one of the largest protests the country has seen. Opposition parties say another protest is planned for next Friday, Sep. 2.