Kenya this week announced a plan to restore 5.1 million hectares of deforested land, an area that constitutes 9% of the country—roughly the size of Costa Rica.
The goal is part of a global campaign called the Bonn Challenge, which aims to have 350 million hectares of forest planted across the world by 2030.
Environment minister Judy Wakhungu told reporters on Thursday (Sept. 8) that the plan would provide Kenyans "with the opportunity to reduce poverty, to improve food security, to address climate change and to conserve our valued biodiversity."
The pledge is an upgrade of a promise Kenya made in 2009 to replenish the country's deforested areas over the next 20 years. Those efforts were hampered by illegal logging, land disputes, and political infighting.
This time, the government promises a "coherent and systematic effort" based on a series of assessment maps to determine where and what types of reforestation efforts should be made.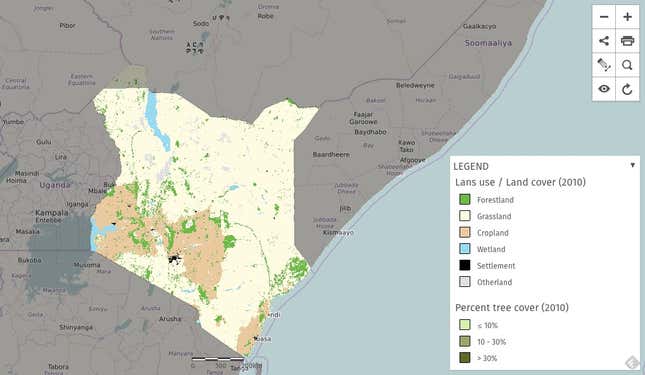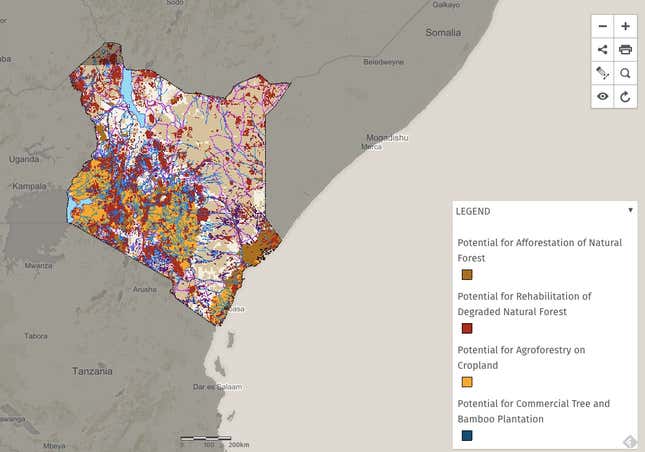 Charcoal and timber production, unregulated logging, and urbanization, have eroded Kenya's savannas, coastal mangroves, and mountainous woodlands. In the 1960s, forest covered about 10% of Kenya's land. That figure has since fallen to 6%.
As much as 10% of the country's population rely on forest resources (pdf) to make a living, according to a report by the Kenyan ministry of environment and the UN. Woods around Mount Kenya, the Abedares mountain range, and other water towers, store and feed rainwater throughout the year to the rivers and lakes that account for most of Kenya's water resources. Deforestation cost the economy an estimated 5.8 billion Kenyan shillings ($68 million) a year, according to a 2012 report by the Kenya Forest Service and the UN Environment Programme.