In Nairobi, most things can be ordered from your phone—an Uber, or taxi from one of several other taxi hailing app companies, a boda boda driver to run an errand for you on his bike, and dinner from a restaurant across town or just groceries from down the street. Soon, Nairobians will also be able order an ambulance from their phones.
Getting to a hospital for a medical emergency can be a nightmare in Kenya's capital. Ambulances, most of which are run by private companies, take on average two hours to arrive. The problem isn't that there aren't enough ambulances or emergency clinics. Nairobi has 20 emergency rooms and clinics, as well as at least 100 ambulances in operation in the city of about 3 million—well above the rate the World Health Organization recommends of 1 ambulance per 50,000 people.
But patients have to go through a tortuous process of calling a police dispatcher who connects them to an ambulance company or calling individual ambulance companies until they find one. The police emergency number often doesn't work. Without navigation systems, ambulance drivers easily get lost. In February, a three-month old boy died while waiting for an ambulance for more than five hours.
It's a niche but important market, according to Caitlin Dolkart, one of the founders of Flare, an emergency services app that launches this month. Dolkart and her partner Maria Rabinovich, came up with the idea of Flare last year after five years of working in healthcare and tech in East Africa. "How can you get Uber or food delivered to your door, but you can't get an ambulance?" Dolkart says.
To make sure things run smoothly, they are introducing the app in stages. Ultimately, Flare users will be able to call for an ambulance using the app or a hotline. Using Flare, they can track and communicate with the dispatched team until it arrives. Ambulance drivers will be equipped with smartphones and Google maps, with the exact location of pickup and directions that account for traffic. Like Uber, a percentage will be taken off each ride booked on Flare.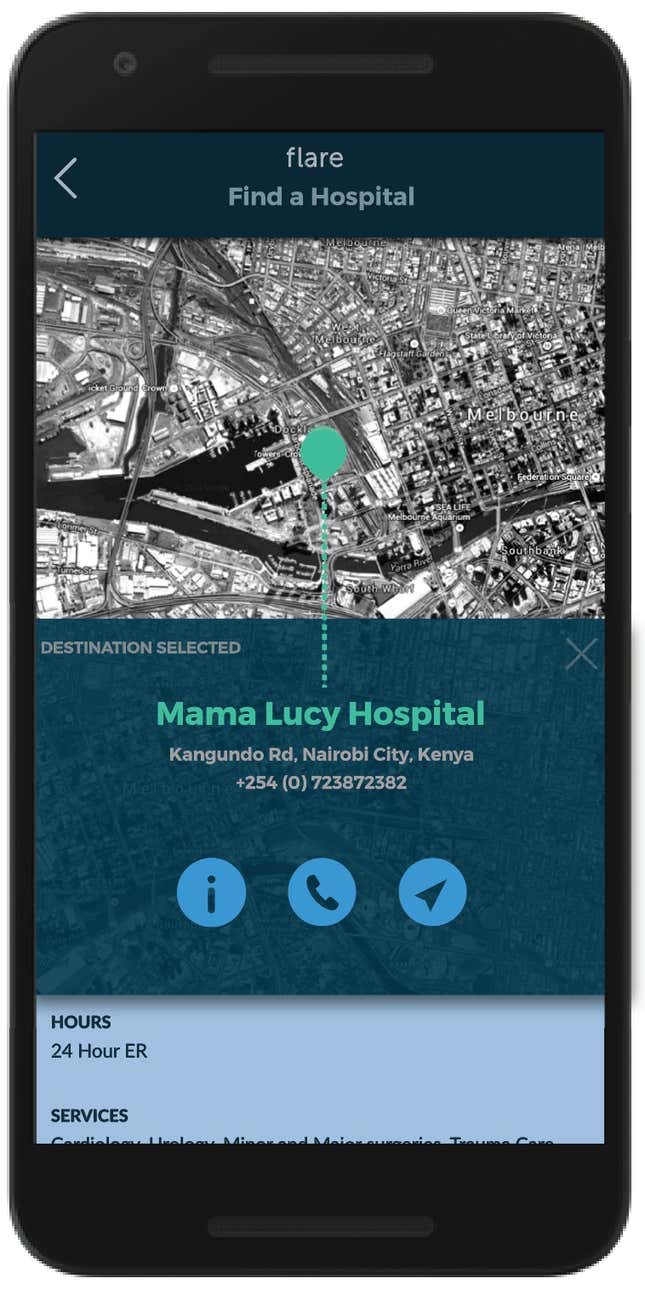 In its initial phase, Flare is integrating a group of companies operating ambulances and fire trucks into its platform, which uses a central map to show the availability and whereabouts of the emergency vehicles.
This way hospitals don't need to call the various companies until they find a driver an available ambulance or fire-truck. Providers will now know where every other vehicle is located in the city. Within the next six months Flare will become available to consumers. "We are building the underlying infrastructure behind a 911 system," Dolkart says.
For now, the platform is connecting users to more than 50 ambulances and up to 10 fire trucks. Flare plans to expand the fleet and may also add private security and police. The ambulances have their own insurance and companies are vetted for the proper registration, certification, personnel and equipment before they can join the platform.
One problem Flare won't fix immediately is the cost of ambulances, which are often too expensive for many in the city. Ordering ambulance can cost between 3,500 and 8,500 Kenyan shillings, about $35 to $85. (Flare's focus for now is Kenya's middle class consumers but they hope their service can eventually help lower the cost of ambulances in Nairobi.)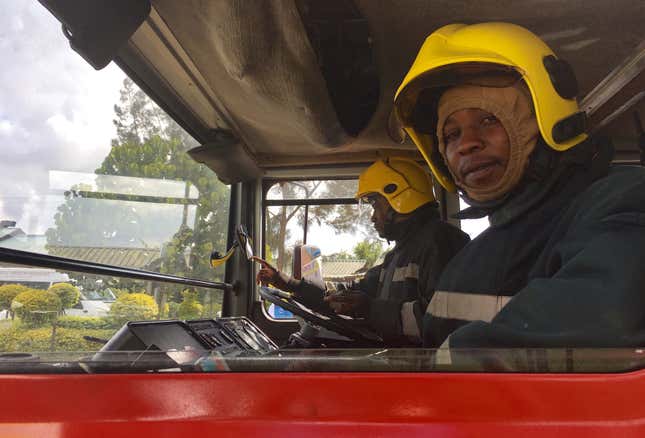 Healthcare startups have not traditionally gotten a lot of attention from investors, in part because of questions over whether healthcare should be a public service or one provided by private companies. Only 4% of funds (pdf, p. 15) from impact investors surveyed by the Global Impact Investing Network were allocated to healthcare last year. While development money and other funds have gone into clinics and hospitals or medicine and diagnostics for infectious diseases, little has gone into technology, according to Dolkart.
Now, thanks to growth in smartphone usage, urbanization, and cheaper data, healthcare tech, especially in developing countries, is inspiring more interest. Flare has raised just under $200,000 and is planning another fundraising round next year. An Indian startup launched Amber Health, an app for calling emergency services, in Delhi in March. A Dubai-based emergency services app, MUrgency is now in seven cities in Asia and the US. Even NGOs are getting into the space: Red Cross Kenya launched its own app earlier this year.