What would African design look like if it were allowed to enter the 21st century without the touch of colonialism? That's the question driving South African designer Laduma Ngxokolo's vision. A designer inspired by his Xhosa culture, Ngxokolo has created a toolkit for the traditional practice of circumcision, combining custom with modern medicine to preserve culture, while making it safer.
Ngxokolo has always drawn on the colors, beading and symbolism of Xhosa culture, reinterpreted into a modern knitwear clothing range. Until now, his fascination with the traditional journey into manhood has focused on the formal gentlemanly attire that has to be worn for six months by the amakrwala, the men who have completed the initiation ritual.
This aesthetic has served him well since launching his MaXhosa brand in 2011—his range is sold in South Africa, the United Kingdom and Japan and along with a string of awards he also got a publicity-boosting shout out from Beyoncé. But this year, for his master's project for the Central Saint Martin's art and design college at the University of Arts London, Ngxokolo was preoccupied by the ritual circumcision itself.
"I just wanted to do something that is more meaningful, that is not only confined to design but to social responsibility as well," the 29-year-old designer told Quartz. "I felt I needed to do something as iXhosa and someone that has the design know-how."
Ngxokolo is himself an initiate who hails from the Eastern Cape, a province that has experienced many deaths from the initiation custom. He created a circumcision toolkit that relies on a design aesthetic familiar to traditional Xhosa healers. The satchel is beaded in the straight clean lines Xhosa design is known for and contains an embellished staff like the one healers have carried for centuries. But there is also hand sanitizer, antiseptic ointments and bandages packaged in beaded holders so that they are more traditionally "acceptable."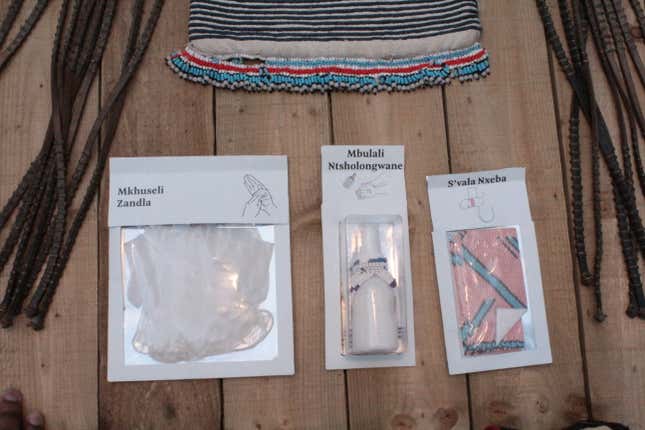 These modern additions "are pretty basic but have high impact," said Ngxokolo. He has also designed pamphlets that provide simple but life-saving instructions on hand-washing and other safety practices in simple graphics rather than alienating jargon. The tools in the kit don't speed up the healing process—in keeping with the ritual's requirements—but they could ensure that the initiates do not contract infection or HIV.
Each year hundreds of teenage boys and young men leave their homes to "go to the mountain" to become men, spending weeks in camps that are shrouded in secrecy. But the practice has been marred by deaths and grave injuries. Between 2006 and 2013 in the Eastern Cape province alone, 5035 initiates were admitted to hospital, suffering from sepsis, dehydration, gangrene or amputations, according to a study by the Human Sciences Research Council. During that time, 453 initiated died.
The custom has been made all the more deadly by illegal initiation schools that resort to kidnapping boys. Despite the South African government's attempts to regulate the practice, interventions are seen as undermining traditional authority, according to the study. Ngxokolo hopes to work with chiefs and traditional leaders as well as the health ministry to turn his project into practice.