The war in Darfur is not over. According to a new Amnesty International report, the government used chemical weapons in January on its citizens, killing as many as 250 people, many of them children.
Sudan gripped the world's attention in 2004 when government attempts to crush an insurgency devolved into a genocide. Global attention has waned, but fighting has continued with Sudanese forces committing the same atrocities that the world has been trying to stop (paywall) for more than a decade.
Researchers found 56 witnesses who alleged the use of chemical weapons by the Sudanese military at least 30 times in January against rebel forces near Jebel Marra, a remote mountainous region that peacekeepers haven't been able to get to. Videos reviewed by Amnesty show victims with lesions, screaming, and vomiting blood. Amnesty says hundreds survived the attacks but suffered blistering and rashes as well as blindness and respiratory problems.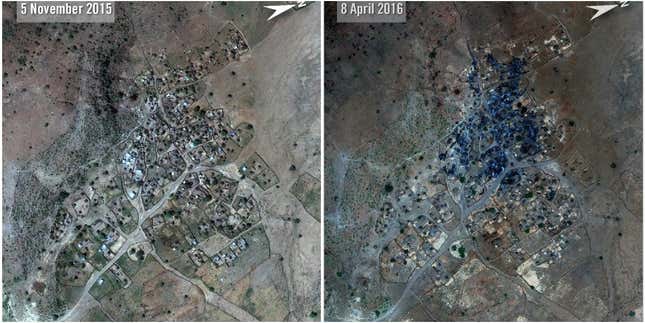 Government forces have been using a "scorched earth" method of torching villages, looting livestock, and raping residents, according to the report. At least 174 villages in the Jebel Marra region have been destroyed this year. Satellite imagery of the damage has been collected on an interactive platform by a Brooklyn-based design practice, SITU Research. An estimated 300,000 people have been killed since in Darfur since the beginning of the conflict in 2003.
Sudan's foreign minister, Ibrahim Ghandour, denied the allegations as "nonsense" in an interview (paywall) with the New York Times. "We don't use chemical weapons in populated areas," Ghandour said. When asked whether Sudanese forces use chemical weapons elsewhere, Ghandour said they did not.