For the first time in 25 years, Ethiopia has declared a state of emergency, an attempt to calm anti-government protests that have spread across the country. "The state of emergency is vital. It is essential to restore peace and stability over a short period of time," prime minister Hailemariam Desalegn said in a televised address on Oct 9.
The state of emergency, effective immediately, has been issued for six months, the longest amount of time it can be declared, according to the country's constitution. (It can be renewed every four months with approval from two thirds of Ethiopia's parliamentary body, the Council of Peoples' Representatives.)
Protests by members of the country's two largest ethnicities, the Oromo and the Amhara, pose the greatest threat Ethiopia's ruling party, the Ethiopian People's Revolutionary Democratic Front, has faced since it came to power in 1991.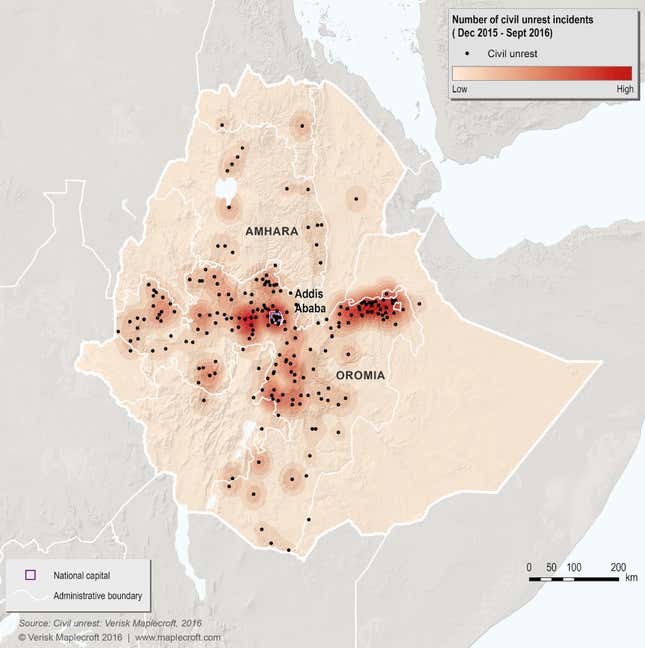 Protests, which have been on and off since last November, intensified this week after a demonstration during a religious festival last weekend turned into a stampede when police fired teargas on the crowd. At least 55 people died, adding to the toll of an estimated 500 people killed since protests began last November.
This week, protesters attacked foreign businesses, cars, agribusiness farms, and government properties with the aim of undermining one of the government's claims to legitimacy, the country's economic growth, according to the London-based risk consultancy Maplecroft. Roads leading to the capital, Addis Ababa, have been blocked. An American researcher was also killed this week when protesters pelted her car with stones.
"Ethiopia's reputation for stability has been shattered by an escalating series of protests in Oromia and Amhara regions," Maplecroft said in an analysis of the situation. "The government has responded with a characteristically heavy-handed response, which has often only served to escalate the situation."
The state of emergency is likely to include curfews for areas affected by protests, according to local media. The country's security forces will also now be under the prime minister's control.
"We put our citizens' safety first. Besides, we want to put an end to the damage that is being carried out against infrastructure projects, education institutions, health centers, administration and justice buildings," Hailemariam said.