Thuli Madonsela's last day in office as public protector is a testament to the kind of employee she has been, even when her high performance and work ethic have threatened the very man who hired her—South Africa's president Jacob Zuma.
Her parting shot was to reveal an investigation into the influence held by the Gupta family, close friends of Zuma accused of having the power to handpick favorable cabinet ministers over a cup of tea in their Johannesburg home. Madonsela spent her notice period interviewing witnesses, including former government officials who said the Guptas offered them cabinet positions, while others said Zuma personally smoothed the way for government contracts awarded to the Guptas. The Guptas are believed to have had a direct hand in shuffling three finance ministers in one week in December last year.
On the eve of releasing her preliminary findings into what has become known as "state capture," the president filed a court application to stop Madonsela, saying he had not been given enough time to review and respond to the report. Another minister, Des van Rooyen, who served as finance minister for a few days, also brought a court interdict to gag Madonsela.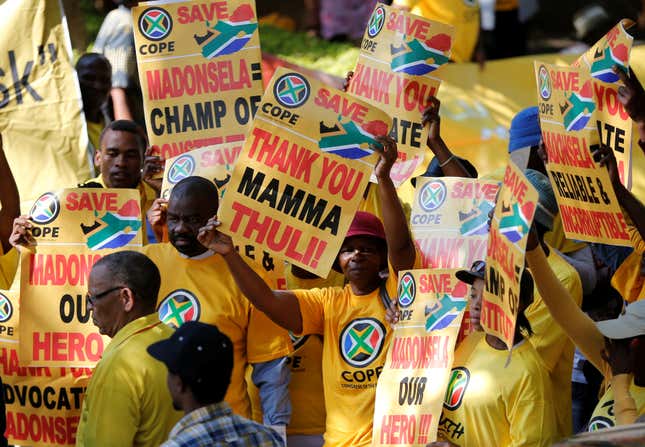 Given the nature of the investigation, it is widely believed that the report will implicate Zuma in yet another scandal. Madonsela agreed to delay releasing the report, passing the report on to the speaker of the national assembly for safe keeping, until the court hears the president's case in November. The speaker promptly sent the political hot potato back, even before Madonsela's term ended at midnight.  It's the first sign that Madonsela's work will continue to impact South Africa's political and public life even when she's no longer heading the public protector's office.
Madonsela came to office on Oct. 15, 2009. Until then, the office she would occupy did not rock the boat, and few noticed. The public protector is one of six institutions tasked with protecting the founding principles of South Africa's post-apartheid constitution. Known as the "chapter nine institutions," (pdf) named for the chapter of constitution that enacted them, these bodies are meant to act independently, watching over South Africa and making sure the country maintains values like gender equality, freedom of religion and culture, integrity and accountability, that were meant to usher it out of apartheid's twisted legal system and guard against future abuses
When the 1996 constitution was still a draft, Madonsela forfeited a scholarship to Harvard to be a part of the team that would draw up the document that acts as the new South Africa's conscience. In the twenty years since then, South Africa has lost its way, the idealism of the constitution chaffing against administrative corruption. Yet, the integrity displayed by the chapter nine guardians, and the resilience carried by the people who occupy those offices, like Madonsela, are a lesson that Africa has a lot to gain by protecting watchdogs and the whistleblowers who help them.
"Focus on your purpose, which is to protect the public and make only the decisions that the conscience would allow you to make," Madonsela said in her last press conference on Oct. 14. In her advice to ombudsmen and watchdogs around Africa and the world, Madonsela said her job was only to help citizens hold the government accountable to ensure public trust.
The public protector is tasked with investigating state affairs that are suspected of wrongdoing within the public administration and government. Significantly, it is often members of the public who take their case to the public protector. It's a noble idea that Madonsela has injected with vigor, taking on impropriety in the highest office. In public appearances Madonsela speaks in a slow, deliberate tone that belies the controversial work her office has taken on.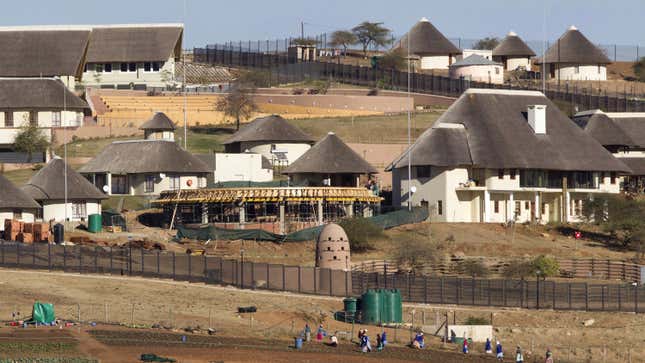 Madonsela's most famous investigation examined the president's sprawling private Nkandla compound in KwaZulu-Natal, lavishly renovated with $20 million in state funds. The public protector's investigation revealed features like a large swimming pool, amphitheater, cattle kraal and chicken run had nothing to do with security, as the president's allies claimed, and recommended the president pay back the $540,000 used for these renovations.
Madonsela's 2013 investigation invited attacks from Zuma's political allies, most notably that she was a CIA spy. But it also sparked a campaign to compel Zuma to pay back the state funds, which made it all the way to South Africa's Constitutional Court. A ruling from South Africa's highest court reaffirmed that Madonsela was on the right track.
Another one of her investigations shed light on corruption behind the scenes of South Africa's public broadcaster, where the woefully unqualified chief operating officer awarded himself large bonuses and lied about his academic qualifications, including a high school diploma. Another investigation led to the toppling of the police chief over corruption, while another led to the ouster of a corrupt communications minister and yet another uncovered a cabinet minister's Swiss spending spree. Less famous investigations looked at issues like trying to help communities living with an open shaft mine practically on their doorsteps.
Madonsela may not be popular among some of the politicians she has fingered, even receiving death threats yet among the public she is hailed a heroine. Facebook groups and public campaigns have been set up in her support and the media has literally depicted her as a Jedi knight. When she traveled to the often remote communities on whose behalf she was acting, crowds of people would swarm her, many vying for a chance to tell her their stories.
"The only criticism that matters is the criticism that comes from my conscience," said Madonsela. "At the end of the day it's about finding the truth and telling it the best you know how."
Madonsela is by no means without fault, and was criticized for prioritizing high-profile cases to bolster her own image. But in a time where South Africa's leadership is widely seen to have lost its moral compass, and when so few with power were willing to speak out, Madonsela became a soft-spoken voice of conscience. Her office's investigations armed a frustrated citizenry, increasingly suspicious of its former liberation movement, with hard evidence of wrongdoing.
"To my successor, I'm out, drops mic just like that," the outgoing public protector joked, making light of what was often a very heavy term. She will be replaced by advocate Busisiwe Mkhwebane. Madonsela said she plans to take a year's sabbatical where she'll happily planning to reflect on being a has-been. She's promised to return to law thereafter, likely much to the relief of South Africans.