Few people know about the legend of the Kipipiri women: brave warriors whose unique and complex hairdos played a significant role in undermining the British empire's bloody rule in Kenya.
There was Bobo, the group's leader, whose curled hair formed a map that only her second in command could interpret. There was Chep, who used her hair to smuggle weapons to rebel hideouts. Achi was the cook, in charge of transporting food to the fighters. And then there was Mwende, the lead entertainer. A great dancer with a powerful voice, she prepared the village to welcome the fighters back home.
Why does no one know the tale of these brave and remarkable women? Because they're completely made up.
The Kipipiri Four is a fictional project by the award-winning Kenyan photographer Osborne Macharia. The composite photographs–sketched, designed and produced in a studio—are a tribute to the role women played in the eight-year Mau Mau rebellion in the 1950s, which ultimately ended Britain's reign in Kenya.
The Kipipiri series was released on Thursday (Oct. 20) to coincide with Mashujaa Day in Kenya. Mashujaa means heroes in Kiswahili, and the national holiday honors those who contributed towards Kenya's struggle for independence. While the holiday includes both men and women, the prominent role women played in the uprising has been largely understated (pdf). Macharia's characters may be fictionalized, but they're a tribute to the real women who helped make Kenya what it is today.
Macharia says Kenyan history is a rich source of material which he wants to keep mining "to see how I can shed light on our past."
The photos are part of an Afro-futuristic aesthetic that has come to define Macharia's work, in which he employs elements of history, science fiction, and digital photo editing, to comment on historical narratives or social issues.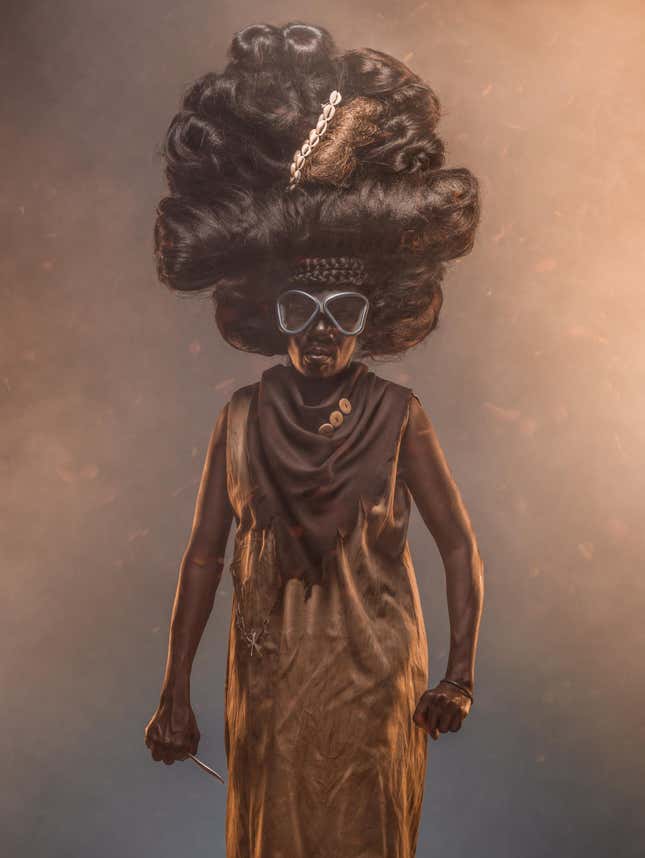 Macharia's past photo projects examined and interrogated discrimination against street children, the elderly, and people with albinism and dwarfism. His intimate portraits have also introduced a whole new cast into the Kenyan art scene–including hip hop grandfathers, extravagant grannies, and freedom-fighting opticians.
Macharia's fantastical stories and their colorful subjects have proven popular, and resonate with those who follow his work. When looked at collectively, the photos are not only serious, funny and beautiful, but also have a solemn, humanizing effect.
Macharia wants his current style of shooting to have a positive impact on the people who view his work. "With time, I found myself in a place where photography for me is not the same if it doesn't have a message to convey," he says. "The whole idea behind it is that whoever looks at the images at the end of the day can actually feel uplifted," he said.
Macharia knows something about looking for upliftment. His stint in photography started after he failed a course at university in Kenya and had to wait an entire year before resuming his studies. After coming across the work of Joey Lawrence, a New York-based portrait photographer, Macharia says he was immediately inspired to research and learn photography.
Throughout that year, "I was always online, going through tutorials," he remembers. "I just kept practicing and practicing and I was really fascinated with commercial work, advertising, billboards."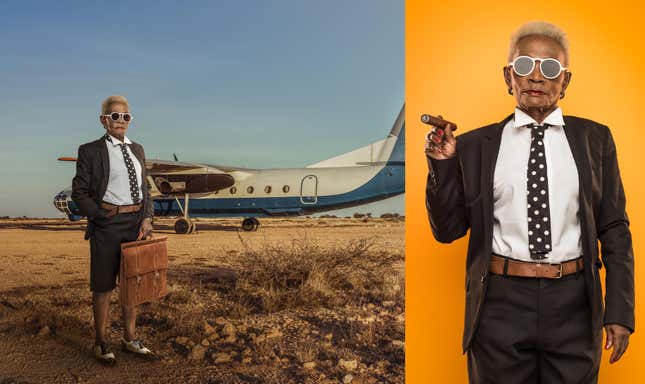 Later, while doing commercial work, Macharia started thinking about creating his own style. For inspiration, he looked to cinematography, comic books, illustrations, and other photographers' works. He also started looking at the storylines in movies. The fact that movies were scripted stories, yet felt so real to viewers, inspired him to start composing his fictional narratives.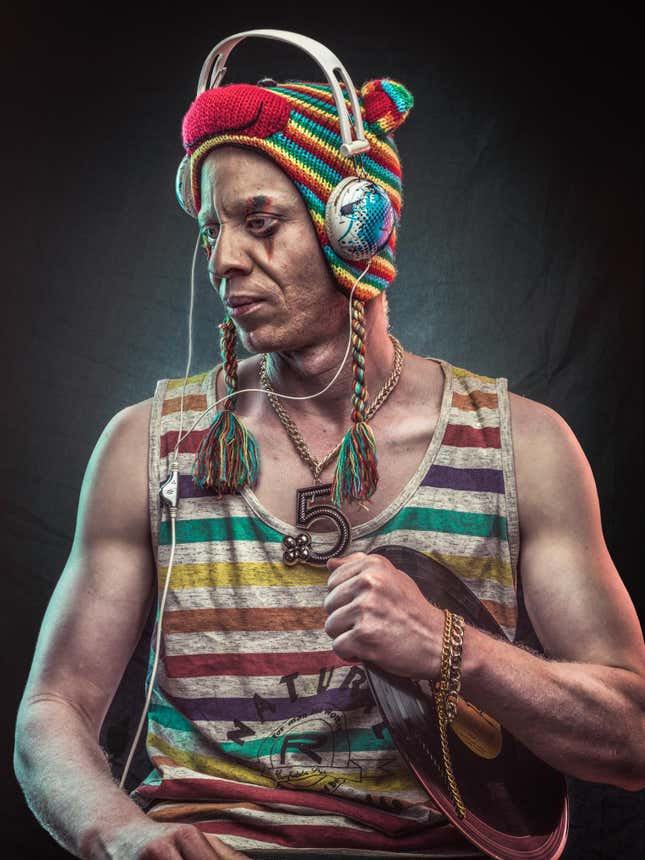 His first fictional project, Macicio, a Kikuyu word for glasses, was released in July 2015. The project revolved around an unit of Kenyan independence fighters which handcrafted special glasses to spot enemies at night.
Macharia says collaboration is the key to bringing bigger ideas to life, and he hopes there will be more opportunities to do so, as the visual space for movies and photography opens up across Africa.
He also hopes to see more artists come up with distinctive styles. "How do you create your style that sets you apart from everyone else? That's always the hardest thing," he says. But "it all boils down to being consistent, always pushing, always experimenting, always working, always researching and eventually success will always come."