On the evening of Oct. 28, Mouhcine Fikri, 31, and his fishmonger friends in the northern port city of Al Hoceima, Morocco, dived into a garbage truck where authorities had tossed about $11,000 worth of swordfish. Sales of the protected species are banned. The garbage compactor began operating and Fikri's friends escaped. Fikri was crushed to death. Photos of Fikri's lifeless body in the garbage truck quickly circulated on social media, culminating in protests following his funeral on Oct 30.
Fikri's death, like that of Mohamed Bouazizi, whose self-immolation in Tunisia kicked off the Arab Spring in 2011, has become a rallying point for anger at police abuse, corruption, and a monarchy that still holds ultimate sway over Morocco. If protests continue, they could pose a serious challenge to the Moroccan royal establishment, which has so far escaped the fate of leaders in the Middle East and North Africa toppled by the Arab Spring.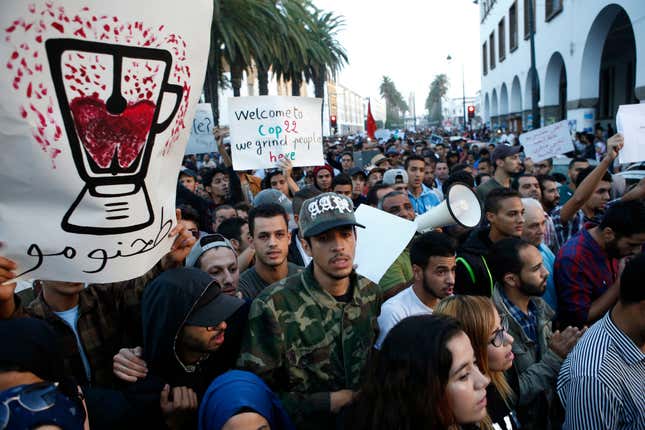 "I have never seen such a crowd in the last few years, since 2011 at least," Houssin Lmrabet, an activist who attended Fikri's funeral and took part in protests afterwards, told Reuters. "Everyone feels crushed by that garbage truck here."
Officials say it was an accident and that a "meticulous investigation" has been launched. Witnesses told local media that they heard police ordering the garbage truck to activate its compactor.
Protests spread from Al Hoceima to other towns in the mountainous Rif region, which has had a long history of dissent against the country's ruling elite, as well as to Casablanca and Rabat, the capital. Demonstrators gathered outside of parliament chanted, "Mouhcine was killed and the Makhzen is responsible," using a nickname for the monarchy that means "the storehouse."
Morocco's King Mohamed managed to evade the protest and unrest that overtook several of his neighbors in 2011. In response to protests in 2011 known as the February 20 movement, the king devolved some of his powers to the country's prime minister and parliament and reformed the constitution to allow for things like free press, protection of the cultural rights of minority groups, and other individual freedoms.
The reforms, passed by referendum, were hailed as a successful outcome of the protests. Since then, the country has positioned itself as a hub for European manufacturing, luring companies like Bombardier or Peugeot Citroen. While foreign investment to Egypt and Tunisia is still below pre-Arab Spring levels, FDI to Morocco rose more than 11% between 2010 and 2015, to about $4 billion. The economy grew by 4.5% last year, compared to just 2.6% in 2014.
The reforms and Morocco's recent economic success haven't translated into jobs for everyone. About 20% of Moroccan youth are unemployed and almost 40% of young urbanites are unemployed. Promised media freedoms have not materialized, with journalists jailed and publications shut down. Recent elections Reporters Without Borders has ranked the country as less free than Afghanistan and lower than its rank in 2010, before the Arab Spring.
The protests come just before the country is to host the international climate change conference, COP22.