When the results of Kenya's presidential election in 2007 came in, announcing the victory of Mwai Kibaki, his opponent Raila Odinga refused to accept the results, charging that the vote had been rigged. Soon, violence and rioting swept the country. By the end of two months of unrest, more than a thousand people had been killed and half a million Kenyans were displaced.
Information about the clashes were suppressed by local officials and media, but a group of techies and coders in Nairobi scrabbled together a crowdsourced platform to document where and how many attacks were taking place.
The crowdsourced crisis map born out of that chaos, called Ushahidi, or "testimony" in Swahili, will now be used to monitor election day in the United States, where Republican presidential candidate Donald Trump has leveled accusations of vote-rigging in favor of his opponent, Hillary Clinton. He has also refused to say he will accept official election results.
"Elections in general are close to Ushahidi because of our history, " says Daudi Were, executive director for the company, based in Nairobi. "Our motto is, 'raise your voice.' Your voice is important. If you see something, positive or negative, then you can share that with us."
While there are existing election monitoring groups in the US, they can't be at every polling station, he notes. Ushahidi's crowd-mapping platform gives voters everywhere a chance to document their experience. The main concern, the company wrote in a blog post, is voter suppression.
"[The platform] isn't built anticipating violence," he says. "It's just one way for us to get a snapshot of what's happening on election day."
US voters can report instances of "voter intimidation, misdirection, or any other attempts to keep someone from voting," via text message, Twitter, or email to the crowd-mapping platform, which will map the reports, according to Ushahidi. A group of vetted volunteers will be verifying those reports and publishing them to Ushahidi's USA Election Monitor site. Staff in Kenya and the US will be monitoring the deployment.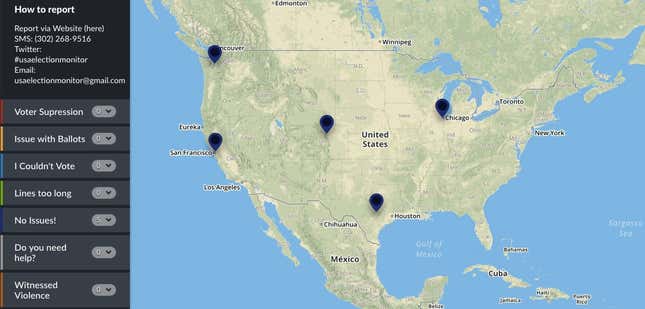 Ushahidi's open-source software has been used around the world, mostly during crises, to document sexual harassment in Egypt, areas in need after the Haiti earthquake in 2012, attacks on civilians in Syria, and the 2015 elections in Venezuela.
The US election project may be a practice run for election monitoring at home. Ushahidi will begin a large scale deployment of its platform in January, ahead of presidential and local elections in Kenya scheduled to take place at some point in 2017.
"We will be monitoring everything from election violence to voter eduction and political education," Were said. "We will be monitoring the entire election cycle, the good and the bad."