On Wednesday (Nov. 9), Americans woke up to the reality that a charismatic populist buoyed by the support of a non-urban working class base was slated to become their next president. As South Africans, we're here to say: We've been there America.
When Nelson Mandela decided to step down from just one term as president in 1999, many South Africans saw his successor as a natural fit. Thabo Mbeki was a well-spoken intellectual with an international master's degree in economics and development, and an impressive activist record. As president, he spoke beautifully of the need for a "renaissance" that would restore the dignity of post-colonial Africa. Under his leadership, South Africa experienced an extended period of economic growth, and began to have confidence in its position as a beacon for human rights and progressive, globalized ideals on the continent and across world.
For a while, South Africa felt its reputation on the world stage was secured. So it came as a shock to many South Africans when the ANC took the drastic step to "recall" Mbeki in 2008, and replace him as president with Jacob Zuma, a relatively inexperienced but hugely popular politician.
Here was a man who had faced 783 corruption and racketeering charges, been tried and acquitted for rape, had only a 6th grade-level education; a polygamist with a slew of scandals with women outside of his four marriages. Zuma was the antithesis of Mbeki, and in many ways, a rejection of the globalized and dreamy-eyed vision of South Africa put forward by a technocrat. Zuma was a man of the people. Sound familiar?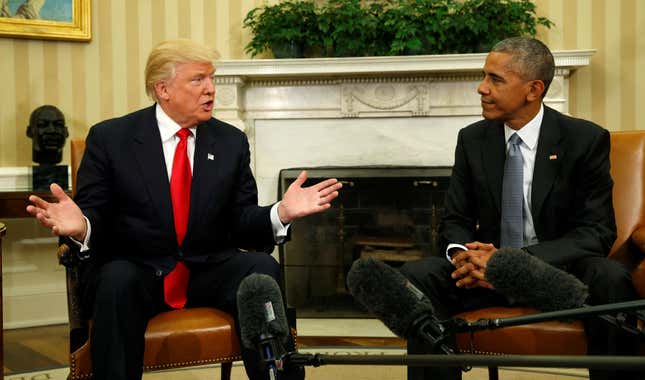 It wouldn't be fair, or smart, to draw a direct comparison between Mbeki and Obama, or between Zuma and Trump. In contrast to Obama, Mbeki was uncharismatic, intolerant of criticism, and had flawed and unpopular opinions about issues ranging from HIV/AIDS to Zimbabwe's dictator Robert Mugabe. Unlike Trump, Zuma was well-respected for his political record (he spent ten years on Robben Island for his anti-apartheid activism) and ability to mediate conflict. His impoverished roots gave him a deft touch with South Africa's marginalized poor black voters.
What's familiar is the feeling of shock the liberal elite experienced when Zuma became president: the jarring discovery that many of their countrymen would seemingly ignore a person's misogyny, crudeness (even allegations of corruption!) to ensure their views were represented. But embrace him they did.
Controversy only seemed to make Zuma stronger, from saying that showering after sex could prevent AIDS, to using an election anthem song that evoked going into battle with a machine gun.
"Curiously, the spectacle of the corruption and sex allegations proved a boon to Mr. Zuma's political career," The New York Times wrote in 2009. "Analysts say that Mr. Zuma became a magnet for a spectrum of groups unhappy with Mr. Mbeki's aloof leadership, and that he deftly marshaled their discontent into a powerful movement."
Zuma came into power when immigration, joblessness, and unhappiness with the political establishment had South Africans looking inward. ""He is a man who listens; he doesn't take the approach of an intellectual king," one South African was quoted as saying at the time. "Zuma is a person who is very close to the people," said another. "Before his leadership, the ANC was for the elite. Now it will be for the people."
Since then, the path has proved rocky.
Zuma's populism endured—he was re-elected in 2014 for a second five-year term—and it shielded him from mounting accusations of corrupt political behavior and hapless leadership. The country floundered as the frustration and anger that fueled his electoral victories exploded into xenophobic violence in a battered economy.  It struggled to process and proactively deal with destructive protests led by the young people who felt forgotten and sold-out.
When Zuma's friends, the Gupta family, were allowed to use a strategic military air base to welcome a wedding party, we allowed him to plead ignorance on the inner workings of air travel logistics. And when he dipped into the state coffers, extracting $20 million to renovate his palatial private compound, we shrugged at his excuses, ranging from his right to a home like everyone else, to the fact that he didn't understand the bureaucracy and paperwork of the public works department that oversaw the renovations. It's become increasingly apparent that Zuma has used his position of power to enrich himself and his direct supporters at the expense of the very people he claimed to represent. When news of the most recent corruption scandal involving the president broke, Zuma and his allies dismissed it as a creation of a sensationalist media and a social media storm fuelled by the middle class, who Zuma once referred to as the "clever blacks."
After two years of the Trump campaign, Americans should be familiar with this shrug-excuse-gaffe routine. Trump's used it to successfully dismiss scandals ranging from tax evasion to sexual harassment.
Most South Africans have not succumbed to rage, but have found themselves overcome by a slow realization that the dream of a post-apartheid South Africa characterized by unity, equality and opportunity, is not yet a reality.
The saddest thing of all is that Zuma's leadership built a wall between us—between the ordinary, often rural, or semi-urban impoverished South Africans for whom little had changed after apartheid, and the urban elite, a minority who was benefitting from the upward mobility of black people. As a country, we once represented the idea that a people could unify to overcome anything. Now we're in danger of representing what happens when we let someone tear us apart.
South Africans still hope that the country's constitution and democratic institutions will finally bring Zuma and his cronies to book and that together, we can rail against the ills weakening our democracy.  South Africa's public protector, a constitutionally protected ombud of state affairs, has consistently called Zuma and his administration out for wrongdoing. South Africa's Constitutional Court has made sure that the president be held accountable, forcing him to pay back state money used in his personal renovations and appointing a judge to oversee the investigation into Zuma's latest scandal.
In this regard, Americans too should have hope. Its institutions are strong, and its values enshrined in a strong constitution, which carries the same spirit of democratic ideals and South Africa's—ours is just a bit younger. These documents are an embodiment of our nations' conscience, enshrining ideals we hold dear like the values of fairness and humaneness that give rise to our identities as democracies.
America's constitution has always been the light leading the country down the path of progress, an inspiration to others—to us. Institutions like the Supreme Court have made sure that this light is never snuffed out. And as long as people continue to believe and support these institutions, and in the values enshrined in the constitution, that light will not be snuffed out by the populism and demagoguery that threatens to overwhelm it.
Correction: An earlier version of this article stated that Jacob Zuma was re-elected to a second, five-year term in 2012. He was re-elected in 2014.